Engine Power Featured Projects
Engine Power Builds
Parts Used In This Episode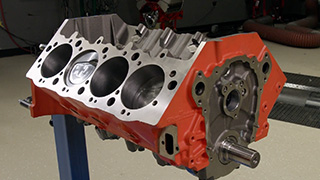 Factory Five Racing,Inc.
Period-Correct Wicked Fast '35 Truck!
Matco Tools
Matco Tools are the Official Tool Supplier for Engine Power
The Industrial Depot
The Industrial Depot - Fasteners, Hardware, and Shop Supplies
Episode Transcript
(NARRATOR)>> IT'S GOT THE CLEAN, CURVY LINES OF A 1930'S HOT ROD, AND THREE STROMBERGS FEEDING A VEIGHT FORD, BUT UNDERNEATH THAT CLASSIC EXTERIOR STANDS A FOUNDATION OF PURE MODERN PERFORMANCE. TODAY ON ENGINE POWER WE VISIT FACTORY FIVE'S HQ, WHERE THEY'RE BUILDING A BRAND NEW DESIGN UNLIKE ANYTHING THEY'VE DONE BEFORE, AND THEY'VE INVITED US TO JOIN THEM.

(MIKE)>> WELCOME TO AN EXCITING EPISODE OF ENGINE POWER. THIS WEEK WE'RE A LONG WAYS FROM HOME, WAREHAM, MASSACHUSETTS, TO BE EXACT. THE HEADQUARTERS FOR FACTORY FIVE RACING. NOW WE RECEIVED AN INVITE TO COME HELP BUILD A NEW ADDITION TO FACTORY FIVE'S FLEET OF STREET AND COMPETITION VEHICLES, AND LET ME TELL YOU THIS ONE IS GOING TO TIP THE SCALES IN AWESOME FASHION.

(PAT)>> WE WERE A PART OF THEIR FIRST ADVENTURE INTO THE STREET ROD ARENA WHEN WE HELPED THEM BUILD THEIR VERY FIRST '33 FORD HOT ROD BACK IN 2010. IT WAS STAMPED SERIAL NUMBER ONE, AND WAS POWERED BY FORD'S NEW COYOTE BULLET. SINCE THEN OVER 1,000 OF THEM HAVE SHIPPED FROM FACTORY FIVE'S FACILITY, PROVING HOW SUCCESSFUL IT IS, BUT BEFORE WE SHOW YOU WHAT WE HAVE IN STORE LET'S TAKE A LOOK AT WHERE ALL THAT SUCCESS HAS COME FROM. [ engine revving ]

(MIKE)>> FOUNDED IN 1995, FACTORY FIVE RACING QUICKLY GREW INTO THE WORLD'S LARGEST MANUFACTURER OF COMPONENT CAR VEHICLES. THE REASON IS SIMPLE. THEY DESIGN AND CREATE HIGH PERFORMANCE PROJECTS THAT YOU BUILD YOURSELF. POWERED BY FACTORY ENGINEERED DRIVETRAINS AND ASSEMBLED WITH QUALITY PERFORMANCE PRODUCTS, THESE VEHICLES ARE IN A LEAGUE OF THEIR OWN. MAN, LOOK AT THIS.

(DAVE)>> HEY GUYS!

(PAT)>> HOW'S IT GOING BROTHER, GOOD TO SEE YOU.

(DAVE)>> GOOD TO SEE YA, MIKE!

(MIKE)>> DAVE, HOW ARE YOU?

(DAVE)>> WELCOME MAN. I'M EXCITED YOU GUYS ARE HERE.

(PAT)>> MAN THIS PLACE IS AWESOME. I'VE NEVER BEEN UP HERE BEFORE, THIS IS UNBELIEVABLE.

(DAVE)>> WELL I'M EXCITED ABOUT THIS PROJECT YOU'RE GONNA HELP WITH, BUT YOU KNOW I'D ALSO LIKE TO SHOW YOU AROUND. KINDA SHOW YOU WHAT WE'RE DOING HERE LATELY. THERE'S BEEN A LOT CHANGES.

(MIKE)>> I DON'T THINK WE NEED TO GO TOO FAR OUT OF THIS AREA, THIS IS AWESOME.

(PAT)>> JUST KINDA HANG OUT HERE FOR A WHILE. YOU'VE GOT COOL CARS!

(DAVE)>> WELL WE LIKE TO SHOW PEOPLE WHAT THEY LOOK LIKE WHEN THEY'RE DONE, BUT THEY DON'T LOOK LIKE THAT WHEN WE SHIP THEM, AND YOU GUYS ARE GONNA HELP TURN WHAT WE SHIP INTO ONE OF THESE THINGS.

(MIKE)>> SWEET, WE'RE READY.

(PAT)>> YOU'RE LEADING THE WAY.

(DAVE)>> ALL RIGHT, WELL LET'S GO.

(PAT)>> DAVE TOOK US STRAIGHT TO THE NERVE CENTER WHERE THESE CARS ARE DESIGNED. WE MET WITH JEREMY LUCHINI, WHO IS DOING EXCITING WORK WITH VIRTUAL REALITY.

(DAVE)>> YEAH WE'RE GONNA PUT SOME VR GOGGLES ON YOU GUYS AND YOU CAN GO INTO THAT WORLD MAN, AND WHEN YOU SEE IT IN THAT WORLD IT'S DIFFERENT THAN ON THE SCREEN.

(MIKE)>> SO YOU GET PAID TO PLAY VIDEO GAMES ALL DAY, THAT'S PRETTY COOL!

(DAVE)>> WAIT A MINUTE, IS THAT RIGHT?

(JEREMY)>> NO!

(MIKE)>> I KNOW THERE'S A LOT MORE TO IT THAN THAT.

(PAT)>> THIS IMMERSIVE THREED MODELING ALLOWS FACTORY FIVE TO DESIGN VEHICLES IN THREE MONTHS INSTEAD OF TWO YEARS, ALLOWING JEREMY TO EXPLORE BOLDER DESIGNS.

(JEREMY)>> I CAN KIND OF GET MORE AGGRESSIVE WITH THE DESIGN, AND MAKE DECISIONS REALLY QUICKLY COMPARED TO WAITING AROUND FOR A PHYSICAL PROTOTYPE TO BE MADE, AND WALKING AROUND IT, OR BRINGING IT OUTSIDE AND SEE HOW IT LOOKS IN THE DAYLIGHT. I CAN DO THAT COMPLETELY WITH MY TOOLS NOW.

(DAVE)>> YOU'RE GONNA PUT PAT IN THE VIRTUAL WORLD?

(JEREMY)>> WE ARE!

(DAVE)>> RIGHT ON!

(JEREMY)>> THOSE HEADSETS RIGHT THERE, JUMP IN PAT.

(PAT)>> WHOA!

(JEREMY)>> YEAH I'VE GOT YOU UP IN THE AIR RIGHT NOW.

(PAT)>> I'M ABOVE THE CAR.

(DAVE)>> SO THAT'S WHAT HE'S SEEING BUT HE'S SEEING IN THE REAL WORLD YOU KNOW. I MEAN FOR HIM IT'S THREE DIMENSIONAL. HE CAN SEE HOW IT SITS.

(PAT)>> I'M INSIDE THE CAR RIGHT NOW.

(JEREMY)>> YOU CAN KNEEL DOWN.

(PAT)>> KNEEL DOWN?

(JEREMY)>> LOOK AROUND.

(PAT)>> OH MY GOODNESS.

(JEREMY)>> SO THERE'S THE CHASSIS RIGHT FROM THE FIXTURE AND EVERYTHING, YOU KNOW?

(DAVE)>> SO YOU'RE TALKING ABOUT DIMENSIONALLY CORRECT FRAME, SUSPENSION, ALL THE SPACE.

(MIKE)>> DID THEY GET ALL THE WELDS PAT?

(PAT)>> YEAH, IT'S WEIRD, I'M WALKING THROUGH TUBES RIGHT NOW. OH THERE'S ONE RIGHT IN MY NECK RIGHT NOW.

(DAVE)>> THE REAL QUESTION IS CAN YOU SEE WHAT THE CAR LOOKS LIKE IN REAL SPACE.

(PAT)>> THE AMAZING THING IS IT LOOKS LIKE A CAR SITTING THERE IN REAL SIZE, REAL TIME, REAL LIFE, AND WHEN YOU WALK UP TO IT. IT'S WEIRD CAUSE I THINK I'M GONNA HIT MY HEAD ON THE DOOR BUT I CAN JUST STICK MY FACE IN HERE. THIS IS AMAZING, ABSOLUTELY AMAZING!

(DAVE)>> YOU DIZZY PAT?

(PAT)>> NO, NOT REALLY.

(DAVE)>> OH, HERE COMES MIKE.

(MIKE)>> IT DOES FEEL WEIRD WHEN YOU WALK INTO IT.

(DAVE)>> YOU'RE OVER IT.

(MIKE)>> I'M IN THE PASSENGER'S SEAT, YEAH. THAT IS IMPRESSIVE.

WHOA! [ laughing ]

(DAVE)>> JESPER, YOU JUST SAW THE ICING ON THE CAKE, NOW'S THE CAKE. THIS GUY DOES IT ALL. CAD, YOU'RE GOING ENGINEERING, BUILDING MATERIALS, CUT LIST, THE ENTIRE CAR DESIGN, AND JESPER IS THE ENGINEERING MUSCLE BEHIND OUR PUNCH.

(PAT)>> WHAT YOU GOT UP THERE RIGHT NOW?

(JESPER)>> THIS IS OUR NEW COUPE FRAME. SO WE DESIGNED THIS ON CAD. WE PUT THE ENGINE IN IT AND ALL THE PIECES, THE PEDAL BOX, AND ALL THAT SORT OF THING IN THERE TO MAKE SURE EVERYTHING FITS, AND CAN BOLT TOGETHER.

(MIKE)>> AND NOW THE NEW DESIGN ENTERS THE HANDS ON WORLD OF PROTOTYPING.

(JONATHON)>> I KIND OF WHIP SOMETHING, USUALLY USING FOAM, PLYWOOD, FIBERGLASS, WHATEVER MATERIALS I NEED TO MAKE THE ACTUAL SHAPE. ONCE WE FINALIZE THE SHAPE I CAN GO AHEAD AND MAKE A MOLD THAT WILL BE USED FOR PRODUCTION.

(MIKE)>> BUT THERE'S A LOT MORE TO ALL THIS THAN JUST THE BODIES. EVERY FACTORY FIVE VEHICLE BEGINS WITH A CHASSIS DESIGNED FOR STRENGTH, PERFORMANCE, AND SAFETY. IT TAKES 16 HOURS TO BUILD EACH ONE, AND EVERY ONE OF THE 600 WELDS IS DONE BY HAND. HERE'S SOMETHING NOT DONE BY HAND BUT VERY COOL. A STATE OF THE ART LASER TABLE THAT CREATES FINISHED PIECES WITH A SINGLE PASS. NO GRINDING OR CLEANING UP THE EDGES NEEDED.

(DAVE)>> SO WE'RE CUTTING, NOT JUST STEEL, ALUMINUM, STAINLESS, BASICALLY ANY PIECE OF METAL THAT'S GOING INTO THE CAR THAT'S SHEET METAL, IT'S GOING INTO THE CAR WE'RE CUTTING UP FRONT. OUR CRAFTSMEN ARE FOCUSING ON THE IMPORTANT JOB OF WELDING, AND NOT ON FITMENT, AND KNOCKING THIS IN, AND GRINDING THIS OFF, AND MAKING SOMETHING THAT DOESN'T FIT, FIT. WE TAKE SOMETHING THAT DOES FIT AND WE DROP IT IN THE JIGS AND TOOLS, AND BOOM, YOU'VE GOT A CHASSIS.

(PAT)>> THE BODY IS CRAFTED FROM HAND LAID FIBERGLASS WITH GREAT ATTENTION TO DETAIL. THE PIECES ARE CNC CUT BEFORE THEY'RE INSTALLED ON THE CHASSIS. FOR A HIGH END FINISH ONLY ABOUT 40 HOURS OF BODY WORK IS NEEDED. GOOD NEWS FOR BODY MEN WORKING ON THESE VEHICLES. THE CHASSIS PANELS ARE BENT IN A SHEET METAL BREAK, AND PREINSTALLED PRIOR TO SHIPMENT. FINALLY THE CHASSIS, BODY, AND ALL ACCESSORIES ARE LOADED UP, HEADING TO GARAGES ALL ACROSS THE COUNTRY AND ALL AROUND THE WORLD.

(NARRATOR)>> UP NEXT, WITH A ROLLING CHASSIS AND A CAB, THE '35 HOT ROD TAKES SHAPE!

(PAT)>> WE'RE BACK WITH THE FIRST EVER FACTORY FIVE HOT ROD TRUCK BUILD. MIKE AND I WERE INVITED HERE TO GET THE TRUCK ASSEMBLED AND READY FOR THE SEMA SHOW.

(DAVE)>> YOU GUYS WERE HERE FOR THE FIRST HOT ROD, AND HERE'S THE BIG PRODUCT, HOT ROD TRUCK. SO WE'RE BUILDING IT. IT'S GONNA BE AT SEMA, AND THIS IS ZEROZEROONE, AND YOU'RE GONNA HELP US OUT.

(MIKE)>> PRETTY KILLER.

(PAT)>> WE DIDN'T WASTE ANY TIME GETTING STARTED. THE BULLET FOR THIS TRUCK IS A BLUEPRINT ENGINES' 306 CUBIC INCH SMALL BLOCK FORD THAT MADE 390 HORSEPOWER AT 6,000 RPM AND 370 POUND FEET OF TORQUE AT 4,600 RPM. CONNECTED TO IT IS A MONSTER TRANSMISSION CFOUR AUTOMATIC THAT GOT SOME ATTENTION IN THE PAINT DEPARTMENT. ( )>> I'M FLAT, ARE YOU FLAT? ( )>> YEP. ( )>> SWEET!

(PAT)>> BULLS EAR! ( )>> RIGHT ON!

(PAT)>> TEAM WORK MAKES A DREAM WORK.

(JOHNNY)>> EVERY ENGINE THAT LEAVES OUR FACILITY, IF IT HAS AN OIL PAN ON IT, IS DYNO TESTED. EVEN JUST OUR LONG BLOCK OFFERINGS. WE RUN EVERY SINGLE ONE OF THEM. GO THROUGH A MULTI POINT INSPECTION TO MAKE SURE IT'S READY FOR THE CUSTOMER WHEN THEY GET IT, AND GOES IN WITHOUT A HITCH.

(PAT)>> WRAPPING UP THE DRIVELINE IS A GORGEOUS EIGHT POINT EIGHT FORD REAR AXLE THAT SPORTS A THREE LINK SUSPENSION SETUP. THE LINKS WERE ALL BUILT IN HOUSE. COIL OVERS AND DISC BRAKES ROUND OUT THE COMPONENT LIST.

MAKING THE CONNECTION FROM THE TRANS TO THE REAR IS A BALANCED DRIVESHAFT.

(MIKE)>> THE FRONT SUSPENSION IS A TRIED AND TRUE PERFORMANCE DESIGN. IT'S THE SAME SETUP USED ON THE '33 HOT ROD. RIDE QUALITY, EXCELLENT HANDLING CHARACTERISTICS, AND STRENGTH ARE THE KEY ELEMENTS OF THIS DESIGN.

( )>> OH YEAH, YOU'RE GOOD. LEAVE HER RIGHT THERE, YOU'RE GOOD!

(MIKE)>> THE RADIATOR AND ITS MOUNTING BRACKETRY ARE PUT IN PLACE NEXT. IT HAS A SINGLE ELECTRIC FAN ATTACHED. SOME SOUND DEADENER GOES IN PLACE, AND PAT IS DOING WHAT HE DOES BEST, ENGINE WORK.

(PAT)>> WE'RE GONNA GET ALL THESE AT A BASELINE BECAUSE THEY'RE BRAND NEW. THEY SHOULD RUN JUST FINE. CARBURETORS SCARE A LOT OF PEOPLE, BUT THEY'RE EXTREMELY SIMPLE TO WORK ON. THIS THING'S GONNA RUN GREAT.

(MIKE)>> THE CARPET COMES PRECUT FOR EACH AREA OF THE INTERIOR. A HEAVY DUTY ADHESIVE IS USED TO SECURE IT TO THE PANELS.

(PAT)>> NEXT WE ADD SOME FLUIDS AND BLEED THE BRAKES. I ACTUATED THE PEDAL.

(TONY)>> YOU PUMPED IT.

(PAT)>> ACTUATED.

(TONY)>> GIVE IT ANOTHER PUMP. OH THERE IT IS.

(PAT)>> PEDAL ACTUATION.

(TONY)>> ALL RIGHT, HOLD IT RIGHT THERE. LET ME GO TO THE OTHER SIDE.

(PAT)>> TONY SEEMS TO BE GETTING A LITTLE EXCITED.

(TONY)>> ALL RIGHT, HOLD ON A SECOND. STOP PUMPING!

(MIKE)>> EVEN THOUGH THIS IS A HIGH END SEMA BUILD, FACTORY FIVE FOCUSES ON THE AVERAGE GUY WHO WANTS TO BUILD A CAR AT HIS HOME.

(TONY)>> KIND OF CATER TO THE GUYS THAT WANT TO SPEND $35,000, $40,000 GRAND. ( )>> YEAH THE EVERYDAY GUY. IT'S A HUGE COMMUNITY.

(TONY)>> IT'S A BIG FAMILY, IT REALLY IS. THESE GUYS ARE PROUD OF WHAT THEY DO. ( )>> THEY'LL HELP EACH OTHER OUT BUILDING THESE THINGS.

(TONY)>> SO TO ME IT'S KIND A COOL. YOU GET ON THE PHONE AND WE JUST ANSWER PHONES ALL DAY, AND YOU LOSE PERSPECTIVE OF YOU'RE MAKING THE GUY'S DREAM COME TRUE. GUY'S SAVED HIS WHOLE LIFE. IF HE'S 60 YEARS OLD, HE SAVED $50,000 TO BUILD THIS CAR, AND THAT'S COOL. YOU KNOW WHAT I MEAN? YOU'RE MAKING HIS DREAM COME TRUE.

(PAT)>> ALL RIGHT, ARE YOU GUYS READY? WE HAVE SOMETHING THAT'S FULLY FUNCTIONAL. NICE JOB, YOU SET THEM UP.

(TONY)>> I DIDN'T WHAT'S THIS THING?

(PAT)>> YOU HAVE TO BE WONDERING WHAT THE BODY OF THIS TRUCK LOOKS LIKE, AND WE ARE TOO. IT'S FINALLY ARRIVING FROM THE PAINT SHOP AFTER A SEVEN DAY THRASH TO GET IT DONE.

(TONY)>> LOOK AT THAT GUYS, HUH? YOU GUYS ROCK, THANKS BROTHER! THANKS BROTHER! SO NO SLEEP FOR THE WEEKEND? (MIKE R.)>> NO!

(TONY)>> NICE! (MIKE R.)>> THANKS FOR GIVING ME ALL THE TIME IN THE WORLD ON IT.

(TONY)>> WELL THAT'S HOW WE ROLL HERE.

(PAT)>> THANKS FOR THE SHORT NOTICE HUH? HI, PAT! (MIKE R.)>> MIKE!

(PAT)>> MIKE.

(PETER)>> PETER!

(PAT)>> PETER, NICE TO MEET YOU BOTH. YOU GUYS DO A GREAT JOB, HOLY MOLY! THE COLOR IS RM DIAMONT BRILLIANT COPPER. THE ONLY WAY TO GET THE FULL EFFECT OF IT IS TO SEE IT IN PERSON. (MIKE R.)>> I WAS A LITTLE ON THE FENCE UNTIL I SAW IT ON THE CAR AND IT IS FANTASTIC, AND IT IS ABSOLUTELY THE CORRECT COLOR FOR THIS JOB. THE WHOLE CAR LOOKS FANTASTIC. I CAN'T WAIT TO SEE THIS THING TOGETHER.

(TONY)>> YOU GOT TO GO UP HIGHER MIKE.

(PAT)>> OKAY, SHIFTER.

(MIKE)>> AND CERTAINLY WITH A FINISH THIS SLICK INSTALLING THE CAB IS A DELICATE OPERATION.

(TONY)>> PULL THAT OUT. ( )>> I THINK IT'S EASIER IF YOU GO LIKE ONE AT A TIME.

(TONY)>> OKAY, I'M GONNA GO ONE OVER, SO HOLD ON. OKAY, YOU GUYS GO.

( )>> NOW DOWN, NOW OVER THIS ONE.

(TONY)>> READY, I GOT ONE. ( )>> YEP, OKAY.

(TONY)>> YOU GUYS GOT ONE? WATCH THAT FRONT. YOU GONNA COME BACK AT ALL?

(PAT)>> I'M RIGHT ON THE BAR THERE.

(TONY)>> YOU GOOD?

(PAT)>> YEP.

(TONY)>> STRAIGHT DOWN. ( )>> YEP, WE'RE GOOD HERE.

(TONY)>> LOOK AT THAT, LIKE A GLOVE! ( )>> MUST HAVE DONE SOMETHING WRONG, THAT WAS TOO EASY!

(PAT)>> WOW!

(TONY)>> YEAH IT DOES.

(PAT)>> EVERYTHING'S THE SUM OF ITS PARTS, YOU KNOW? WHEN IT'S A BUNCH OF STUFF LAYING ON THE FLOOR YOU'RE NOT THINKING TOO MUCH ABOUT IT, BUT WHEN THE BIG STUFF HAPPENS, WHEN YOU FIRE THE ENGINE, WHEN YOU DROP THE BODY ON, IT JUST GETS MORE AND MORE EXCITING BY THE MINUTE, AND WE'RE DANGEROUSLY CLOSE TO A COMPLETE VEHICLE. (MIKE R.)>> HE'S GREAT! GOOD THING IT'S A LIGHT DOOR.

(TONY)>> OH YEAH, RIGHT ON BROTHER. (MIKE R.)>> I DO LIKE IT!

(PAT)>> OH, I GOT YOU. I CAN SEE THAT THERE'S NO INTERIOR GUY THAT'S GONNA WORRY ABOUT LOSING HIS JOB TO ME.

(MIKE)>> THIS BEAUTY IS COMING TOGETHER AT A SURPRISING RATE. THE AMOUNT OF WORK GETTING DONE IS IMPRESSIVE. NOW THAT WE HAVE A COMPLETE CHASSIS AND CAB, SOME OF THE SMALLER DETAILS NEED TO HAPPEN.

THE BED SIDES ARE GOING ON NOW. THEY ARE CONSTRUCTED WITH A STAINLESS STEEL INNER PANEL WITH A FIBERGLASS OUTER LAYER. LIKE EVERYTHING ELSE ON THIS VEHICLE, THE FITMENT IS SPOT ON. THE INTERIOR HAD TO BE AS NICE AND CLASSY AS THE PAINT WORK. JUSTIN HANDLED THAT IN OUTSTANDING FASHION.

(JUSTIN)>> DID A DISTRESSED PLEATHER. WE WANTED SOMETHING THAT HAD A LITTLE BIT OF A PATINA TO IT. SO IT KIND OF FIT THE OVERALL THEME OF THE TRUCK. I LOVE IT, I THINK IT LOOKS GREAT. I THINK IT'S GONNA REALLY TURN SOME HEADS. IT'S NICE TO SEE THAT I'M PUTTING A TRUCK KIT OUT THERE FOR THE TRUCK GUYS. I THINK IT'S GONNA BE PRETTY NEAT.

(PAT)>> THE WOOD BED FLOOR IS INSTALLED IN ONE PIECE. FACTORY FIVE CUSTOMIZED THIS ONE WITH AUTHENTIC BRANDED LOGOS, THEN SEALED IT FOR PROTECTION.

(TONY)>> ALL RIGHT, SO WE'VE GOTTA KINDA GO UNDER. JIM, HOLD THAT TOP. DON'T SCRATCH THIS THING.

(PAT)>> OH NO! THIS KIND OF STUFF MAKES ME VERY NERVOUS.

(TONY)>> ME TOO.

(PAT)>> OH LOOK AT THAT.

(TONY)>> MAKES ME NERVOUS YOU'RE DOING IT TOO.

(PAT)>> THAT'S NOT UNFOUNDED.

( )>> PULL THE TAPE OFF.

(MIKE)>> OKAY, THOSE ARE TIGHT.

(PAT)>> THAT'S EXTREMELY NICE.

(TONY)>> WOW DUDE THAT FITS GOOD!

(MIKE)>> LOOKS REALLY NICE, IT'S ON THE MONEY!

(TONY)>> HEY, NAILED IT!

(DAVE)>> THAT'S THE SAME FIT AS THE DOORS, LOOK AT THAT, NICE!

(PAT)>> HEADLAMP ASSEMBLIES WITH HALOGEN LAMPS AND INTEGRAL LED TURN SIGNALS ARE INCLUDED, ALONG WITH LED TAILLIGHTS AND ALL THEIR FASTENERS.

THE FINAL TOUCHES FOR THE BACK HALF OF THIS TRUCK ARE A FRONT BED PANEL AND A GORGEOUS TAILGATE THAT IS COMPLIMENTED WITH BRONZE HARDWARE.

(TONY)>> YOU DO WHATEVER YOU WANT. IT'S A TIGHT FIT, BUT TIGHT'S GOOD. WHAT DO YOU THINK BUDDY?

(PAT)>> THAT REALLY FINISHES OUT NICE, OH MY GOODNESS!

(TONY)>> NOT BAD.

(PAT)>> YOU SAID YOUR BUDDY DID THAT?

(TONY)>> YEAH, MY BUDDY JOE DID IT.

(PAT)>> THAT'S BEAUTIFUL! EVERYTHING FITS REALLY NICE.

(NARRATOR)>> UP NEXT...

(PAT)>> READY FOR THE GRAND FINALE HERE?

(MIKE)>> I AM.

(TONY)>> JUST DON'T BURN THE PAINT!

(MIKE)>> ALL RIGHT, YOU READY?

(MIKE)>> IT'S OUR FOURTH AND FINAL DAY AT FACTORY FIVE. NOW IT'S TIME TO HEAR THE ENGINE RUN.

(PAT)>> START IT UP, GET IT RUNNING AND IDLING WITH THE CENTER CARB, AND THEN YOU'LL STICK A SYNC TOOL ON THERE, AND WHAT THAT'LL DO IS WE'LL TURN THIS AIR VALVE IN AND THAT LITTLE INDICATOR IN THERE WILL BE SOMEWHERE IN THE MIDDLE, AND THEN YOU SWITCH IT TO EACH ONE AND YOU ADJUST THE THROTTLE BLADES POSITION.

(TONY)>> OH, COOL!

(PAT)>> READY FOR THE GRAND FINALE HERE?

(MIKE)>> I AM!

(PAT)>> GO AHEAD AND GIVE HER SOME...

(TONY)>> JUST DON'T BURN THE PAINT!

(MIKE)>> ALL RIGHT, YOU READY?

(PAT)>> OKAY, GO AHEAD. [ engine starts and idles ]

(TONY)>> NICE!

(PAT)>> THAT'S GOOD! [ engine idling ]

(PAT)>> THAT'S 15 INITIAL RIGHT THERE. WILL GET IT TO IDLE FIRST. OKAY! THAT'S BEAUTIFUL! THAT'S PROBABLY REALLY CLOSE ON IDLE NOW.

(MIKE)>> WHILE THE SMOKE FROM THE HEADER WRAP WEARS OFF, PAT IS WORKING HIS MAGIC BY TUNING THE CARBS.

(PAT)>> TONY SEE?

(TONY)>> WHAT ARE YOU MOVING?

(PAT)>> I'M MOVING THE BLADE POSITION. PUT IT ON THE BACK ONE. THIS WILL PICK THE IDLE UP A LITTLE BIT. WE'LL JUST DROP THE CENTER ONE.

(TONY)>> AND THEN YOU SET YOUR ROD AFTER?

(PAT)>> YEP!

(TONY)>> I GOT YA!

(PAT)>> AND IT DOESN'T MATTER, AS LONG AS THEY'RE THE SAME YOU KNOW WHAT I'M SAYING? ONCE YOU GET THESE TWO SYNCED TO THIS ONE, YOU BACK IT OFF, YOU'RE IDLE'S DONE, AND IT'S READY TO ROCK. THESE HORNS ARE EQUIPPED WITH SCREENS TO PREVENT ANY FOREIGN OBJECTS OR DEBRIS FROM GETTING IN.

(MIKE)>> OH YEAH, THAT'S MONEY!

(PAT)>> COMPLETING THE INSIDE OF THE CAB IS A FIBERGLASS DASH WITH SEXY LINES AND A KILLER GAUGE CLUSTER.

( )>> I'M IN.

(PAT)>> THAT'S GORGEOUS.

(MIKE)>> ABSOLUTELY BEAUTIFUL!

(PAT)>> THE VERY LAST PART OF THE BUILD IS GETTING THIS TRUCK ON THE GROUND WITH WHEELS AND TIRES. THEY'RE COLOR MATCHED TO THE BODY AND CROWNED WITH A VEIGHT CENTER CAP.

(MIKE)>> YOU GUYS DESIGN THESE PROJECTS, YOU BUILD THEM. WHEN YOU STAND BACK AND LOOK AT THEM, WHAT KIND OF FEELING DO YOU GUYS GET?

(JIM)>> I THINK THAT'S ALWAYS LIKE THE MOST EXCITING PART OF THE PROJECT YOU KNOW, CAUSE WE'VE BEEN LOOKING AT THIS THING FOR SIX MONTHS ON A PIECE OF PAPER, AND A CHASSIS BACK THERE. IT'S THE HIGH POINT OF THE WHOLE PROJECT.

(MIKE)>> ONE THING I NOTICED THAT GOES A LITTLE DEEPER THAN JUST BEING ABLE TO PUT THIS STUFF ON PAPER AND BUILD IT IS YOU GUYS WORK TOGETHER LIKE FAMILY. EVERYBODY HERE, THIS HAS TO BE LIKE A HUGE ACCOMPLISHMENT FOR YOU GUYS. TAKING THIS TO SEMA, DEBUTING IT.

(TONY)>> IT SURE IS! IT'S ALMOST LIKE YOU DON'T THINK OF THAT UNTIL YOU'RE DONE AND YOU'RE LIKE, YOU KNOW, NOBODY ARGUES.

(JIM)>> I THINK WE ALL HAVE LIKE A LITTLE BIT DIFFERENT SKILL SET.

(TONY)>> AND I THINK HALF THE TIME WE DON'T EVEN TALK, WE JUST DO IT.

(MIKE)>> FOR YOU GUYS TO INVITE US TO BE A PART OF THIS IS SOMETHING REALLY SPECIAL FOR US TOO, THANK YOU. FOUR DAYS FROM A CHASSIS TO THIS, PRETTY SPECIAL!

(PAT)>> AND I THINK IT'LL ACTUALLY MOVE UNDER ITS OWN POWER NOW.

(TONY)>> WHO'S DRIVING?

(PAT)>> THAT'S YOUR CALL, IT'S YOUR GUYS' VEHICLE.

(TONY)>> YOU'VE GOT SOME LADY SLIPPERS ON.

(PAT)>> THAT'S HIM. ( )>> I THINK WE'LL LET HIM DO IT.

(MIKE)>> I WILL GLADLY TAKE THAT HONOR. I WILL GLADLY TAKE THAT HONOR.

(PAT)>> THANKS VERY MUCH, REALLY APPRECIATE IT.

[ engine starts ]

(JONATHON)>> I'M VERY HAPPY. IT'S A VERY NICE FEELING TO SEE SOMETHING GO OUT THE DOOR LIKE THAT THAT YOU KNOW YOU TOOK PART OF.

(JON)>> EVERYBODY LOVES TO SEE DIFFERENT KINDS OF HOTS RODS, WHETHER IT'S A TRUCK, CAR, IT'S A HOT ROD.

(MIKE)>> WE HAD TO TAKE IT OUTSIDE FOR TWO REASONS. FIRST, TO SEE HOW AWESOME THE PAINT LOOKS IN THE SUN. SECOND, TO LOAD THIS WICKED HOT ROD IN THE BIG RIG FOR ITS LONG RIDE TO LAS VEGAS FOR THE SEMA SHOW.
Show Full Transcript