5 Things You Need To Know About the 2023 Chevrolet Colorado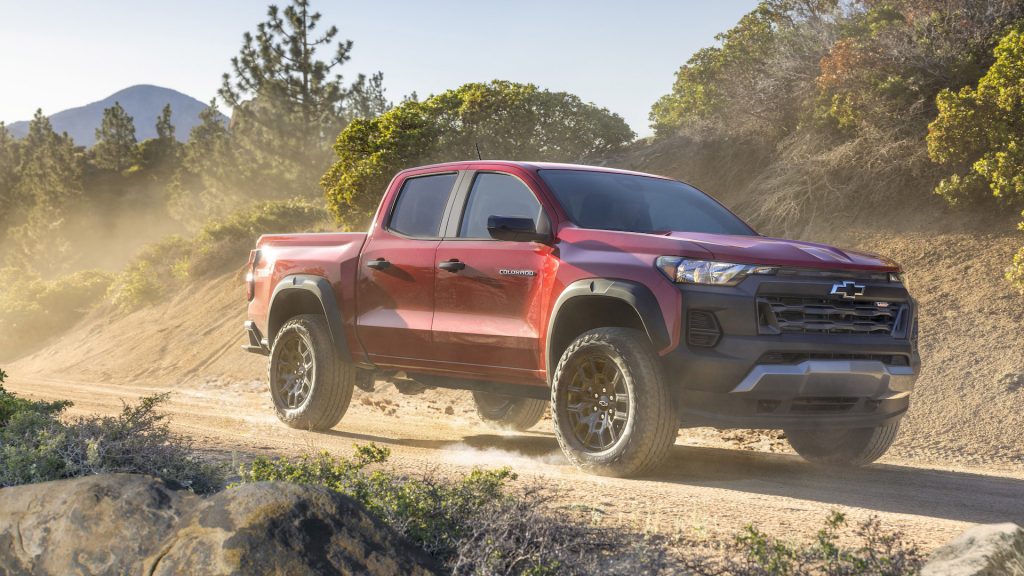 For those familiar with Chevrolet's truck line, the debut of the 2023 Colorado has had many heads turning in its direction. With a tougher, bolder exterior, the new Colorado gives off the impression that this is actually a full-size truck in a mid-size package, which stands in contrast to its more simplified predecessors. While models like the Toyota Tacoma and Ford Maverick had claimed much of the territory in the mid-size truck market, this new Colorado has arrived to serve up some serious competition.
Of course, this new 3rd-generation of the Colorado goes beyond its exterior. Chevrolet's R&D department certainly did its homework when producing a mid-size pickup truck with mass appeal, and the fruits of its labor are paying off for future customers.
1. The 2023 Chevrolet Colorado Is Available In Five Trims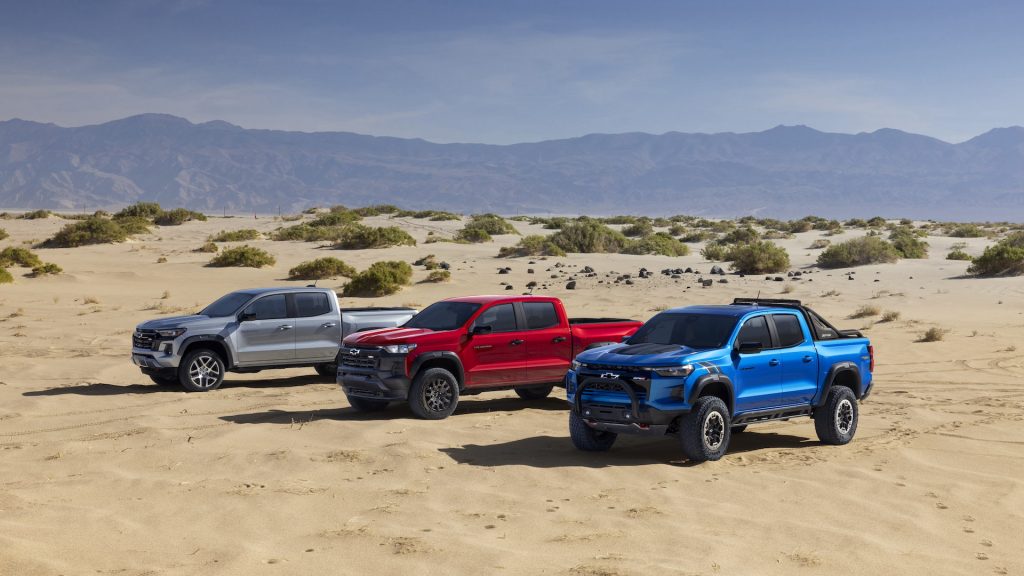 As the saying goes, "variety is the spice of life", and the 2023 Chevrolet Colorado is available in trims that cater to all kinds of riding styles. From regular commuting, to hauling equipment, to hitting the dirt trails, the 2023 Colorado has plenty of flavors to choose from:
Chevrolet Colorado WT: The base model has everything the average truck owner could need, as well as raising the bar for what is considered a "standard" truck. That includes a 2.7L Turbo engine with 237 horsepower and 260 lb-ft of torque, a more level profile in the body lines and trim, a new athletic hood offering greater visibility, a high grille, slimmer headlamps, and 17-inch wheels. The center console and shifter have been moved more to the driver's right for easier access to the touch-screen dash and drive mode selection.
Chevrolet Colorado LT: A slight step up from the WT, the LT offers a few more creature comforts and styling options like a remote locking tailgate system, 17-inch Argent Metallic aluminum wheels, B-pillar Black applique, Body-color door handles, LED lighting packages, and more.
Chevrolet Colorado Z71: For those asking for more performance and functionality out of their trucks, the Z71 comes equipped with a 2.7L Turbo Plus engine that produced 310 horsepower and 390 lb-ft of torque, has a max trailering capacity of 7,700 lbs, making it a more ideal choice in terms of occasional off-roading at an affordable price.
Chevrolet Colorado Trail Boss: Making its debut as another off-roading option, the Trail Boss earned its name thanks to its 2-inch lifted suspension and wide chassis, allowing it more ground clearance. Also equipped with the 2.7L Turbo Plus engine, the Trail Boss also comes with 32-inch all-terrain tires. Its front track is also 3 inches wider than that of the WT and LT, making it the more ideal off-roading choice.
Chevrolet Colorado ZR2: This is the truck for the dedicated off-roader. Its 2.7L Turbo High-Output adds the extra boost needed to make it through rough terrain and trails with its 310 horsepower and 410 lb-ft of torque. The ZR2 has been shown to be the off-road racer's choice for a truck due to its spool-valve design, a wide range of tuning, and a high-performance 3-inch lifted suspension with upgraded Multimatic DSSV dampers.
2. The 2023 Chevrolet Colorado Comes With Five Selectable Drive Modes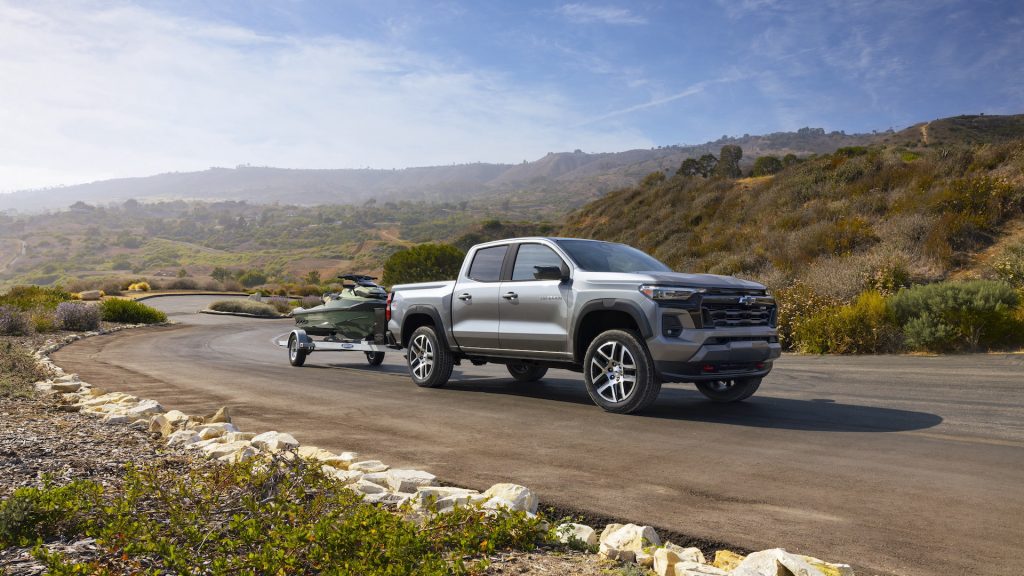 To enhance the Colorado's adaptability of regular day-to-day driving, hauling, and off-roading, the 2023 Colorado offers up to five selectable drive modes, depending on the specific trim. Each mode is pre-programmed for the truck to handle various driving conditions, and can be changed at the driver's own discretion:
Normal: A balanced mode for standard on-road driving
Tow/Haul: Optimizes the truck's throttle response and additional calibrations necessary for trailering and hauling.
Off-Road: Enhances traction and control for optimal performance for standard off-pavement driving.
Terrain: Designed for low-speed rock crawling, offers heightened throttle control, brake control and other settings.
Baja: Designed for high-speed desert racing, offers specific throttle control, transmission shifting, and other calibrations to the drivetrain.
3. The 2023 Chevrolet Colorado Is Equipped With New & Enhanced Technology For Driving & Safety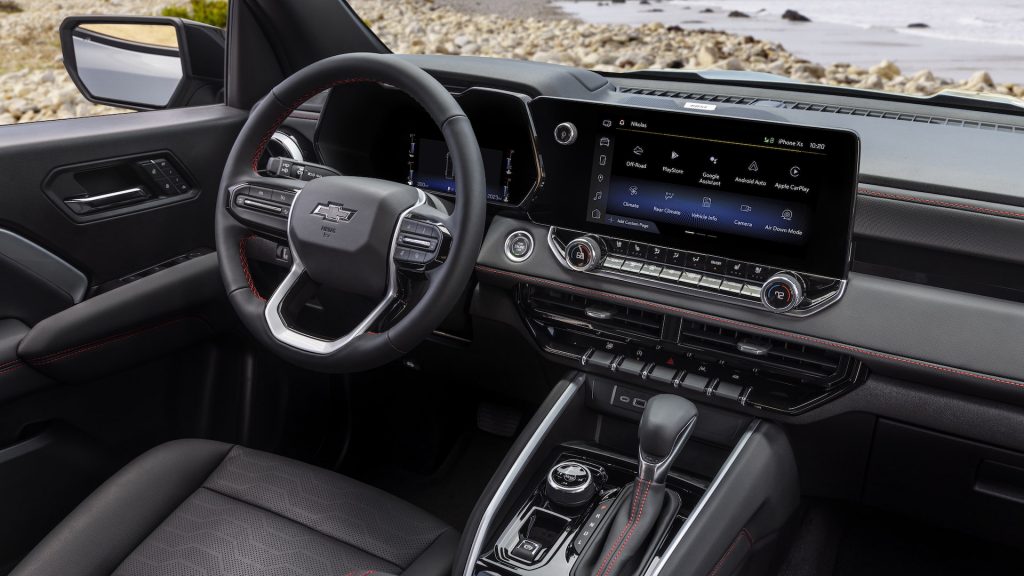 The 2023 Chevrolet Colorado comes loaded with the latest in vehicle tech that its competitors will have to keep a close eye on. Among them is its new 11.3-inch high-res infotainment screen necessary to access maps, music, vehicle functions, and settings. It also features an off-road performance display that allows the driver to monitor the truck's status in real-time, as well as up to 10 camera views that include an underbody camera available only on the Z71 and ZR2.
The Trailering App is also available to assist drivers from the beginning to the end of the trailering process. That includes the hitching setup, driving assistance, and monitoring for any hazards.
To promote safer driving for its customers, the Chevy Safety Assist features enhancements like Forward Collision Alert, Automatic Emergency Braking, Front Pedestrian Braking, Lane Keep Assist with Lane Departure Warning, Following Distance Indicator and IntelliBeam automatic high-beam assist.
Some safety features that are standard across all Colorado models include Blind Zone Steering Assist, Rear Cross Traffic Braking, Adaptive Cruise Control, HD Surround Vision and Rear Pedestrian Alert.
4. The 2023 Chevrolet Colorado Is Enhanced For Optimal On and Off-Roading Performance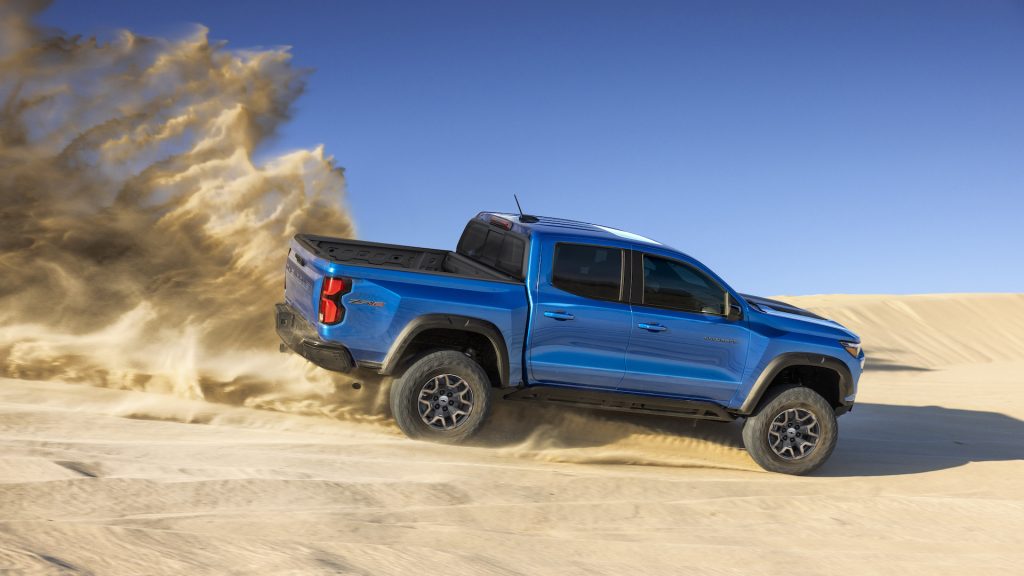 Part of the 2023 Colorado's enhanced performance capabilities was by offering three different chassis setups, each designed to handle on and off-road driving, all while without sacrificing off-roading handling, or on-road stability and comfort.
Standard Chassis: WT, LT and Z71
2-inch Factory-Lifted, Ultra-Wide Stance: Trail Boss
High-Performance 3-inch Factory-Installed Lift & Wide Stance: ZR2
All of the 2023 Colorados are built on a new chassis that provides a 3.1-inch-longer wheelbase than that of the regular Crew Cab/short box trucks. The enhanced suspension systems provide more ground clearance for the Trail Boss and ZR2 models, allowing drivers to feel just as comfortable tackling the dirt, mud, and sand as they would running over cracks and bumps in the pavement.
5. The 2023 Chevrolet Colorado Comes At An Affordable Price For All Trim Options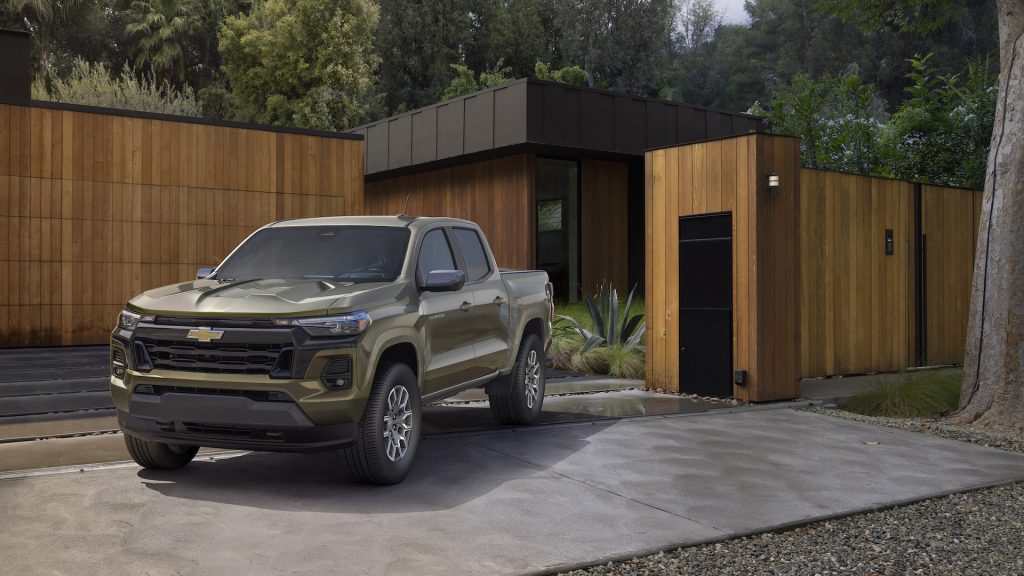 For a new mid-size pickup truck loaded with new riding and safety features, the MSRP remains in an acceptable price range. Especially when compared to the asking prices of new full-size pickup trucks can range between $40k and $70k.
For most 2023 Colorado customers, the WT and LT will most likely become the more popular models due to their features, performance specs, and MSRP of $30,695 and $33,295 respectively.
But for those intending to make off-roading a regular practice with their new Colorados, the remaining trims each have an asking price starting in the high $30k going into the high $40k range. The Trail Boss has a starting price tag of $38,495, the Z71 at $41,395, and the fully-loaded ZR2 at $48,295.
Read More from PowerNation
Latest PowerNation Episodes