The New 2021 F-150 Tremor Is Unlike Any Ford You've Seen

It seems as though Ford is reading the minds of its customers – or maybe they're doing intense marketing research. (We're not sure.) Either way, they continue to shock the country and give us truck enthusiasts what we want. Ford has done it again and announced some news that appeals to its loyalists and beyond.
First was the announcement of the new 2021 Ford Bronco Sport, and second was the shocking revelation that we'll be getting a Godzilla part II, with Megazilla, and now, the 2021 Ford Tremor.
Feel how you may about Ford, but the auto brand continues to produce at an unprecedented level. The most recent news of the 2021 Ford F-150 Tremor is their way of offering a Raptor-esque truck at a more appealing price point.
The truck was created to satisfy the desires for off-road enthusiasts, while looking cool at the same time with its rugged design. The 2021 Ford Tremor is a step up from its popular FX4 package in what it's capable of and will be sold as a standalone series. (Think Platinum or King Ranch.) It's in direct competition with the Ram Rebel, Chevy Silverado Trail Boss, Toyota Tundra TRD Pro, and GMC Sierra AT4.
Ford also offers the Tremor-branded package on the F-Series Super Duty and the Ranger, but Todd Eckert, North American group truck marketing manager, notes that a more comprehensive list of appearances and upgrades on the F-150 make it more a desirable and specialized truck.
Mr. Eckert goes further to say that "Tremor amps it all up. You don't sacrifice towing and hauling, but this truck has a higher ride height. This is meant to fuel adventure, like when you head up north and you have to haul stuff and tow a trailer; once you get to a cabin or campsite and unhitch you can go and explore."
What to Expect From the Ford Tremor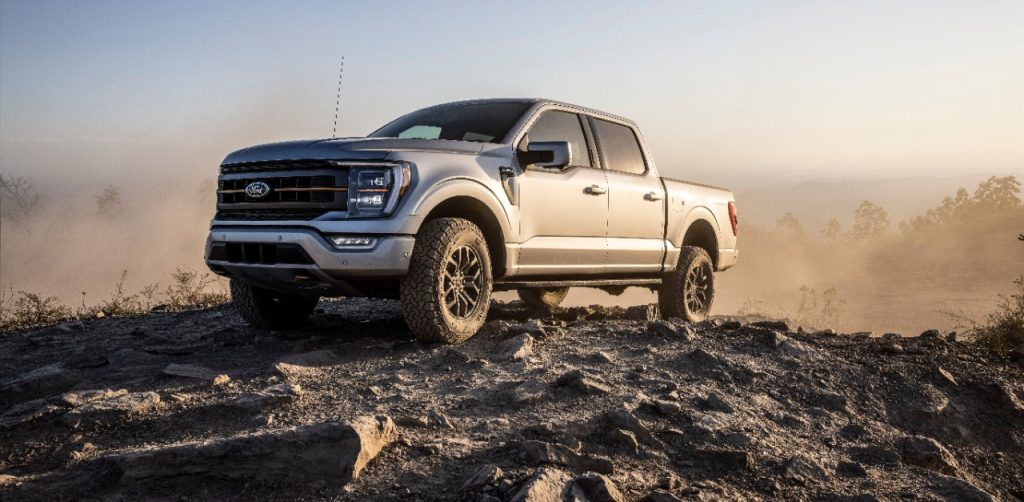 The Ford Tremor will be offered solely as a 4×4 SuperCrew and come with a 5.5-foot bed. It will be fitted with a 400 horsepower 3.5L EcoBoost V-6 and paired with a 10-speed automatic transmission when launched. Ford notes that it can be equipped with the F-150's newest 2.0-kilowatt Pro Power Onboard generator. Don't be taken back by its small displacement motor, as it's rated for 10,900 pounds of towing and has an upgraded suspension.
The new Tremor will also come with trail control, similar to cruise control, specifically used for off-road use. It will also include trail turn assist, a more aggressive body dressed with 33-inch all-terrain tires on 18-inch wheels, added ground clearance, one-pedal drive, rear tow hooks, off-road running boards, a bash plate, and a stance that is one inch wider. All of this will help with some serious rock crawling.
Ford learned their customers used the trucks in the mud and over rocks, through woods, and in cornfields. They felt that delivering more capability than their FX4 package was an essential option to remain competitive in the truck market.
What Makes the Ford Tremor So Special?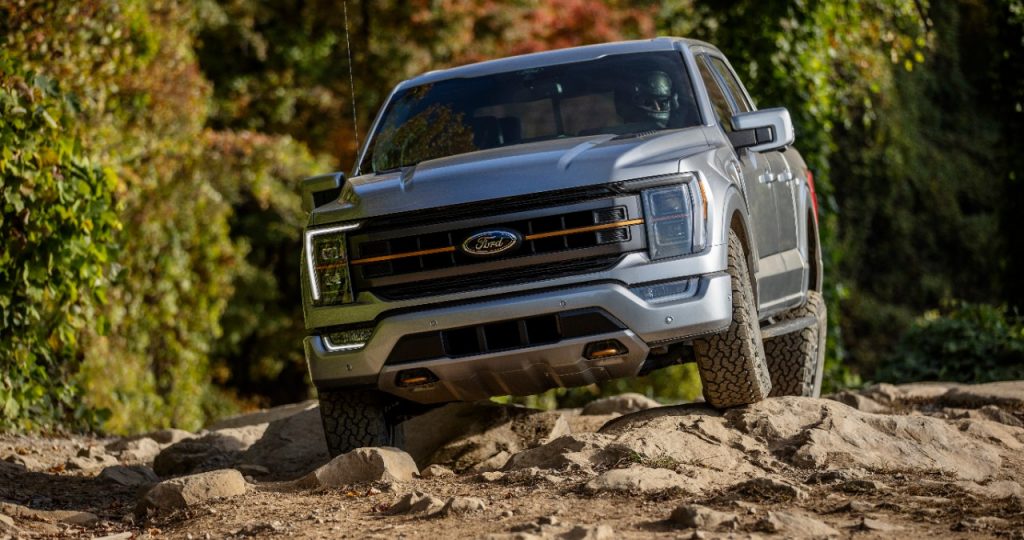 The Ford Tremor is slotted in between the FX4 off-road package and the Raptor. Ford worked tirelessly to find a truck that off-road enthusiasts could afford on any new-truck budget.
The Tremor is thought to be a JV version of the Raptor. Ford sought a buyer who wants Raptor capability without sacrificing their life savings. For all intents and purposes, let's look at the Tremor as a Mach 1 of the F-150, which is less than a GT500, but more than a GT.
Ford announced that "all the added capability comes without ignoring the core duties of a truck – outstanding towing and payload performance with a level of integration and technology only Ford can offer."
The Tremor is special because it offers some unique features in its suspension configuration. The one extra inch of ground clearance in the front and 1.5 inches in the rear make it good for an approach angle of 27.6 degrees, departure angle of 24.3, and a breakover angle of 21.2 degrees. While not as impressive as the Raptor, it comes close.
Pricing for the F-150 Tremor
Ford has yet to announce its pricing for the new Tremor, and it may be a couple months before we hear anything. We'll pass along the updates we receive here at POWERNATION once they become available.
Upgrading to the Ford Tremor
Choosing a new truck is challenging – does it have all the upgrades I want? Will I have to put more money into it after my initial purchase? Will it fit my needs? These are all questions that Ford and other brands contend with.
As loyalists start to shift their attention to the advances Ford releases, we're seeing a migration toward brands individuals may have not considered in the past.
The new Ford Tremor is a great truck, but at the end of the day, it comes down to preference. Maybe you prefer a V-8, which Chevrolet, GMC, and Toyota offer. That's OK. However, we must give companies like Ford their credit for producing innovative ideas and shaking up the off-road world.
Is the new Ford Tremor for you? Let us know what you like or don't like about the newest rendering.
Read More from PowerNation
Latest PowerNation Episodes