Delivery is Underway for the 2021 Bronco Sport – Is It Better Than The Classic?

As was reported recently by Ford Authority, deliveries of the new-age 2021 Bronco Sport are underway. Since November, Ford has delivered 22 units, and more continue rolling into the dealership as the year wraps up. However, deliveries of its older brother won't begin until Spring or summer of 2021.
As a new age of vehicles starts filling our streets, it's making a lot of us over here at POWERNATION feel a sense of nostalgia. It's always exciting when our favorite brands revive a classic, but will it live up to the hype? Let's talk about our favorite parts of the classic Bronco.
History of the Ford Bronco
It was a warm summer day in August 1965 when Don Frey, Vice President, and Ford Division General Manager introduced the world to the Ford Bronco. He famously noted that Ford added another "pony to the stable" to join big brother, the Mustang. The Bronco was the first automobile to be called a "Sports-Utility Vehicle." It was on this day another American classic was born and graced the pavement, dirt, and everything in between.
Back in 1962, Ford started surveying Jeep and International Harvester Scout owners to see what they liked and disliked about their cars during the research phase of the classic Bronco. The findings were summed up as "ride noise, lack of comfort, and vibration qualities." A year later, the earliest sketches for the Bronco were released by designer McKinley Thompson. As you might expect, it went under constant revisions over the next year, and it was described as neither a conventional truck nor a car, but as a vehicle that combines the best of both worlds.
The Bronco was offered in three body styles – the Roadster, Sports Utility, and Wagon. While there were varying packages, each model came standard with a 3-speed manual transmission and a 105 horsepower 170-cubic inch six-cylinder engine. It wasn't until March 2, 1966, when the 289 V-8 was offered. It was an SUV that was, quite literally, ahead of its time, but what is it like to drive a classic Bronco?
Driving a Classic Bronco
It's been a wild ride since its release in 1966, and the famous Bronco has ingrained itself as a significant piece of American history and pop culture, though not always for the right reasons. The Bronco has appeared in countless movies and television shows. However, the most famous appearance is arguably the car chase from June 17th, 1994.
Unless you were lucky enough to have one, most of us are too young to remember what it was like to drive the Bronco, and you'll never know what the roar of that eight-cylinder engine, bouncy suspension, or the loud wind noise at low speeds was like. The vehicles of today are so refined and have skewed our perspective of what it's like to drive a classic beast. It's an undeniably cool truck that will turn the heads of non-car people and car people alike.
The first impression of the Bronco is intimidating, and it oozes "rugged utility." It's more than capable of driving over anything you put in front of it. Modern cars cruise at 80mph with ease, but the first impression of the Bronco on a highway is intimidating because of its size and design, lacking in aerodynamics. Once the fear dissipates, the nostalgia will return and you'll acclimate to its tank-like driving qualities.
The Bronco shines off-road, however, and you'll experience what it was initially designed for if you bring it to its natural habitat. If you're lucky enough to have driven one, it's an experience you won't soon forget. There is something about the smell, feel, and drivability of an older vehicle that we'll never replicate with modern cars, and it's something us car guys and gals will forever miss unless we're lucky enough to own a classic.
After that walk down memory lane, it leads us to now – you might wonder how to feel about the 2021 Bronco. It's hard to let go of the past. Despite our feelings on the topic, deliveries are underway for the Bronco Sport, and the modern-day Bronco will soon be littered on our roads, but can it stack up against the classic?
Reasons to Love The 2021 Ford Bronco
For some of us, Ford could release the greatest car of all time, but it just won't match up with a classic. Believe me, we understand, but it's important to note that there are some cool features about the newest Bronco that might sway your opinion. Let's take a look at those.
The Exterior Design
While it's all about preference, one would argue that the best feature of the 2021 Bronco is the exterior. It's aesthetically pleasing and seems that Ford got this one right. The ultra-modern appearance is something you'd never believe was ready for production, but rather, a concept that never made it to the road.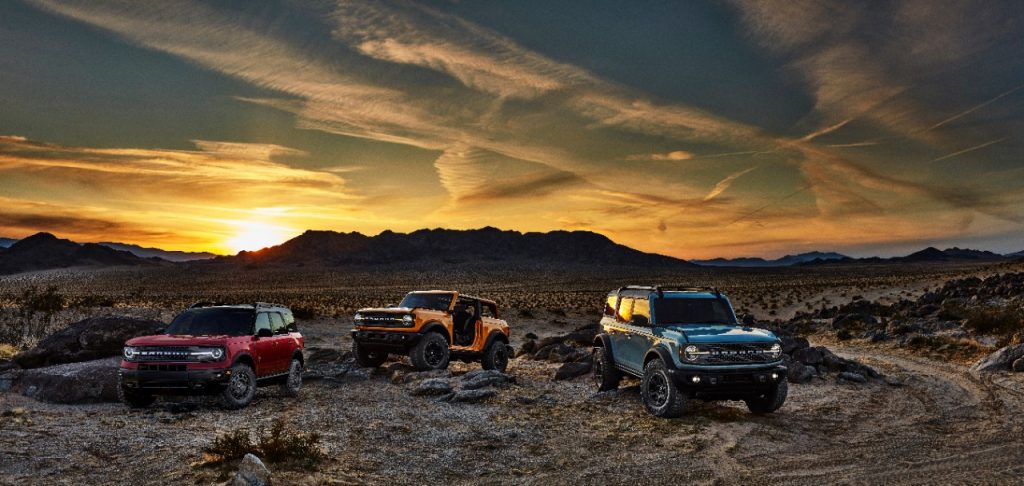 The Little Details
The Ford Bronco is comprised of thousands of hours of customer feedback and careful engineering. Fortunately, die-hard Bronco fans had a huge say in what goes into the new SUV, which should help its acceptance with the masses. The engineers canvassed thousands of 4×4 enthusiasts to identify common complaints and problems that plague the off-road world.
The doors on the new Bronco are fully removable and are much lighter than you might expect. If you purchase the four-door, you can stow the doors in the back. The innovative halo-style roof frame will provide passengers with unobstructed views above, but don't worry about a little rain or mud since the floors are rubberized, and controls are waterproofed.
The Accessories
One of the primary strengths of the new Bronco is the number of features it offers. During its launch, Ford promised 200 official accessories, ranging from wheels, grille designs, tents, winches, cargo management, bumpers, lights, shift knobs, interior trim, and we're assuming, performance upgrades. Even the interior grab-handles can be changed – if you don't like it, swap it for something you do.
Lastly, despite an almost extinct feature, the 2021 Bronco offers a manual transmission. There isn't another truck or SUV in the Ford lineup that offers a stick shift. It offers six forward gears and an ultra-low-speed crawler gear, which hasn't been seen in an off-road SUV in some time.
2021 Bronco Vs. The Classic Bronco – What's Better?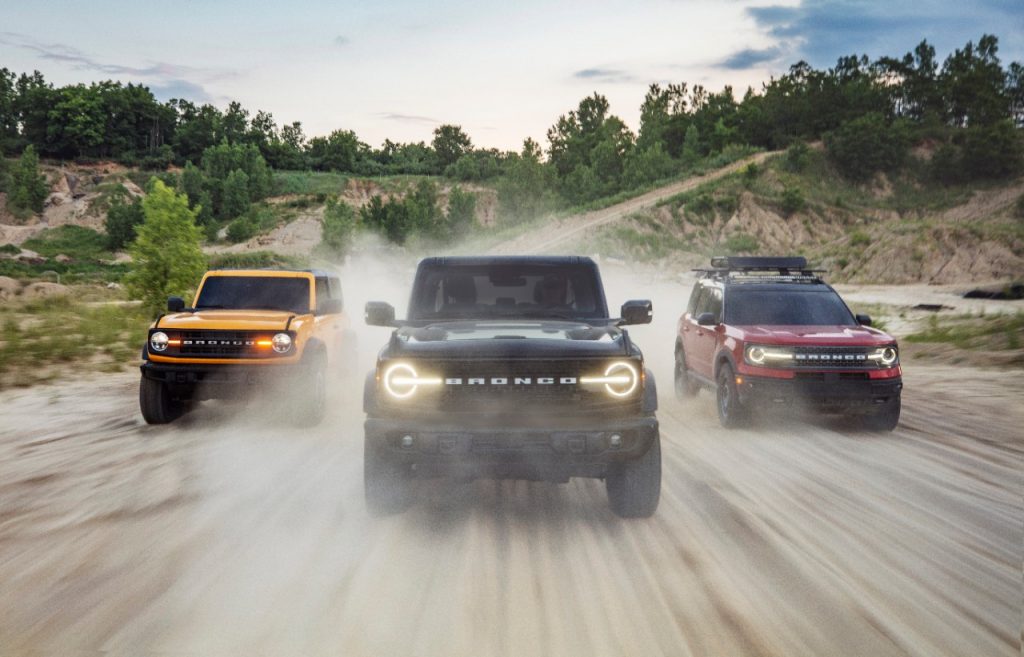 At the end of the day, it's going to come down to a matter of preference. Yes, the new Bronco offers some incredible features that you won't find in many modern SUVs, but when you're trying to compete with a classic with a following like the old Bronco, it's hard to produce anything that provides the nostalgia factor the classics do.
With that said, the 2021 Bronco looks to be an incredible rebirth, but only time can tell if it'll live up to the hype. Have the engineers done enough to convince you to purchase a new Bronco?
UPDATED TO REFLECT FORD SUPPLY CHAIN DELAY ANNOUNCEMENT
Read More from PowerNation
Latest PowerNation Episodes