Can the New Ford Megazilla Compete with Mopar's Hellephant?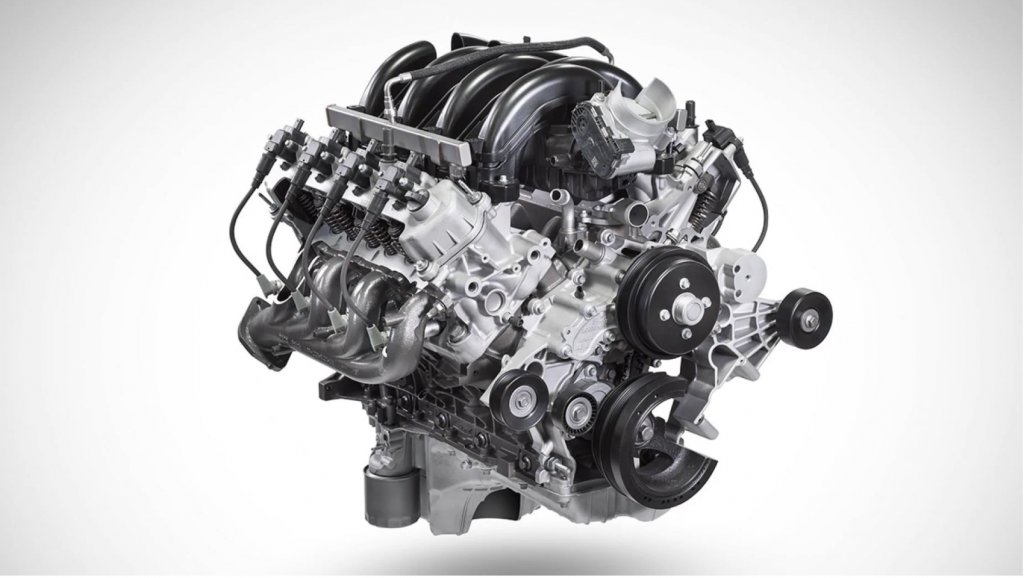 The boards lit up when Ford announced a follow-up to the popular Godzilla crate engine that it released in the summer of 2020. The massive pushrod motor initially made jaws drop last year when we found out it'd be in the 2020 F-250, but Ford fans were even happier once it was made available as a crate engine.
With the secret project, Megazilla, on the horizon, here's a memory refresher – Ford's Godzilla pushrod boasts a 7.3L V-8 that displaces 445-cubic-inches. It makes 430-horsepower, which doesn't sound like an exceptional output for its size, but that's because it was designed to be a truck engine, and started its life in the Super Duty pickup. For this reason, it boasts a high-torque output of 475 pound-feet. It has a diesel-like powerband, despite taking standard gasoline.
We're living in an era where automotive manufacturers are leaning toward smaller displacement motors with turbos to improve fuel efficiency, as well as performance. It's nice to see Ford listening to its buyers by making a bold statement and producing a follow-up for its popular Godzilla crate engine. The Godzilla motor is affordable at $8,150 for a crate engine, especially when compared to the Hellephant at $29,995. We expect Megazilla to cost significantly more, considering it will be equipped with a supercharger.
The Low Down on the Hellephant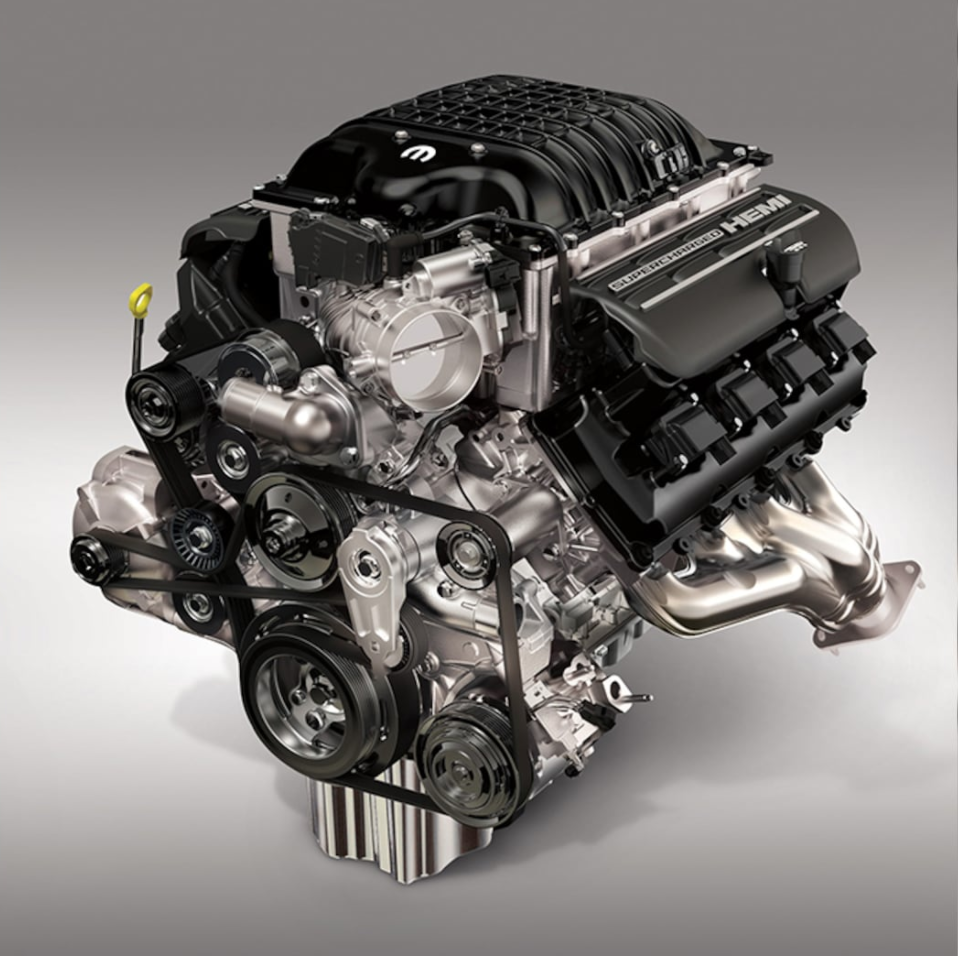 While little is known to this point, other than the project's existence, we do know that Megazilla's design will compete with the 6.98L (426-cubic-inch) Hellephant crate motor from Mopar. The Hellephant produces a mind-boggling 1,000 horsepower and 950 pound-feet of torque. The motors are assembled by hand, and Mopar calls it a "relatively simple plug-and-play by experienced installers."
The Hellephant came into the car world and and shocked enthusiasts, but now Ford looks to take a swing back and reign superior.
What Comes With the Godzilla Crate Engine?
While details are scarce when it comes to Megazilla, we do know that Godzilla allows the end-user to customize the engine to their specific needs. Godzilla comes with the intake manifold and throttle body, production oil pan and cooler, both exhaust manifolds, production flex plate, ignition coils and wires, storage crate, and lift brackets.
When the end-user receives the motor, they must provide their own electronics, transmission, ECM, steering pump, alternator, and A/C pump. Could this also be the case for Megazilla?
Will The Next Ford Raptor Use the Megazilla Engine?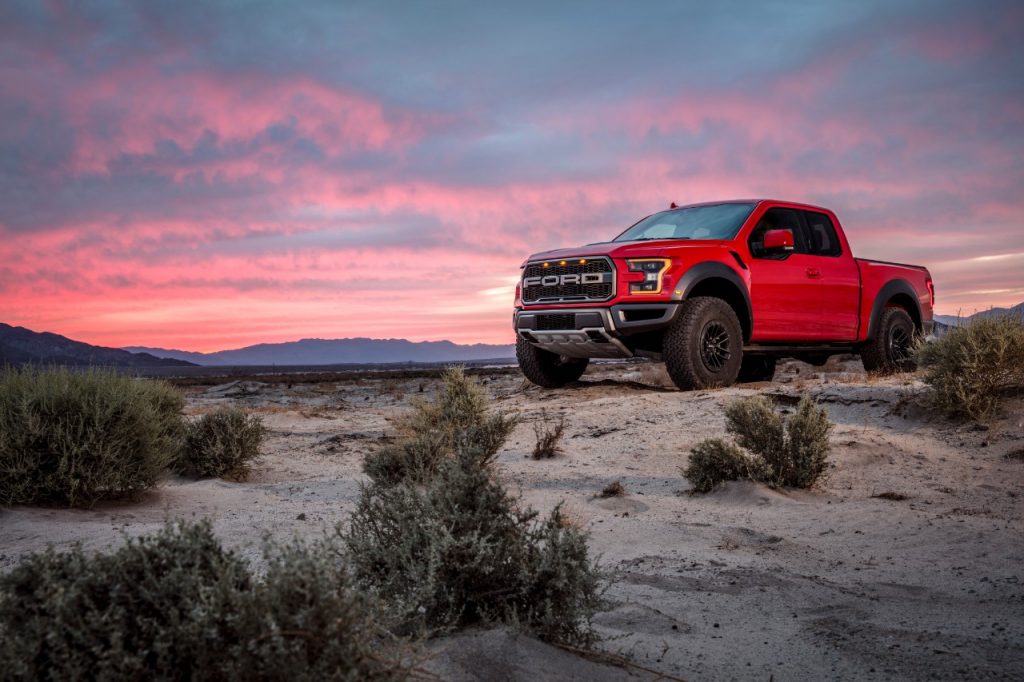 As was mentioned above, details are still a bit murky for us over here at POWERNATION, and we've been reaching out to our contacts for more. One question we've seen floating around is if Ford will use the Megazilla 7.3L gas V-8 engine in their Raptor. In a recent video, we did see a 2nd-gen Raptor in the background with an open hood and the front bumper removed. Without speculating too much, could this be a hint of what's to come?
While it seems most Raptor owners are happy with their current setup that boasts a a twin-turbo 3.5L V-6, would the truck be better suited with a Megazilla V-8?
What Can We Expect From Megazilla?
What we do know is that a tuner was able to extract 789 naturally aspirated horsepower out of Godzilla at 7,600 RPM. The mods they used included a billet intake, 90 mm throttle body, mechanical roller cams, and modified heads. This is an impressive increase of power over stock, and it appears Ford will produce a "tuned-up" version of the 7.3L Godzilla, likely to share a block and displacement, but boost performance through other means.
We believe Ford will use alternate cam profiles, freer-breathing cylinder heads, long-tube headers, alternate pistons, and a higher-flow intake plenum. Ford could opt to use some or all of these things to increase the performance of the V-8.
Where Does the Godzilla Crate Engine Fit?
Godzilla pairs well with a nice Fox-body Mustang, an old Bronco, or a classic F-100 pickup, but that doesn't mean it's limited to just those models. If you have a space that can fit the design, feel free to share the videos or photos, as we'd love to see them.
When Can We Expect Megazilla?
Ford is keeping this story under tight wraps, and even with the thin crust of information delivered on the YouTube channel Performance Racing Industry by Mike Goodwin of Ford Performance, we know that production may take a while. Ford recently announced that the delivery of their newest Ford Bronco would be delayed due to COVID-19, which makes us wonder if Megazilla could suffer the same fate.
With that said, we're excited by the news, and as new information pours into us at POWERNATION, we'll make sure to follow-up.
Read More from PowerNation
Latest PowerNation Episodes