Truck Tech Builds
Parts Used In This Episode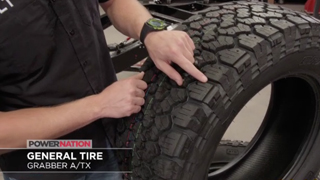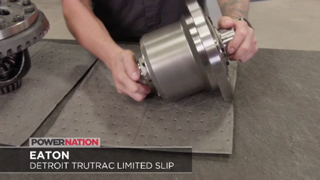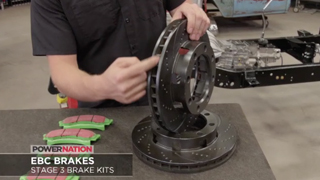 EBC Brakes
Stage 3 Truck and SUV Kit with Green Stuff Brake Pads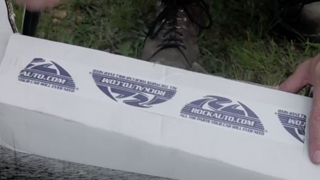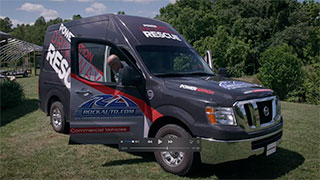 Matco Tools
Matco Tools are the Official Tool Supplier to Truck Tech
The Industrial Depot
Tools, Hardware, and Shop Supplies
Episode Transcript
(Narrator)>> Today we begin the transformation of our diesel Denali into a quarter mile pavement pounder we're calling Dragonali, and it begins with a lowered stance and a limited slip. Plus another lucky viewer gets rescued.

(Bill)>> Well hey guys, how y'all?

(LT)>> Doing very well, thank you.

(LT)>> Recently we picked up a new project truck, and this is by far the swankiest rig we've had on the show in a long time. It's a 2011 Sierra 2500 HD Denali that we've nicknamed this black beauty Dragonali.

(Austin)>> It's a crew cab short box, which is a sporty combination powered by the LML Duramax. It's backed up by the Allison six speed automatic. This baby's at home on the job site or on main street, and we're gonna put our flare on it. Take it from bone stock all the way to the extreme.

(LT)>> The first thing that we're gonna take care of on Dragonali is that awful stance. From the factory the rear end sits up two inches higher than the front, which is already much too tall to begin with. So we're gonna swap out a few simple parts to get this thing sitting closer to the ground and make it look much better.

(Austin)>> And if you know anything about us the first thing we do when we finish a build, that's burnouts, and with that stock rear end well it's just difficult to get both tires to stick. So we're gonna address that and finish it off with a few simple cosmetic upgrades.

(LT)>> Well I guess the first thing we have to do is get started, get this truck up in the air.

[ mechanical humming ]

(Austin)>> When it comes to lowering a truck it really depends on the vehicle you have and what options are available. From 2001 to 2010 GM kept the frame the same on all their heavy duty trucks and it wasn't until 2011 they decided to switch it up, and that makes parts a little more scarce. So we stopped off at Summit Racing and picked up these two inch rear drop shackles. This will get our rear sitting down right where we want it. To handle the front we're going with some new torsion keys. These will index differently on the torsion bar and level it straight down. Let's get started in the rear. You need help buddy?

(LT)>> Yeah.

[ drill spinning ]

(Austin)>> The axle is first supported with a pair of screw jacks. Then the lower shock bolt is removed so the axle can later be dropped. The nuts are zipped off the U-bolts and the bottom plate is removed. Up top the lower bolt is driven out to free up the bottom of the shackle. The spring is lifted so the center pin can be accessed and clamped down with a pair of vice grips. C-clamps will hold the front and rear of the spring pack together. The center pin is unbolted and removed with the overload spring. A shorter center pin is slid in, tightened down, and the spring pack is lowered. There's a body seam under the bed which is in the way for the longer drop shaft. It is easily fixed by messaging of the seam with an air hammer. It also allows me to raise the spring enough to remove the top shackle bolt without lifting the bed off the frame. The drop shackle is bolted in and the axle is raised up to set the spring in position on the spring perch. The U-bolts are bolted down and finally the last bolt is tightened on the rear shocks to finish it off.

(LT)>> And now we need to turn our attention to the front. On this HD GM used a torsion bar spring, which is what we'll use to lower the ride height. The actual part that we're gonna be changing, which will lower the truck, is the key, which indexes the back of the torsion bar in the truck. It simply changes the rotational position of the torsion bar. Now anytime you're working with a spring, whether that's a torsion bar, a leaf spring, or even a coil spring, there's a lot of stored up energy simply based in the position of the suspension even though the wheels are completely drooped out. Now they do make a tool which will safely release the pressure. There's a little tab on top, which indexes with a hole on top of the crossmember. The trouble is this particular type of tool won't work because the crossmember on these 2011 and newer trucks is simply too thick. So we're gonna have to improvise. For this application we're going to be using a heavy duty two jaw puller to relieve the pressure on the adjustor. The bolt is backed out and the retaining nut is slid out of the crossmember. Now the puller is removed and an air hammer is used to push the torsion forward and out of the control arm. The old key simply falls out and the new one slides into place. With the torsion bar fully seated we can push up on the new key, install the retaining nut, thread in the bolt, and remove the puller. I've got the key pulled out of the passenger's side, and with a new one laid on top you can tell a pretty clear difference between the two. Now it may not seem like a huge amount but that little bit is going to lower the front end of the truck about two inches. Now all I have left to do is put the thing back together. And when the weight of the truck is sitting on the ground if there's any deviation in ride height from front to rear I can fine tune that simply by turning the adjustors.

(Narrator)>> Next time for traction.

(Austin)>> Welcome back to Truck Tech. We're digging in the Dragonali's rear end to swap out some parts that will ensure we'll get these tires hooked up to the pavement. Now you may be thinking why swap out this factory installed G-80 locking differential with an aftermarket limited slip? Even though it's called a locking differential it's really not. It's just the term used by GM. The G-80 engages clutches only at lower speeds. So if you lose traction at high speeds your rear end with behave more like an open differential. Remember this system was designed for the average daily driver and not considered to be a performance part. Although it is a better option than having an open diff, which will give you no axle lock at all. It also makes it less than ideal for you fellas out there looking for those high horsepower goals and quick launches off the start. There are many different limited slip and locker options to choose from in the aftermarket. They all have their own specific purpose, and for the Denali we chose to go with Eaton's Detroit True Track helical gear style differential. It's maintenance free, automatic, requires no additional oil additives or friction modifiers. Best of all it works 100 percent of the time, and that means we get to put all that high horsepower down to both wheels, ensuring traction in just about any condition. It makes it the most versatile and effective diff in its class. Let's get this ring gear swapped out, get started. [ drill spinning ]

(Austin)>> With the ring installed and torqued to spec the carrier bearings get pressed on. Then it's back to the housing for final assembly making sure the backlash is within spec.

(LT)>> For those who are looking for an all-terrain tire that provides both on-road performance and off highway capability this is the Grabber ATX by General Tire. The aggressive tread design features these traction notches for extra grip in the rocks, snow, and in the mud, and the five row tread design features multiple traction angles for off road gripping in any direction. Plus underneath the tread is an absorption layer which gives you a nice, quiet, comfortable ride on the highway. To find your size visit General Tire dot com. Upgrading the brakes on your truck or s-u-v has never been easier than with an EBC Brakes stage three kit. It comes with their green stuff 6,000 series high efficiency pads, which have been matched up to their spot drilled and slotted rotors. The braking surface has been vented for cooler operation and the wide aperture slots will remove dirt and debris from underneath the pads. Plus the whole kit comes with a 10,000 mile and a 12 month warranty. Find out your application at EBC Brakes dot com.

(Austin)>> One problem with purchasing aftermarket trim parts is they may not come in the interior color that you need, or you might have a restoration project and they might not even make those parts at all, and that means you've got to work with what you've got. In our case LT installed these gauges in this A-pillar pod but it only comes in black. So it's mix matched from the color of the passenger side. Now this may not bother some of you and obviously it didn't bother LT but as soon as I saw it I just couldn't live with it. And as they say on the bayou, that's pas bon boy. So we're gonna take care of it. Now we could look up the factory interior paint code, and get some paint and paint the black one to match or we could go ahead and dye it and try to get it as close as possible. My choice, I'm gonna take this factory passenger side one off and paint black to match that one. The bolts for the factory grab handles hold in the pillar trim. So they need to be removed. The tweeter speakers are unplugged and separated from the trim panel. The steps we're gonna take here for painting are no different than painting any other part except for one, and that is the fact that this is interior panels, and over the years protectants and hands have been rubbed all over this and it leaves residue, grease, and grime. If we were to go straight to scuffing we'd actually drive those particulates into the panel and we probably won't get good adhesion. So we're gonna start with cleaning, then scuffing it, then cleaning it again.

A proper spray and wipe will decontaminate any grease and grime on the parts. An ultra-fine scotchbrite is the way to go when scuffing plastic parts. This will ensure you don't dig in or scratch the surface.

Now we're gonna prime these parts just as we normally would but we're not gonna use that traditional primer that you're used to seeing. Instead we're gonna use this Dupli-color adhesion promotor because these interior pieces are plastics, different composites, and we need something to make sure that paint bites. Two light coats are applied with a little flash time in between, and it's recommended to spray color within 10 minutes of adhesion promotor. Vinyl and fabric specialty coating is applied with a light coat to start, followed up by a heavy second coat. Once cured the tweeter is installed back in the panel, which I decided to leave tan just for a little contrast. Nothing wrong with a little two tone effect. Lastly the panel is installed with the grab handle, and with the passenger side trim color matched to the gauge pod I can sleep tonight.

(LT)>> The final measurements come in at three inches lower out back and up front. Now it's a real subtle change but it's just low enough that we're able to lose those ugly chrome running boards.

(Austin)>> I've got to say that stance is right where we want it. We'll put some tires and wheels on this thing and it'll change the whole look of the truck, but next time you see it that hood will be popped and we'll be adding a little bit more power.

(Narrator)>> Next, to the rescue!

(Austin)>> Every now and then we like to give back to our viewers. We call it Driveway Rescue.

(LT)>> Our partners at Rock Auto dot com help us pick one among thousands of submissions and today we're gonna see this guy.

(Bill)>> Hi, my name is Bill Shelton and this is my 2006 Chevy Silverado.

(Austin)>> It runs and drives just fine but there a few items he's itching to get fixed.

(LT)>> Nuisance items like a broken center console, soft shocks, and depending upon where you live an air conditioner that won't blow cold.

(Austin)>> August in the south, I'd say that's more than just a nuisance item.

(LT)>> And there's a few other things that we're gonna take care of as well. Mister Bill how are you?

(Bill)>> Hey guys, how are y'all?

(Austin)>> Nice to meet you.

(Bill)>> Same here, and I'm glad y'all arrived.

(LT)>> Yeah we're glad to be here. So this is the truck. Tell me a little bit about it.

(Bill)>> I've got a few nick nacks wrong with it, you know? Like my console, it died. The top broke off.

(LT)>> It looks like maybe the dog sat on it or something.

(Austin)>> A few little interior things.

(Bill)>> It likes walking back and forth from the front to the back. My back tailgate, it don't want to shut a lot of times.

(LT)>> Well it looks like it's shut now. Show me what it does.

(Bill)>> It don't want to shut. It's like the hinges or something.

(LT)>> Well that's a pretty common problem on this year of truck. We've got a couple of things we can fix up there for you. What about the bumpers? They look like maybe they're a little tweaked.

(Bill)>> Yeah a little bit.

(Austin)>> Yeah bumped into something here and there.

(Bill)>> I'm pulling out a tree with my truck and I back into another tree.

(Austin)>> That's a work truck.

(LT)>> Well I'll tell you what. We've got a truck full of parts right here. Let's us get unloaded. We'll get this thing fixed up and looking good.

(Bill)>> Oh man, y'all rock man, y'all do!

(LT)>> Alright man you get the heavy box.

(Austin)>> Yeah I'll grab that. The place to go for o-e-m replacement parts was just a few clicks away. We logged on to Rock Auto dot com and picked up everything we thought Bill's Silverado could use. From replacement bumpers, headlight assemblies, you name it.

(LT)>> One of the most defining features about a pickup truck is the bed on the back that lets you haul and store cargo, but they're kinda useless if you have a tailgate that doesn't stay shut cause all your cargo can fall out. In fact Bill told me just the other day he almost lost an air conditioning unit out of the back because the tailgate fell down while he was driving. Now it's actually a very common problem on these '99 to '07 Silverados. The first place people generally look is the latch. They try to lubricate it and think it'll solve the problem but more often than not it doesn't. That's because the problem is elsewhere. It's actually in the handle. It's easy to get to by removing the bed liner panel on the gate, which loosens the latch, and two arms hold it in.

So as you can see these arms, they just get a little bit bound up. Now there's a couple of different fixes I've seen people do. Number one you can come in with some sort of a WD 40 penetrating lubricant and spray it in there, and work the latch back and forth, and it kind of frees it up. The second thing I've seen people do is actually heat up this metal stud in the center and the plastic piece melts, but then it gets just a little bit sloppy. We're just gonna replace everything including both side latches.

[ drill spinning ]

(LT)>> You can actually see in an attempt to slam the tailgate shut they've actually bent the striker bolt. And a new handle completes the fix.

(Austin)>> Alright let's see if you actually know what you're doing here.

(LT)>> Well I wouldn't claim that I do but come on.

(Austin)>> I'm just playing with you.

(LT)>> You get a little limp wrist there?

(Austin)>> Professional tailgate handle changer you are.

(LT)>> You know, I'm not qualified for much but I can work on a Chevy.

(Austin)>> It turns out.

(Narrator)>> Next will Bill's dog approve?

(Bill)>> A truck is a man's body of armor. You've got to have your truck.

(LT)>> Bill Shelton is a loyal viewer who needed some assistance sprucing up his Silverado. Pair of headlights coming at you. He's permanently disabled after a construction accident. He and his wife Kim, and their two dogs, enjoy country life, and after a few parts from Rock Auto dot com he'll be able to enjoy his body of armor again.

(Austin)>> Now you take a quick gander at the front end of this ole Chevy and you'll notice that it's not wrecked or dented up but it is a little worn and faded, and the first thing you'll see, these dull, faded headlights. Now if you can't see in chances are that light can't see out, and that's a safety concern. Secondly you've got these lights that have condensation and moisture. That means that bulb is not quite sealed in the back or it's cracked and moisture is getting in there. Another thing to address somebody painted these old chrome bumpers back in the day and well that's kinda coming off. So a few clicks at Rock Auto and we'll pretty much change everything up on the front of this truck from headlights, to park lamps, to bumpers, and even add some fog lights.

(Bill)>> I watch them all the time. The rock, they are awesome. I just wanted to see if it was possible I could maybe get in there and see if they'll respond to me, and sure enough they did.

(Kim)>> His truck is like his baby. That's his priority. You know like don't mess it up, don't drive it. He's the only one that can drive that truck. It means the world.

(LT)>> Man this really shined that truck up like a good pair of cuff links on a cheap suit.

(Kim)>> It's like a dream come true for him to have his truck running and looking so nice. Taking time out of your schedule to come out here to do that for him has been. He has not stopped talking about it.

(LT)>> The front end of that truck is so bright you're gonna have to borrow these I believe.

(Bill)>> I believe I will. Oh yeah, now it even looks better.

Oh man! [ drill spinning ]

(Austin)>> I got it man.

(LT)>> All by yourself?

(Austin)>> Well yeah you haven't been working out.

Such a nice finishing touch. Few more things left to do.

[ drill spinning ]

(LT)>> Now whenever you buy new shock absorbers they often have this little cable on them that keeps them from expanding in the box to save space. Now there's a trick you can use to help get these things in easier. Now if you snip this little band and time it just right you can slip the bolt in. Now I've got about an inch to go. So wish me luck. Not feeling very confident though.

Oh ho, got it.

(Austin)>> Old Bill told us there's one more thing that might need attention, and that's that a/c. Apparently no matter which setting you put it in it just doesn't work. So we gonna swap out that blower motor baby.

Oh wee baby, blowing cold, just like I like it.

(Bill)>> I don't know how to thank y'all except to say thank you.

(LT)>> It was our pleasure to come out and help you out on your truck.

(Kim)>> Thank you so much LT. You guys are awesome. Thank you Austin. [ dog barking ]

(Bill)>> Come in.

(Bill Singing)>> All the parts your car will ever need, Rock Auto.
Show Full Transcript