The Redesigned Next-Gen 2024 Ford Ranger Finally Revealed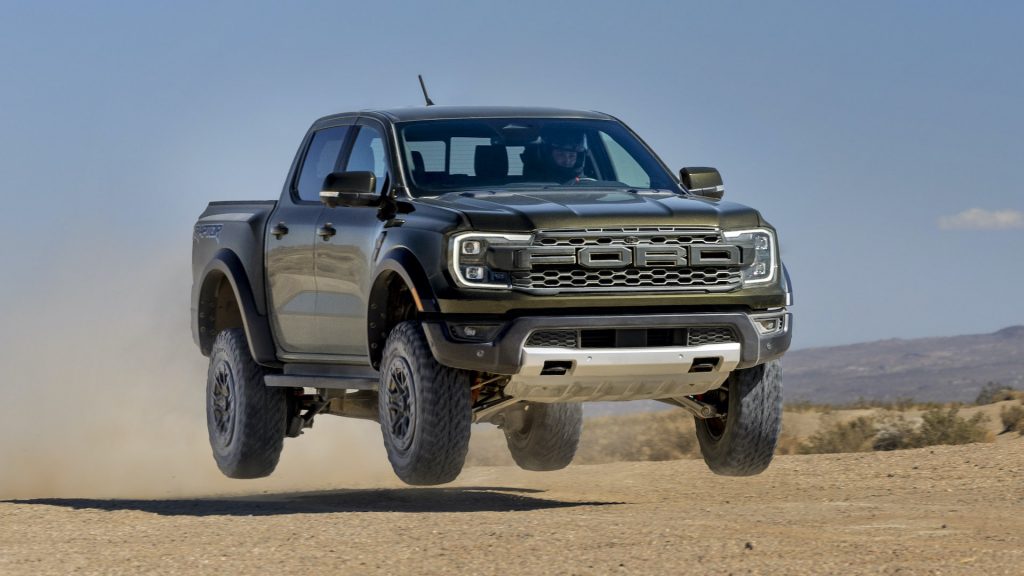 With a globally-backed reputation for adventure and fun, the 2024 Ford Ranger pickup truck has finally arrived to enjoy the great outdoors with you. Redesigned to tackle new environments and challenges, this next-gen Ranger sets a new standard for itself and its adventure-hungry customers with a stronger frame, suspension, powertrain options, and riding technology. As of late, this new Ranger is the brand's most advanced midsize truck that holds up the moniker "Built Ford Tough."
"Ford is the No. 1 selling pickup manufacturer globally and Ranger is the winning choice for midsize truck customers around the world who need a capable, smart, and versatile truck that's ready to keep up with their adventures," says Kumar Galhotra, Ford Blue president in a statement. "The all-new Ranger has already proven itself on almost every continent in 2022 with segment sales leadership in 18 countries, and all of Europe. Now it's ready for North America."
2024 Ford Ranger: Performance
Like every next-gen model, the 2024 Ford Ranger boasts new performance upgrades to handle the demands of its North American customers that intend of taking this truck through the dirt, mud, and sand. To handle multiple kinds of terrain, this new Ranger features a 2.7-liter EcoBoost V6 engine for additional power by producing 315 horsepower, 400 lb-ft of torque, a 7,500 towing capacity, and a max payload capacity of 1,805 lbs.
The new Ranger is available in four different trims (XL, XLT, Lariat, Raptor) and each come equipped with a standard 10-speed automatic SelectShift transmission, along with an electronic shift-on-the-fly 4×4 system for instant off-roading and low traction riding.
Leading up to the development of this new Ranger's nature-bound readiness and reliability, it was tested to handle the harshest environments around the world. To be specific, Ford's R&D team racked up over 4.9 million customer miles from the broken road surfaces of Australia, to intense hauling, towing, and hot testing in America, and the inversely cold temperatures of New Zealand. Ford engineers reinforced the truck's fully boxed high-strength steel frame, along with its wheelbase and track stretched an additional two inches than its predecessor to provide more bed space and greater stability to effortlessly conquer even the roughest of trails.
The truck's rear shocks and shock mounts have been relocated on the outside of the frame rails to promote a greater riding experience and control. Every trim of the Ranger will also come with improved ground clearance, allowing for a more effective approach and departure angles for off-roading adventures.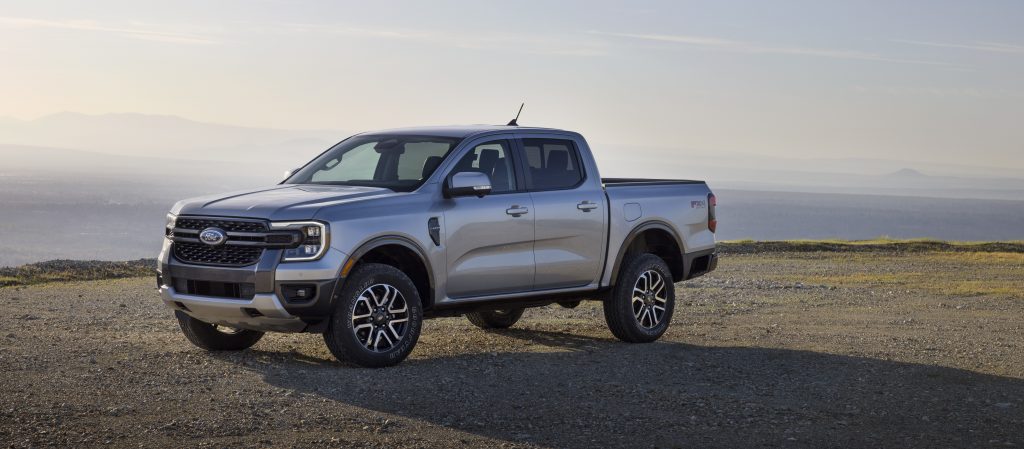 2024 Ford Ranger: Special Features & Technology
The most obvious reason anyone would choose to purchase a pickup truck is the storage and transportation ability of its bed. On top of that, the 2024 Ford Ranger includes additional storage features throughout the truck such as a large storage bin in its center console, door pockets, two storage levels in its glovebox, and hidden cargo bins located under its rear seats. The rear seatbacks can also be folded flat to make room when loading larger objects like TV's, furniture, coolers, tools, supplies, etc. The truck also has an Integrated Box Side Step behind its rear tires that are big enough to support both feet, allowing owners a stable support system when accessing items in the bed.
Because new vehicles must always meet the current demands of customers in terms of technology, the 2024 Ford Ranger features a standard 8-inch digital instrument cluster, or an optional full-screen 12.4-inch cluster, and is partnered by either its standard 10.1-inch center touchscreen or an optional 12-inch touchscreen equipped with Ford's SYNC 4A system. This operating system allows users to connect their vehicle to their own personal smart devices to access their music, podcasts, contacts, and more.
Aside from its two USB ports and a wireless charge pad for mobile devices, the Ranger's internal software can receive over-the-air updates, opening the door to new features and options to improve the riding experience.
The touchscreen allows customers to select multiple drive modes, access off-road data, turn-by-turn navigation, and additional vehicle controls. The center screen also provides access to the truck's 360-degree camera to have complete awareness to its surroundings, which can come in very useful when parking or navigating rough terrain.
Driving at night requires bright headlamps to illuminate the path in front of you. But for those times when you are camping for the weekend, the 2024 Ford Ranger also has Zone Lighting located surrounding the truck's exterior and bed that can be accessed by the touchscreen or FordPass app.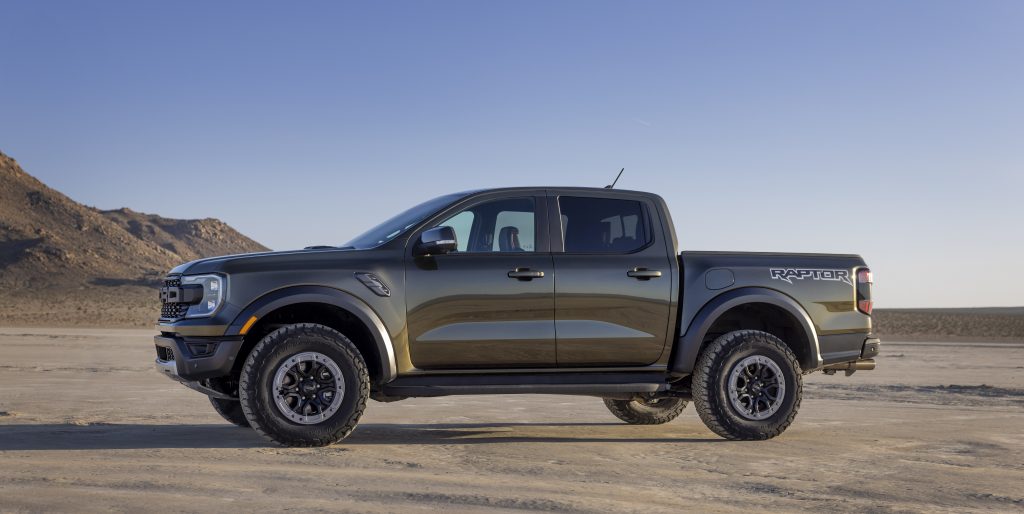 There are an additional 31 safety features that can be found on the 2024 Ford Ranger to make driving to the trails not as difficult as it needs to be. These include BLIS and Trailer Coverage to alert drivers of nearby vehicles in their blind spots, and Adaptive Cruise Control with Stop and Go. Active Park Assist 2.0 is an automated system that helps owners parallel and perpendicular park in tricky spots, and the all-new Pro Trailer Backup Assist and Trailer Reverse Guidance use the truck's built-in artificial intelligence and onboard cameras to perfectly align the truck with its trailer.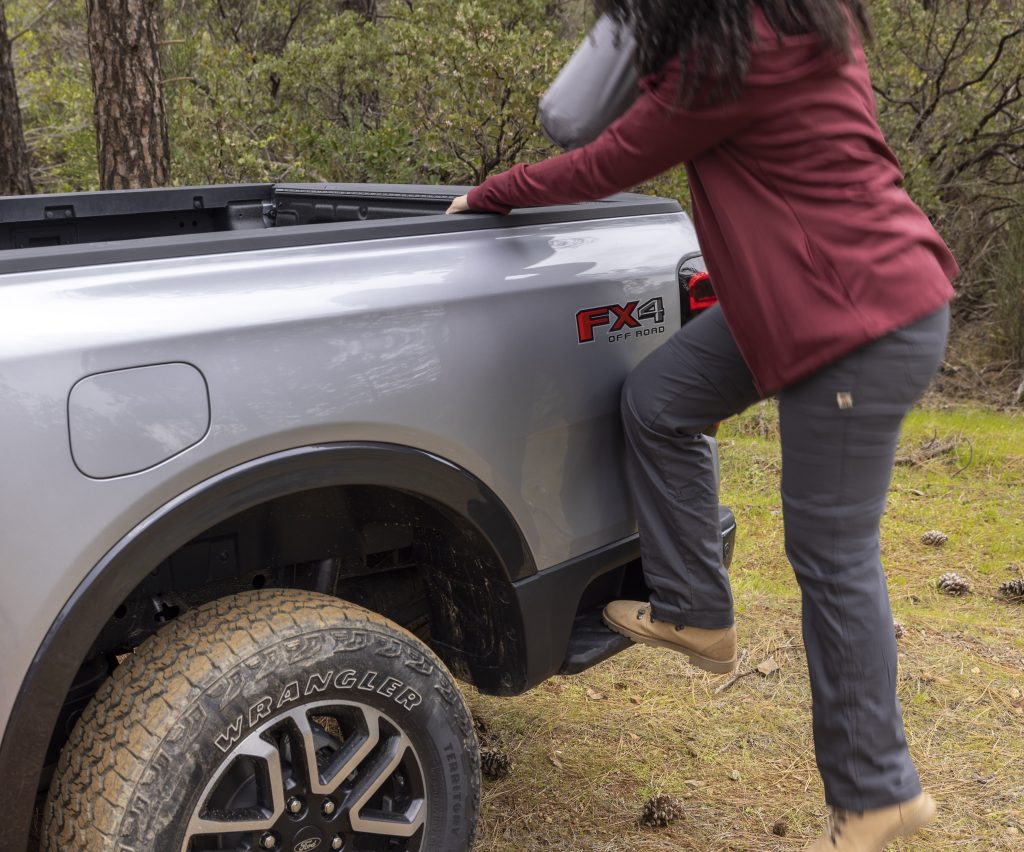 This truck features a 400-Watt power inverter with an outlet in the bed that can be used to power a grill for tailgating parties, an air compressor to refill flat tires with air, and any other kind of power tools on a whim. The tailgate can also be transformed into a workbench that has its own ruler and clamp pockets.
Orders for the 2024 Ford Ranger will be open in mid/late May 2023, and will be available for purchase in late Summer 2023.
Read More from PowerNation
Latest PowerNation Episodes