XOR - Xtreme Off-Road Builds
Parts Used In This Episode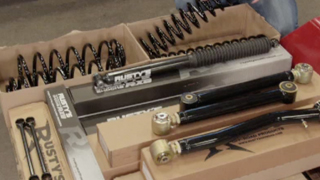 Lincoln Electric
Lincoln Electric is the official welding supplier to XOR
Matco Tools
MATCO Tools are the Official Tool Supplier to XOR
The Industrial Depot
Tools, Hardware, and Shop Supplies
Episode Transcript
(Narrator)>> Today on XOR we bump and grind, and we make sure it doesn't shine as we kiss our warranty goodbye.

(Jeremy)>> Don't worry about that.

(Narrator)>> Jeremy and Eliza are off the leash as they thrash on our brand new Jeep JL.

(Jeremy)>> I like this, I like this.

(Eliza)>> Hey welcome to XOR. We're out here at Wooley's Off Road Park and we've got a brand new project.

(Jeremy)>> We've got big plans for this thing, and well since it's a 2018 we're gonna have to take it some place special to pay it off.

(Eliza)>> But before we go into detail on that we've got to beat on this bad boy. Let's go!

(Jeremy)>> So here's the best part. They just gave us free reign to go drive this.

(Eliza)>> They did.

(Jeremy)>> Eric, our producer's coming over here right now.

(Eliza)>> Doesn't know that I want to take all the hard obstacles.

(Jeremy)>> He's telling us that we have to go.

(Eliza)>> Hey, hey, hey just one more time.

(Eric)>> You're off the leash. You can't break it. You can't get it destroyed, and I said no obstacles until we shoot them right. Yes I did. I said trail running. Don't even do that. Trail running, I have you on camera doing that. Alright thank you.

(Jeremy)>> So we get 20 minutes on a Jeep JL that has 59 miles on it.

First part of entrance exam.

(Eliza)>> Two wheel drive baby. Ah traction control.

(Jeremy)>> Really we've got to get rid of that thing. There it is.

(Eliza)>> Oh that's a nice little rock garden.

(Jeremy)>> You can't do that yet. He said no.

(Eliza)>> Okay what he doesn't know won't hurt him.

(Jeremy)>> You're gonna two wheel drive that?

(Eliza)>> No, I'm gonna four wheel drive this. Let's see what she's got.

(Jeremy)>> We're just gonna see what it does in stock form, and probably a little hard to see but what we're doing right now is a pretty impressive for a stock JL.

(Eliza)>> Woo, found a skid plate. Oh my god the ride. This doesn't even feel like we're wheeling.

(Jeremy)>> Have you ever taken a Cadillac off road?

(Eliza)>> Never.

(Jeremy)>> Cause we're almost off roading in a Cadillac at this point. There you go. There it is.

(Eliza)>> At least it wasn't terrible.

(Jeremy)>> We haven't gone very far but what do you think of the power? Don't worry about that, don't worry about that!

(Eliza)>> It's good. First gear is pretty low.

(Jeremy)>> It's impressive. I mean we're moving pretty good. For trailing we're doing 10, 12 miles an hour and it rides.

(Eliza)>> It rides well.

(Jeremy)>> Really good, and we got the Rubicon. So obviously we got the transfer case we wanted, geared down, 44's. We'll see what happens here in a little bit with the 44's.

(Eliza)>> Locker wiring setup.

(Jeremy)>> Yeah we've got front and rear lockers. They've got stock sliders, which Eliza tested out on the way up here.

(Eliza)>> Tested and Eliza approved.

(Jeremy)>> We've got upgrades to do but all in all.

(Eliza)>> All in all it's great, but the cool thing about Jeep is you always want to make your Jeep your own. Personalized and that's what we're going to be doing. We're gonna make this Jeep an XOR Jeep.

(Jeremy)>> It's a thing. It's a Jeep thing as they say.

(Eliza)>> Yes it is. Okay what time is it? Is it time for curfew.

(Jeremy)>> I don't know but I think it's too clean. I think you need to go see what's in there.

(Eliza)>> Oh!

Why mud?

(Jeremy)>> Holy cow. Man Eliza what did you do to this thing?

(Eliza)>> She looks pretty dirty.

(Jeremy)>> It looks alright. The mud was obviously fun but I think we should go flex it out.

(Eliza)>> Let's go.

(Jeremy)>> I get to drive. Alright I'm driving. Wow, snappy right?

(Eliza)>> It has a little bit more horsepower.

(Jeremy)>> Does it have enough horsepower for us though?

(Eliza)>> I would never say no to more horsepower.

(Jeremy)>> The producer said he wanted us back like 20 minutes but I'm thinking maybe just don't go back. Sorry Eric but we'll see you in about 45 minutes.

Let's see how this thing truly does.

(Eliza)>> Yeah.

(Jeremy)>> This is gonna be kind of the rear test here.

(Eliza)>> A nice little staircase.

(Narrator)>> Up next the ultimate test. How our slightly used Jeep JL will flex out on XOR.

(Eliza)>> We're back at Wooley's Off Road Park in the beautiful countryside just outside of Nashville, Tennessee, where Jeremy and I will be putting our brand new 2018 Jeep JL through its paces.

(Jeremy)>> Let's see how this thing truly does. This is gonna be kind of the rear test here.

(Eliza)>> A little staircase we're coming up on.

(Jeremy)>> For as stock as it is but we have electronic lockers. Push button lockers too! You know that's huge. This thing...

...got stuck. [ Eliza & Jeremy laughing ]

(Eliza)>> I've been getting caught up.

(Jeremy)>> I'll have you take a look.

(Eliza)>> Let's see what's going on here. You in like a little mud pit. So go back.

There you go.

(Jeremy)>> Well yeah so we'll obviously be upgrading some suspension at this point.

(Eliza)>> Oh!

(Jeremy)>> So much for being a brand new Jeep right?

(Eliza)>> Alright now you can come back passenger some.

(Jeremy)>> So right now we're running into some undercarriage issues and getting high centered, and it's doing that. That's where the lift and the taller tires are gonna come into play. So since we can't go that way we'll find our own line here. Rock slider, found a rock slider. Now look at you. Three, fender.

(Eliza)>> What doesn't help is the mud is making our tires kinda slip.

(Jeremy)>> Not helping us one bit, but for a stock JL.

(Eliza)>> Getting pretty close to this tree.

(Jeremy)>> We may lose a mirror here. Nope we're good.

(Eliza)>> Spotter, spotter duties. Back up like four inches. A little bit more, stop, stop right here and then turn driver. Come up. Okay start to straighten out right there.

(Jeremy)>> Yep we're into the top now. There goes the warranty.

(Eliza)>> Yep, not happening.

(Jeremy)>> Not happening.

Plan B.

Stacking rocks!

That's a work of art is what that is. See how pretty that looks? Now hopefully it functions like it was designed. [ engine revving ]

(Eliza)>> Yeah, there we go, there we go. Bump up front.

(Jeremy)>> Woo!

Daylight, we found daylight again. So big plans for this one. We've got a whole bunch of people that want to help out.

(Eliza)>> Yeah and I'm really excited for what's gonna happen underneath in the front end.

(Jeremy)>> Yeah we're not gonna give it away. What did we say, big plans and high hopes? If that doesn't give too much away.

I think I could own one of these.

(Narrator)>> It's time for a bath as our Jeep JL hits the shop floor for some much needed upgrades, next on XOR.

(Jeremy)>> Hey guys, after a long hard day of wheeling and after we gave this thing a quick bath we finally made it back into the shop. Now the JL did exactly what we thought it would do, especially for being a truck that had about 60 miles on it and pretty much just rolled right off the showroom floor, but this is XOR. So it's time for us to give this our own little flare.

(Eliza)>> Now we know that a JL Rubicon is a large investment, and with Jeep getting right aesthetically we didn't want to change much but we do want a hard line capable vehicle. So speaking of XOR flare we're gonna go with a flat fendered look to increase the stuff in our front end of the wheel well as well as going to a 37 for clearance. Jeremy and his friends will be coming up with a cool custom design for our front bumper.

(Jeremy)>> We are ready to put our own little spin on this thing, and there's a lot of plastic up front that we're gonna be getting rid of. And since we're up front anyways we're gonna be doing some big changes to what helps pull this thing around. The stock axle underneath this truck worked absolutely perfect but when the guys over at Dana heard what we were doing they wanted a little piece of the action. So they sent us a beefier axle, deeper gears, and stronger shafts. And just so it doesn't feel like it's being left out Dana sent us some upgrades for the rear end as well.

(Eliza)>> Yes sir, with all that gear action the JL will be outfitted with a suspension system designed to give us more ground clearance and a good amount of flex and travel. Now this beauty is pretty much pristine. So we've got some new doors to make sure that those stay safe and sound. Repairing or replacing a door can get costly. So investing in tube doors is a good idea for when your JL doubles as a daily driver. To replace an o-e-m door shell runs about $1,200 dollars per door. Tube doors front and rear is close to a little bit over half of that price. Tube doors also increase the visibility of the trail line for both you and your passenger. And well what can I say, the Jeep looks cool with them on.

(Jeremy)>> Well to go along with the tube doors that we got from Summit Racing dot com we also picked up a set of rock sliders. Now these bolt right in to where the stock ones go, and they're gonna help protect our rocker panel, but now for the fun part. Gotta get rid of the stock ones, put these heavy bad boys on here.

The aftermarket industry for Jeeps is huge, and they followed suit by making their rigs easy to work on.

Our rock sliders not only protect the body, they double as a step. [ drill spinning ]

(Jeremy)>> Well keep the ball rolling. Gonna be getting rid of some of this plastic, moving on to some heavy metal. Looks like I missed some spots washing. I'll get rid of the stock spare tire carrier and the tow hook. Installing this thing is gonna be a breeze.

The bumper brackets go on using the stock hardware and some that came in the kit.

There, now with a couple of plugs...

...this thing all buttoned up.

(Eliza)>> You're the proud owner of a new Jeep, and the second best thing about that four wheel drive beast is that you can drive doorless. The lousy side of that is trying to store your doors without getting them all dinged up or taking up a lot of garage space. I'm gonna show you an inexpensive way to keep your doors all together and safe. All we'll need is some p-v-c for the structure, U-bolts to hold it down, castors to keep you mobile, wood for our base, and some p-v-c insulation to keep your pretty paint looking good. Now all we've got to do is take some base measurements to get started.

Okay so we're going with 23 inches because we want to stay underneath the side mirror and still have some room for the elbow.

We'll cut 10 23-inch sections of p-v-c and we'll make quick work of it at the chop saw. [ saw buzzing ]

(Eliza)>> Alright our 23 inch sections are done. We're gonna get started on our foot longs.

[ saw buzzing ]

(Eliza)>> Now all we need is 12 four inch pieces.

[ saw buzzing ]

(Eliza)>> With all these cut we can start on our base. We're using wood screws to fasten our base together. These crossmembers will help support the weight of our doors. Once the base is built we'll move on to the door supports. These are put together using p-v-c cement.

We use different spacing to accommodate the size difference of the front and rear doors. Once the door supports are wrapped up we'll fasten it down using a U-bolt that runs through the base, and we'll anchor it in with the hardware provided.

And we'll slap on a few castors to make this thing mobile.

Finally we'll add some padding to protect our paint job.

Well there you. Nice, safe place for our doors to hang out while we're out trailing. Now to hunt the other three down. Want to protect your new Jeep seats but hate the way that seat covers fit? Well Covercraft has you covered. They have precision fit seat covers that do away with all the extra material and horrible elastic. They don't wrinkle and they don't require a whole lot of adjustment to stay on your seat. Best of all they are highly water resistant and machine washable. They carry a year warranty and are made in the USA.

(Narrator)>> Up next our Jeep J-l gets all jacked up as we make big time room for a big time suspension coming up on XOR.

(Jeremy)>> Hey guys welcome back to the shop. Well it's time to get our JL all jacked up and on some steroids cause let's face it, when we were out running this thing down the trail it fell a little short in the suspension department. So while you guys were on break we got a special delivery.

(Eliza)>> Yep we got a pallet full of Rusty's suspension parts, and what we've got here is Rusty's advance kit for the JL. They've sent us over the dual rate progressive springs that not only keep our Jeep level but also maintain its factory ride. We've got upper and lower control arms with advanced flex forged links as well as shocks to top it off all the way around. Now all we've got to do is get our Jeep up on the lift and get these parts thrown in.

[ mechanical humming ]

(Jeremy)>> We'll get rid of all of the stock steering because let's face it, it's a whole lot easier to work on it without it in the way. With the axle supported we'll move on to some of the big parts like the shocks, upper control arms. [ drill spinning ]

(Jeremy)>> Woo, and the lower control arms.

The last part of disassembly and the first part of reassembly is the track bar brace. That goes right where the stock one is, but before we get there I've got to take the four bolts out that hold the gearbox in. Rusty's track bar bracket goes right over the existing bracket and it's as simple and zipping out four bolts, adding the bracket, and zipping four bolts right back in. [ drill spinning ] And time for a lower control arm. [ mallet tapping metal ]

(Jeremy)>> Tight fit. The upper and lower control arms install using the stock hardware. The Rusty's kit has some major advantages over the stock suspension, and the first thing is these huge coil over springs. Now these are corner specific and will help our Jeep flex way better out on the trail. And another major difference in Rusty's system is the size of their upper and lower control arms. Plus their flex joints will allow our system to really flex its muscles.

We'll lower the Jeep down and apply just a little bit of pressure to the springs so we can hook up the upper control arms first. After a little persuasion we'll move on to the lower control arm. The shocks follow suit and install in the stock location. Last but not least is the extended track bar supplied in the kit. This will help keep the axle centered underneath the Jeep.

And the rear is pretty much just like the front. Starting with the shocks, the upper control arms, and then the lower control arm.

(Eliza)>> Jeremy and I will do a quick spring swap.

We'll install the rear upper and lower control arms.

Get the shocks in place, and snug it all up.

Wow, this is totally gonna give us the clearance that we need and it looks good.

(Jeremy)>> Yeah the Rusty's kit made this thing way more extreme.

(Eliza)>> Yep, if you have any questions about the parts that you've seen on today's show visit us at Powernation TV dot com.

(Jeremy)>> This thing's gonna be so much fun.

(Eliza)>> I can't wait to wheel it again.
Show Full Transcript