Virginia Police Officer Narrowly Avoids Death by Speeding Teen Going Over 120 MPH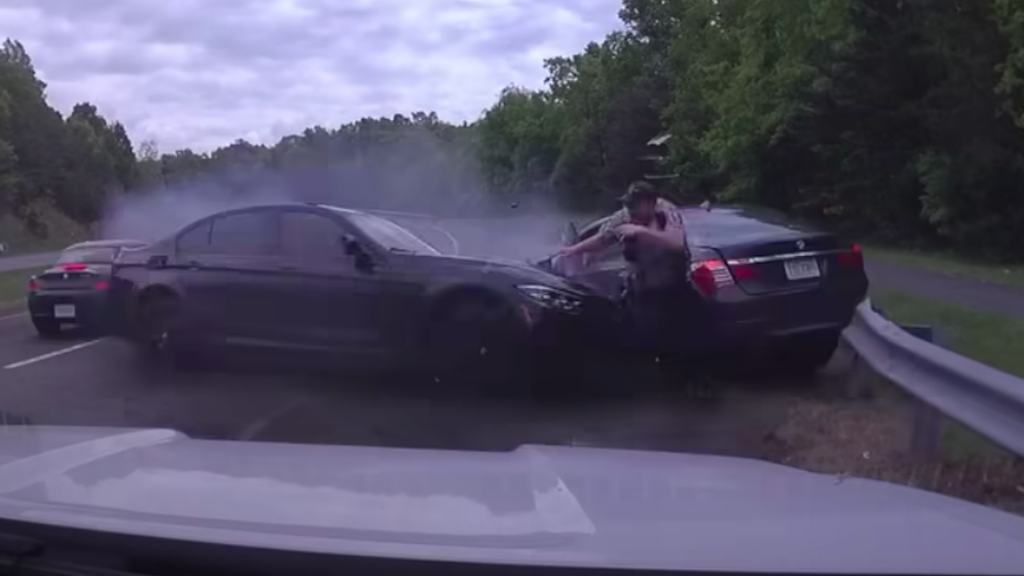 It is common knowledge that law enforcement can be dangerous. This much is true when a Virginia police officer for Fairfax County was mere seconds away from disaster after a routine traffic stop took a very destructive turn for the worse.
In a video shared to the Fairfax County Police Department's Facebook page, a traffic patrol officer had pulled over a 2012 BMW 750 Series on Fairfax County Parkway. Then, out of nowhere, both the police officer and the driver of the BMW were struck by an out-of-control black 2018 BMW M3 that was being operated by a 17-year-old driver.
RELATED: Cop Attempts To Pull Over a Driverless Car Confusing Everyone, Especially the Car
According to police, the teen driver was traveling well over 120 mph when he lost control, spun out, crossed over the median, and crashed into both the pulled-over driver and the officer's vehicle. As seen in the footage, the police officer narrowly avoids getting killed by the car's impact as its front end clips his right leg.
A 2018 BMW M3 is powered by a 3.0-liter twin-turbo inline-six engine that produces 425 horsepower and 406 lb-ft of torque that allows it to accelerate from 0 to 60 mph in 3.9 seconds and reach a top speed of 155 mph. Its output is increased to 444 horsepower with the Competition package, and the most powerful version of the car is the M3 CS, which produces 453 horsepower and 443 lb-ft of torque. As seen in the video, this much power can be overwhelming (and potentially deadly) to inexperienced drivers.
According to authorities, the driver of the pulled-over BMW 750 Series was transported to the hospital and sustained minor, non-life-threatening injuries. The Virginia police officer had also received minor injuries following the accident. The teen driver, as well as the two passengers in the BMW M3, had also sustained minor injuries and is being charged with reckless driving.
Thankfully this accident did not end under worse circumstances. This video should serve as a reminder of how quickly things can change on the street if you decide to act carelessly and irresponsibly behind the wheel. Because one's actions can have a direct effect on those around you, both out on the road and in your personal life.
RELATED: Police Arrest Kids as Young as 11 Attempting to Steal Dodge Chargers & Challengers
"Parents and guardians should consider using this video as an opportunity to have a conversation with their teen drivers about how their driving behavior can affect the lives of others," the Fairfax County Police Department wrote on their social media. "We are committed to traffic safety and will continue to enforce traffic laws and educate drivers in an attempt to curb the senseless loss of life that occurs during preventable fatal crashes.
Read More from PowerNation
Latest PowerNation Episodes