Our '72 Road Course Camaro Finally Gets Its Roof Reattached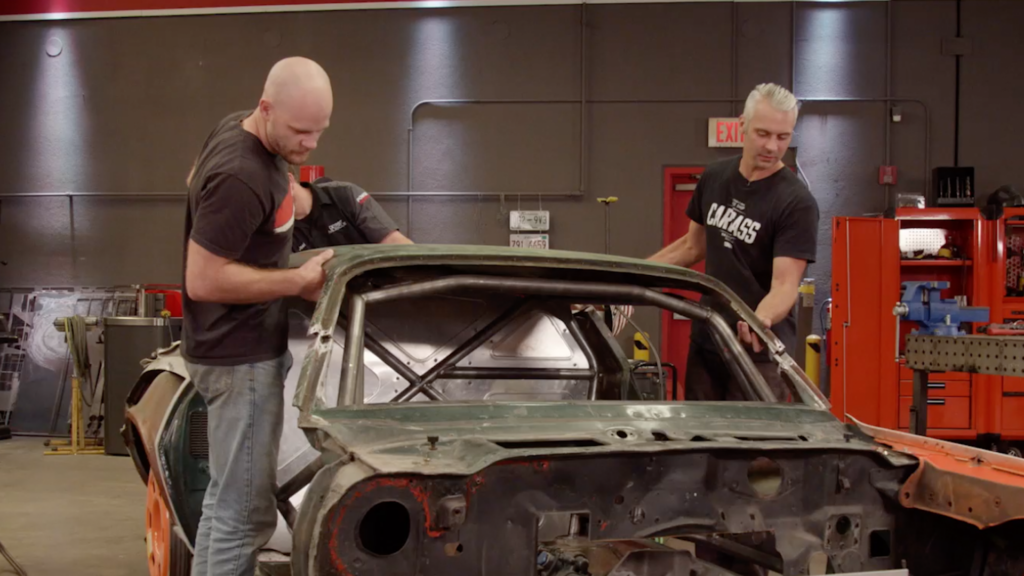 When we first removed the roof off of our '72 Road Course Camaro, we knew it was only going to be a temporary change. Or goal from the start was to transform this muscle car into a beast on the race track, much like Chevrolet's final high-performance Camaro.
But after we had our roll cage fully installed, it was time for us to weld it back onto its body. Watch the full episode here.
In addition to the roll cage, we also had to improve its suspension, install the engine and transmission, modify the firewall, and customize the quarter panels and fender flares to accommodate our desired wheel and tire setup.
So before we started welding the roof onto the body, first we had to remove all the unwanted leftover foam and glue from the old vinyl top by using a combination of methods including lacquer-thinner-soaked rag and roll lock disc. Prior to placing the roof back, we also cut holes in the aluminum sheet metal panels to enable attachment of the harnesses to the harness bar.
Our '72 Road Course Camaro Gets Its Roof Back
Next, we can finally begin the process of reattaching the roof to the car. To do this, we first created a set of tabs matching the contour of the A-pillar on the inside. Holes were then drilled into these tabs for rosette welding. The roof was then aligned, pushed into place, and attached with a combination of rosette and stitch welding while ensuring that one place did not get overheated in order to prevent distortion.
We then decided to remove the factory seams on the roof by using an oxy-acetylene torch to heat up and remove the lead body filler. By moving the flame around the panel uniformly, we were able to avoid overheating, which could potentially cause distortion. We used scrapers and a wire brush to disconnect the softened lead and discarded it on the floor.
Finally, the reattachment of the roof was completed with utmost caution and precision. The roll cage continued to serve its purpose of providing safety and stiffening up the chassis, thus reiterating that the reinstated roof mainly prioritized aesthetics. Happy to say that our '72 Road Course Camaro is getting closer to the finish line!
Read More from PowerNation
Latest PowerNation Episodes