Ford, Filson Donating 2 Custom Bronco Firetrucks To Help Wildland Firefighters
Wildfires are consuming the West coast right now. And the 2021 Ford Bronco was designed to take on the great outdoors. Now, there's a version that can help preserve it.
Ford and outfitter Filson have teamed up with the National Forest Foundation to create the Wildland Fire Rig off-road fire-and-rescue truck concept. Two vehicles will be donated to forest firefighters.
"Ford and Filson share a unique history of helping protect our nation's wildfire crews for more than a century and helping them access rugged areas of forests," said Dave Rivers, Bronco marketing manager. "Today, we're combining those strengths to support those who protect our natural resources as well as helping preserve our nation's forests for future generations."
The Bronco Wild Fund, which launched earlier this week, will donate two Bronco four-door SUVs modeled after the Wildland Fire Rig concept to support forest firefighting crews who protect communities and defend vital natural resources.
The four-door SUV sports a green and white paint job inspired by classic National Forest Service Broncos and is based on the Bronco Badlands model equipped with a "Sasquatch" package.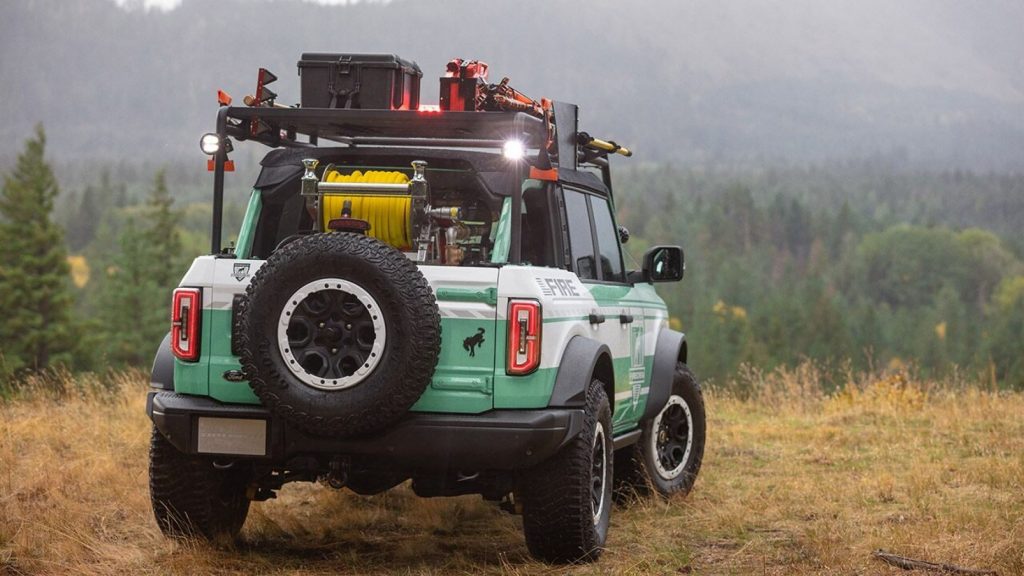 The equipment supplied on the Broncos includes a Kimkek fire/rescue transport skid with a hose and 50-gallon pressurized water tank, a chainsaw, hard hats, a drip torch, and a high-lift jack for vehicle extraction. There's also a custom heavy-duty roof rack with LED lights and rack mounts along with a Ford Performance front bumper and Warn winch.
The collaboration comes during one of the most devastating U.S. fire seasons in history, with more than 7.5 million acres already ravaged. The Ford and Filson efforts honor the work of wildland firefighters – from federal, state, local, and private teams.
Read More from PowerNation
Latest PowerNation Episodes