Florida Man Survives 2 Utility Poles Crashing Through His Semi Truck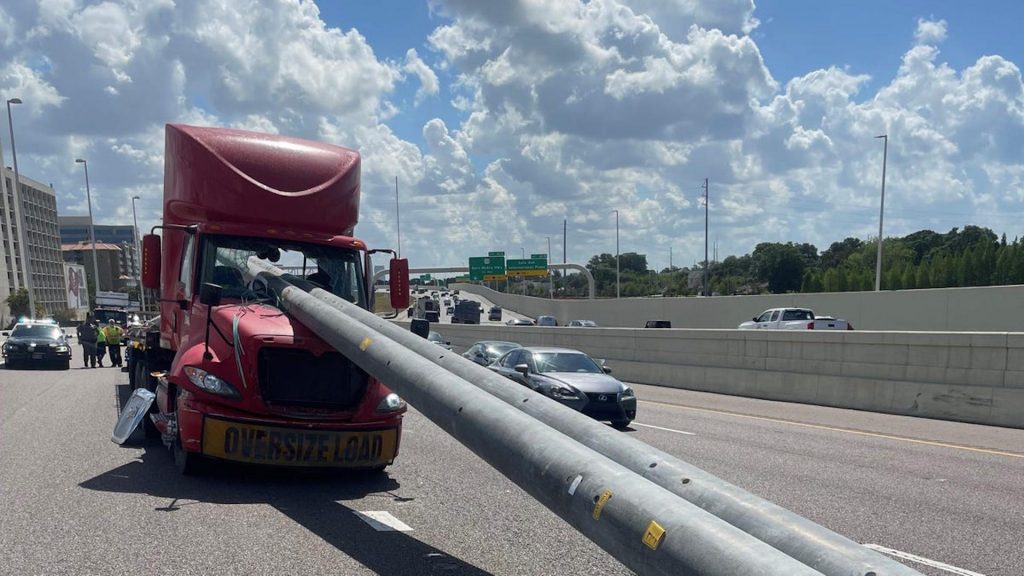 One truck driver is counting his lucky stars after he managed to walk away from a freak accident unscathed caused by an unknown reckless driver.
On Friday, April 21st, the 33-year-old truck driver was driving along I-275 in Tampa, Florida when he says another vehicle parked on the outside of the shoulder facing him decided to drive back into traffic right in front of him. Because of the unknown driver's rash and careless behavior, he ended up cutting off the truck driver, causing him to immediately slam down on his brakes.
RELATED: Florida Mom Has 9-Year-Old Back Out of Parking Space Because She Couldn't Get Inside
According to a report by WFLA, the driver of the truck managed to avoid hitting other vehicles on the highway. However, due to the semi-truck coming to an immediate stop, two metal/concrete poles that were being transported on its trailer broke free of their tie-downs. The force of the sudden braking caused the two poles to penetrate through the cab of the truck.
According to first responders, the car that cut off the truck is something known as a "phantom vehicle". That means that despite it being the main cause of the accident, it managed to flee from the scene unscathed. Police say that the truck's sudden braking maneuver left 85-foot skid marks on the road. They managed to clear the road of the incident that same morning, allowing traffic flow to resume.
While the circumstances of the incident were certainly dramatic, what left everyone baffled was that the "phantom vehicle" driver, the truck driver, and everyone else on the road at the time was not harmed at all.
RELATED: Florida Commissioner in Ferrari Given Speeding Ticket After Claiming "I Run The County"
Read More from PowerNation
Latest PowerNation Episodes