How We Dropped a 587 HP FE Old-School Engine Into Our 1964 Ford Flatbed Shop Truck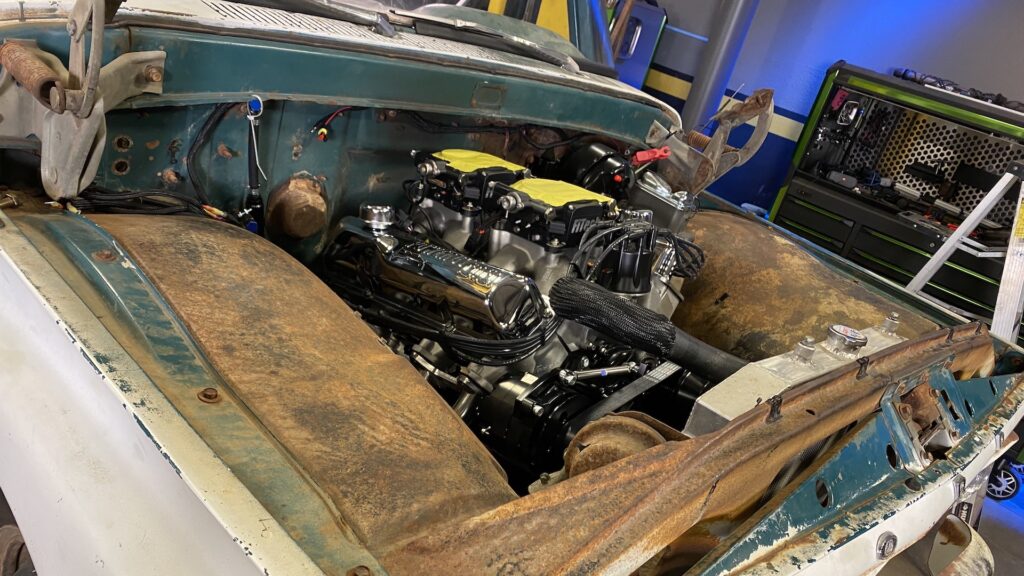 You may remember our 1964 Ford Flatbed Shop Truck from our previous projects. After spending a while on the back end, it was time for us to breathe new life into this truck with a more pronounced attitude and aptitude. After we stripped this truck down to its bare essentials, it was begging for a new engine. Of course, we had just the solution, a powerful V-8 to complete this picture-perfect transformation!
CLICK HERE TO WATCH THE FULL EPISODE
The Ford Flatbed Shop Truck Gets an Engine Upgrade
The Ford Flatbed Shop Truck was due for a new power transplant. So we decided to replace the 390 Ford Inline-Six engine that we installed before with a 445 cubic-inch Ford FE engine. But we're not just adding any ordinary FE. We are adding the 587 HP FE Old-School engine that was built and tested by the guys from Engine Power to ensure that this truck is getting the best Ford V-8 around. With an additional 55 cubic inches of displacement, it also featured a scat crankshaft, Eagle I-beam rods, custom ground Comp hydraulic roller cam, and other upgraded parts worked into the internals.
On the outside, the Trick Flow FE heads and a Trick Flow Tunnel Wedge intake were incorporated, all to be topped off by the FiTech Go-EFI dual quad setup.
The now heavily optimized engine boasts an impressive 587 horsepower and 567-pound feet of torque, all fed by 93-octane pump gas. The displacement was not solely responsible for the power surge. The stroker kit, bored-out components, and the ground-up restoration played a pivotal role in upping the truck's game. All of these modifications not only make the Ford Flatbed Shop Truck more powerful but also allow for daily driving and the ability to refuel anywhere.
Read More from PowerNation
Latest PowerNation Episodes