Engine Power Featured Projects
Engine Power Builds
Parts Used In This Episode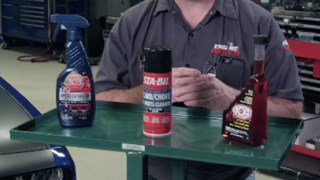 Gold Eagle Co.
104 Performance, 303 Protectants and Cleaners, and STA-BIL® Carb & Choke Cleaner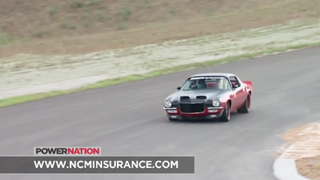 ARP
ARP is the Official Bolt Supplier to Engine Power
Holley
Holley LS Accessory Kits
Matco Tools
MATCO Tools are the Official Tool Supplier to Engine Power
The Industrial Depot
Tools, Hardware, and Shop Supplies
Episode Transcript
(Narrator)>> Today on Engine Power we take care of the top end as the test sled's LS engine gets ignition coils and a complete accessory drive. Plus two welding wizards pay a visit and give the sled protection in the form of a hand fabricated stinger.

(Mike)>> Welcome to Engine Power. Today's show is all about more test sled assembly. Now this is a crazy project that Pat and I are having an awesome time putting together. Everything is super easy to get to and the craftsmanship in this Factory Five Racing Type 65 Coupe-R chassis is awesome.

(Pat)>> The reason we are doing this project is pretty simple. We already have an engine dyno and a chassis dyno, and now we have a road dyno, and it'll accept all different types of engines. So we can show you what happens from a dyno cart to our test sled.

(Mike)>> When you need an accessory drive for your LS swap project or you just want to dress up your engine bay with a more compact one Holley has you covered in stellar fashion. This is their premium mid mount accessory drive for LS engines. It's a bracketless setup meaning everything registers off of the actual water pump. Now it comes with an SD Seven Sanden compressor, type two power steering pump, and a CSeven alternator. Meaning you're getting quality parts in this whole setup.

(Pat)>> It's available in several different configurations, like with or without power steering and a/c. There's also a race version available. The water pump even has bottom fittings for the heater core hoses for swap application clearance. Obviously we don't have any type of air conditioning in this rocket sled. So the compressor is coming off. [ drill spinning ]

(Pat)>> So is the steering pump. The guys at Factory Five installed an electric power steering setup. So we don't have to worry about plumbing different pumps when we make engine changes from Ford, to Chevy, to whatever else we stick in here.

(Mike)>> All that is needed for us to turn the alternator is a different pump, tensioner, and shorter belt. Why didn't we order it this way? We just wanted to show you what the complete setup looks like since it is so nice. Check out Holley's website to see all the different configurations they offer. There are also ones for the new GM LT engine available.

(Pat)>> There's an old saying that everyone should know. One man's junk is another man's treasure, and that's how we ended up getting some taillight mounts for our test sled. This is an aluminum cap for a header collector that was laying in the scrap pile here at the Powernation shop. We cut a hold for the connector to recess into so the lens of the light will be flush with the cap. The two through holes are to mount them to the chassis. The outer diameter was not perfect. So we made a little boss using the tig welder to tap into to mount the lens. Here's how it all goes together. First the cap is secured to the chassis. This is possible thanks to a couple of nut-serts installed in the bar. Now the harness attaches to the light, and the unit is screwed onto the cap. All we have to do now is wire up the light.

This is just a little example of how easy things can be when you let your imagination run free. Maintaining your vehicle takes know how, time, and of course quality products. From fluids inside your engine, transmission, or fuel system to the interior or exterior of your car, Gold Eagle has them all covered with chemicals to both help protect and clean your ride. 303 Automotive Speed Detailer is used as a cleaner between washes. It's a car detailing spray that instantly shines and protects all exterior surfaces. No streaks or residue are left behind, and it provides superior u/v protection to prevent fading. If you are rebuilding a carburetor or just simply cleaning parts that have carbon, varnish, or dirt deposits on them Sta-Bil Carb and Choke Cleaner will help you out. It's for all carbureted internal combustion engines, and it is safe for sensors and catalytic converters. With cleaner parts your engine will run smoother, start faster, and you will see a gain in performance and fuel mileage. Gold Eagle also offers 104+ Max Octane Boost and Lead Substitute. This little 16 ounce bottle treats up to 25 gallons of fuel. Plus it acts as a lead substitute and is oxygen sensor and catalytic converter safe. It not only cleans fuel injectors but the entire fuel system. You'll find it reduces knocks, pings, and hesitation if you are having an issue. Also look for better fuel mileage and better power.

(Narrator)>> Up next a set of race seats provides comfort and safety for our rolling dyno.

(Pat)>> Our test sled is coming along great and we haven't run into any fitment problems or road blocks. Soon we're gonna be running our transmission lines towards the front of the car, and they're gonna run along the passenger side by the engine. So before we have any lines or obstructions in the way we're gonna install our starter first. Our choice is a Summit Racing Pro Torque Mini Denso style starter. The billet aluminum block is adjustable so you can clock it into the position that works well for your setup. The four to one gear reduction ratio allows it to crank engines with a compression ratio of up to 18 to one.

(Mike)>> Change bolts.

[ ratchet twisting ]

(Mike)>> Pat is rounding up some battery cable ends to wire up the starter. So I'm gonna go ahead and get the go fast pedal and the throttle cable installed. Now the pedal came to us from Factory Five Racing, and it is fully adjustable and made out of billet aluminum. The throttle cable is from Summit Racing. This is their universal one that will connect the pedal to the throttle body. We also have an LS One throttle cable bracket assembly. Now we have to figure out how that works with our new billet manifold. It shouldn't be a big problem. The pedal will get mounted first. There is already a bracket welded to the chassis. Now the pedal is adjustable. So you can set it up to your preference. A couple of ARP fasteners are being used to lock it in place. A small hole had to be drilled in the foot box for the cable housing's feral to mount to. It has a nut on the inside and the outside to lock it in place. Now we will route the cable around the engine to the passenger's side. Zip ties will secure it.

We made a bracket out of some aluminum tube and one end of the LS One bracket. They were welded together and the other throttle cable feral was installed. A pair of side cutters will cut the cable housing to length, and it can be placed in the feral. Now the cable is fed from the inside of the vehicle, through the housing, and towards its final destination to the throttle body. With it attached to the pedal the cable is cut to length, inserted into the throttle body fitting, and we are ready to check for wide open throttle.

(Pat)>> You're right there, you're wide open, and you're back at zero. When the Factory Five guys dropped off the chassis they also dropped off a bunch of parts. These Kirkey seats were a couple of them. Now this is gonna be a really wild ride and we want our butts to stay put, but these also support our torsos, but most of all these seats are super safe, which is a no brainer with all of Kirkey's stuff. They are made out of aluminum and are 16 inches wide and 35.5 inches tall. Designed for road racing, club cars, and component vehicles like ours, this makes them a great all around seat. They come with super nice padded covers for comfort and are surprisingly affordable. You can order them at Summit Racing. We will hard mount them to the floor of the chassis. The first step is to get them into position and get an idea where we will drill through the floor. Once that's decided a couple of marks are made and our good ole Matco Infinium drill can go to work. Grade eight or better fasteners need to be used. Don't skimp on anything less, like grade five. Flat washers and a lock washer are a necessity. The larger the flat washer the better so the load is spread over a wider area. We can tighten these fasteners and move up to the top of the seat back. This location also has to be secured to the chassis. It supports the entire seat back and you don't want it flexing when you're making laps. A small bracket will attach it to the roll bar tube.

(Narrator)>> Up next, we find a home for our heavy duty turbo.

(Mike)>> Quality heavy gauge battery cable is a must on a project like this. This is zero gauge cable and a heavy wall lug with a three-eighths inch hole. A compression nut will attach it to the starter.

The turbo piping in the car is totally different compared to what we ran back on the engine dyno. We went ahead and hung the turbo with a ratchet strap and a piece of safety wire. Kind of redneck but it worked. Now that allowed us to position it where we wanted it so we could run pipes from the manifolds up to the inlet side of the turbine housing. Stainless steel two and a half inch Magnaflow exhaust pipe was used to make this Y-shaped merge. Now it's all tig welded together and V-band clamps were used on all three connections. We're gonna go ahead and install the pipe and the turbo now so we know where we can position the waste gate and install it.

(Pat)>> That is some nice fabrication there.

(Mike)>> Thank you sir.

[ ratchet twisting ]

(Mike)>> You remember how it went in?

(Pat)>> Nope.

(Mike)>> Me neither, good luck.

(Pat)>> We're gonna snake it in there though.

(Mike)>> Alright!

(Pat)>> Use complex trigonometry. This is the nicest fitting turbo we've ever done I think.

(Mike)>> Our precision turbo is a gen two 86-85 with sportsman V-band clamps. It is capable of supporting 1,500 horsepower in a single turbo application.

(Pat)>> I like it.

(Mike)>> Now there's officially no more room up here.

(Pat)>> No there's not. There are several choices for aftermarket ignition coils. These are Pertronix's Flamethrowers that fit LS Two, LS Three, and LS Seven applications. They are a direct bolt on high performance upgrade that contain advanced bobbin technology and also have highly specialized silicone magnetic steel cores. The optimized coil design yields at least 15 percent more energy for the spark than o-e-m coils. Specialized high temperature epoxy resists shock and vibration all while increasing thermal conductivity. You can pick up a set of eight of these coils for around $250 bucks at Summit Racing. With a short spacer they bolt directly to the billet aluminum LME valve cover. [ drill spinning ]

(Mike)>> Owning a classic car or a Corvette is something a lot of us dreamed of as a child. As adults owning one means you have responsibilities, like insuring your prized possession. NCM Insurance specializes in providing coverage for both cruising and making laps out on the track for both Corvettes and classics. The agreed value coverage gives you a peace of mind if there's a total loss due to the set value of the vehicle. You can choose who works on the car, and there are flexible mileage plans. Plus a nine to five endorsement that allows you to take the vehicle to work a couple times a week. NCM Insurance is typically cheaper than a standard insurance company, and with the agreed value coverage you know you're going to be fairly compensated if the vehicle is a total loss. For more information visit NCM Insurance dot com.

(Narrator)>> Up next a custom crafted stinger adds protection and style for the test sled.

(Pat)>> The next step for our test sled is to fabricate a tube style front bumper, or a bash bar as we like to call it. It's gonna help protect our radiator and our massive intercooler we're installing.

(Mike)>> We love when people want to jump in and help out with our projects. So when Jeremy mentioned his buddy Jake, who is a great fabricator, was coming in for a visit we figured what the heck. Let's have them both work on the car to get this done.

(Pat)>> Jeremy and Jake started off their automotive and fabrication journey at Wyotech's Laramie, Wyoming campus. They took course ranging from street rod and fabrication, body repair, chassis fab, and high performance engine, and went on to work together at a classic car shop.

(Mike)>> Over time Jeremy found his way to Nashville, to host XOR, and Jake works in the aerospace industry as a lead welder and trainer for aerospace manufacturing. Now Jake why'd you get into that line of work?

(Jake)>> I just have a passion for tig welding. It's something that I love to do.

(Pat)>> So what's your favorite thing about what you do for a career?

(Jake)>> I really like working with the exotic materials. The complicated fixturing, and building parts to tight tolerances. It's a real challenge.

(Mike)>> What's a typical work day at your job in the aerospace industry like?

(Jake)>> We're working with complicated fixtures, and assemblies to make different tubing products for jet engines is a lot of what we do. I'm constantly training guys, getting people certified, and just keeping busy with production myself.

(Pat)>> Now let's talk a little bit about Wyotech and how it helps you jump start your career.

(Jake)>> Well Wyotech is actually the first place that I tig welded and it really peaked my interest and made me want to move on further into that field.

(Jeremy)>> You know Jake, you and I, we've worked together for a couple of years back in Minnesota, working on older cars and building street rods and stuff, and that's kind of where we both really dove into the fabrication, and the metal work, and the tig welding, and the mig welding. Do you still have a lot of interest in cars, right?

(Jake)>> Yeah, oh yeah.

(Pat)>> This car's not meant to have this kind of power. So we need some specialized stuff done to it. Being we need some protection for the massive intercooler and all of our good stuff. So hey, I think it's time to let these guys get to work.

(Mike)>> They step in we step out?

(Pat)>> I think that's a great idea.

(Mike)>> Have fun guys.

(Jake)>> Let's do it.

(Jeremy)>> Alrighty.

(Mike)>> Milkshakes?

(Pat)>> Yeah!

(Jeremy)>> Milkshakes?

(Pat)>> We've already mapped out exactly where the turbo piping will be routed. So once the intercooler's location is checked fabrication begins with metal prep on the chassis. Some one and a half inch metal straps are made, which will serve as the intercooler's brackets. One inch square tubing is used for the frame.

We made some threaded aluminum pucks, which are tig welded to the lower sides of the intercooler. [ welder buzzing ]

(Pat)>> Once the brackets are welded into place ARP fasteners are bolted into the pucks.

(Jake)>> We're coming straight off the top and straight on to the top of that.

(Mike)>> The one inch square tubing is carefully aligned using a straight edge and magnetic squaring jigs. Now the frame is tacked up.

(Jake)>> It's the same right there.

(Mike)>> The intercooler already has two mounting locations welded to the top, and we'll attach a couple of metal straps to help hold the intercooler in place. Once holes are drilled in the frame everything is bolted together. For the bumper itself Jake and Jeremy bend inch and three quarter d-o-m tubing in a constant radius. Once they are satisfied with the bend radius the stinger is set into place. The ends will be trimmed later to match the look of the vehicle. A small piece of notched tubing will secure the stinger to the chassis. It's tacked up, and once its position is double checked it can be burned in for good.

(Jeremy)>> Well Pat there you go. We're gonna leave a little bit of work for you to do. We'll let you guys kind of trim the bumper off to your liking, but well it's all in there.

(Pat)>> Well form follows function but this thing looks great. Jake we really appreciate you coming by, and it's like getting the band back together right because you two got to work together again?

(Jake)>> Absolutely.

(Jeremy)>> We definitely got to spend a little bit of time together, and if you guys are interested in anything that Pat and Mike did on Engine Power or anything that Jake and I did to help them out why don't you go to Powernation TV dot com and they will see you next time.

(Mike)>> We rely on Permatex thread locker for all kinds of jobs around the shop, and now it's available in a gel as well. The gel clings to metal surfaces preventing drips and wasted thread locker. It's especially good for vertical and hard to reach places, and provides the performance you've come to expect from Permatex products. It's chemical and temperature resistant with a range from negative 65 to 300 degrees Fahrenheit. It prevents rusting and corrosion of threads, and keeps bolts firmly in place. Now it's available in the medium strength blue formula and the high strength red formula. Visit Permatex dot com to find out more.

(Pat)>> All machine shops have something in common. You will find a lathe on the roof of any one of them. It's a machine that will perform several different tasks, and it's used in virtually every industry.

(Mike)>> They come in all different sizes. Small table top units that jewelers use all the way up to ones that have to have a room built around them. Now units like that make driveshafts for cruise ships. They're also used to make wood bowls, pens, medical equipment, and anything in between.

(Pat)>> We use ours on a daily basis, not only for our needs but to also help Detroit Muscle, Truck Tech, and XOR when they need something made or resized to keep the projects moving forward. Operating a lathe, no matter the size, can be extremely dangerous, and there are no shortage of videos on YouTube showing lathe disasters, and those aren't for the faint of heart either.

(Mike)>> Our lathe is a Vectrax 16 by 60 by MSC Industrial. The 16 by 60 means it has a 16 inch swing with 60 inches of bed track. This lathe can handle any job needed to be done at a normal machine shop. It has a seven and a half horsepower motor and gearing to spin between 36 and 2,000 r-p-m, which is dependent on the size and type of material you are turning. The base is solid cast, making this a rigid and very accurate machine.

(Pat)>> A couple of safety features that this machine has are a foot brake and a guard over the chuck. The foot brake will disengage both the feed and the chuck when it's pressed. It's typically used in emergency situations because it's way easier to step on a brake than try to figure out how to turn the machine off if you start to panic. And here's a quick demonstration of how it works. First we want to put a piece of material in the chuck and tighten it. You never want to turn the chuck with the jaws empty. The jaws could actually unscrew and become deadly projectiles. The chuck guard is lowered at this time, and the machine is turned on. The feed is also engaged for demonstration purposes. At this point if you get into trouble or need the lathe to stop immediately the foot brake can be pressed. This fully disengages the feed and stops the chuck from turning. The chuck guard is used to protect the operator from debris while working. It has to be in the down position for the machine to turn on. When the chuck is turning and the guard is lifted here's what happens. Everything stops.

(Mike)>> Don't think it's just your hands that can get injured. It's actually your whole body. If you're wearing a loose shirt make sure you tuck it in. Don't wear long sleeves around a lathe either. If you have long hair don't be ashamed to put it up in a man bun. Eye protection is also extremely important. Basically if you're gonna be around equipment like this make sure you don't slip up. If you do once you may not take another breath.
Show Full Transcript