Watch Ford CEO Jim Farley Take Jimmy Fallon on a Joyride in the S650 Ford Mustang Dark Horse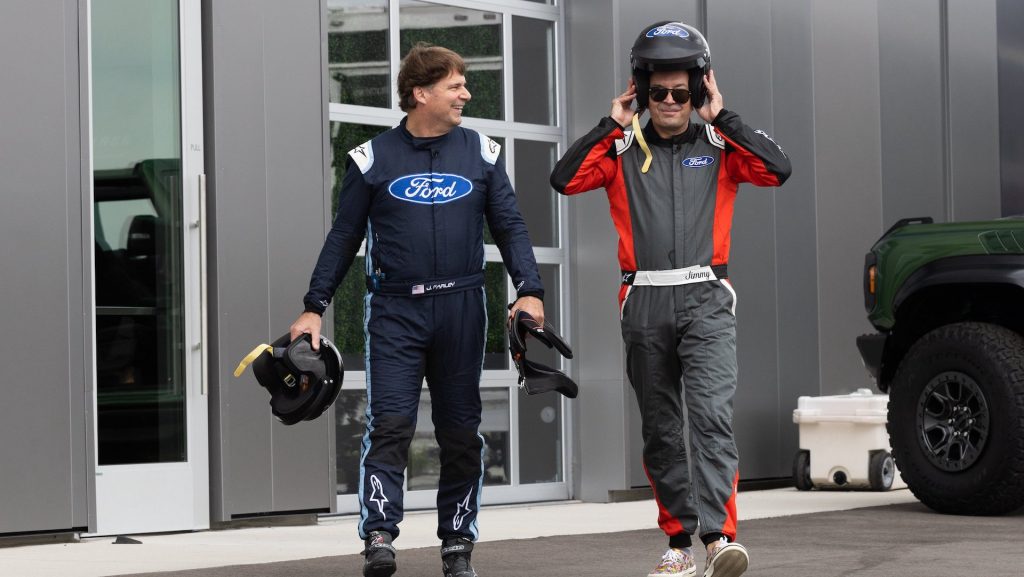 Only the most skilled Mustang drivers know how to get the most out of their car's performance. The S650 Ford Mustang with the Dark Horse performance package is the latest upgrade that packs even more power and aggression into the track-focused Supercar.
RELATED: 5 Things To Know About The 2024 Ford Mustang
So what better way to demonstrate what this car can do than to invite Tonight Show host Jimmy Fallon for a joyride with the CEO himself, Jim Farley!
During his visit to the M1 Concourse near Ford Headquarters in Dearborn, MI, Fallon receives his very own racing suit before being strapped into the Mustang's passenger seat for what very well be the ride of his life.
After making a few laps around the track, Fallon exits the car with sweaty palms, a pair of broken sunglasses, and a look of both amazement and terror on his face.
The S650 Ford Mustang Dark Horse is far from what you would expect for a daily driver. It comes equipped with a Coyote 5.0-liter V8 engine capable of producing 500 horsepower, while the Supercar version of the engine has some additional modifications to house over 600 horses under the hood.
Read More from PowerNation
Latest PowerNation Episodes