Experts Believe Trucks and SUVs with Tall Front Ends Put Pedestrians at Risk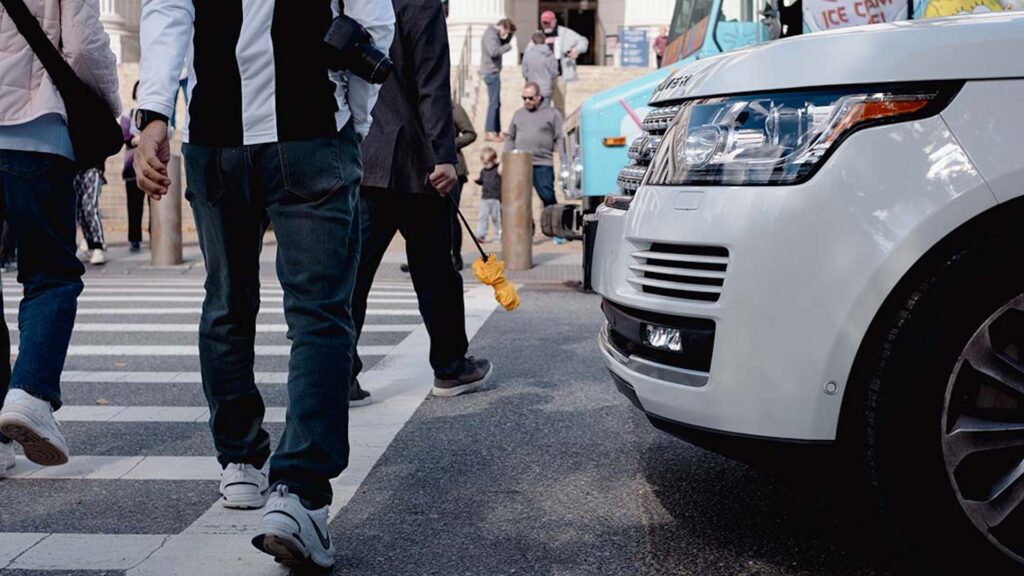 According to research from the Insurance Institute of Highway Safety (IIHS), vehicles with tall front ends are believed to be the most dangerous for pedestrians.
Regardless of a vehicle's nose shape, pickup trucks, SUVs, and vans with a tall front end greater than 40 inches are 45% more likely to cause a fatal impact with a pedestrian than vehicles with hood heights no greater than 30 inches and a sloping profile. Vehicles with hood heights between 30 and 40 inches with a blunt, or vertical front end also showed increased risk during an impact with pedestrians. These figures were the results of analyzing the data of nearly 18,000 crashes.
RELATED: Data Shows Large Pickup Trucks Struggle To Keep Rear Passengers Safe During Accidents
"Some of today's vehicles are pretty intimidating when you're passing in front of them in a crosswalk," IIHS President David Harkey said. "These results tell us our instincts are correct: More aggressive-looking vehicles can indeed do more harm."
Since 2009, pedestrian fatalities have increased 80%. In 2021, there were almost 7,400 walkers that were involved in a fatal impact with a vehicle. That calculates to more than 20 people per day. While speeding, poor driving habits, and sub-par infrastructure are believed to be contributing factors to these numbers, many road safety advocates are connecting many of these incidents to the growing number of pickup trucks and SUVs on the road with tall front ends.
Tall Front Ends vs Short Front Ends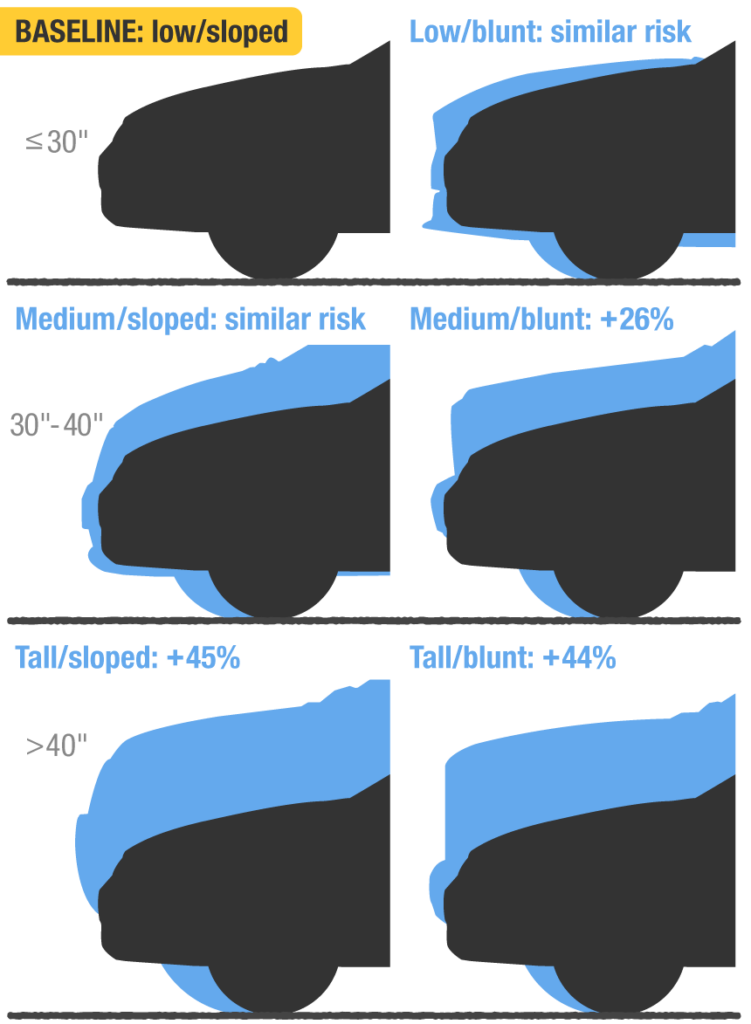 For the last three decades, the average U.S. vehicle has noticeably increased in size. On average, they are 4 inches wider, 10 inches longer, 8 inches taller, and 1,000 pounds heavier. There has also been an increased number of vehicles that are greater than 40 inches tall at the edge of the hood, and many large pickups have tall front ends that are nearly eye-level for an adult.
How Are The Larger Trucks, SUVs, and Vans More Dangerous?
IIHS researchers found that vehicles with hoods greater than 40 inches from the ground at the leading edge, and a grill sloped at a 65-degree angle or less were 45% more likely to cause a pedestrian fatality than vehicles with a similar slope and hood heights 30 inches or less. Vehicles with hoods heights greater than 40 inches and blunt front end angled greater than 65-degrees were 44% more likely to cause a fatality.
"Manufacturers can make vehicles less dangerous to pedestrians by lowering the front end of the hood and angling the grille and hood to create a sloped profile," said IIHS Senior Research Transportation Engineer Wen Hu, the lead author of the study. "There's no functional benefit to these massive, blocky fronts."
Overall, the study found that vehicles with tall front ends greater than 35 inches were shown to be more dangerous to pedestrians than shorter ones, mainly due to the likelihood of severe head injuries. For vehicles taller than 35 inches, the ones with vertical front ends were shown to be more dangerous than those with sloped front ends, as they were also likely to cause severe torse and hip injuries.
"It's clear that the increasing size of the vehicles in the U.S. fleet is costing pedestrians their lives," Harkey said. "We encourage automakers to consider these findings and take a hard look at the height and shape of their SUVs and pickups."
Read More from PowerNation
Latest PowerNation Episodes