This Twin-Turbo V8 Patina C10 at Holley LS Fest Is Something Else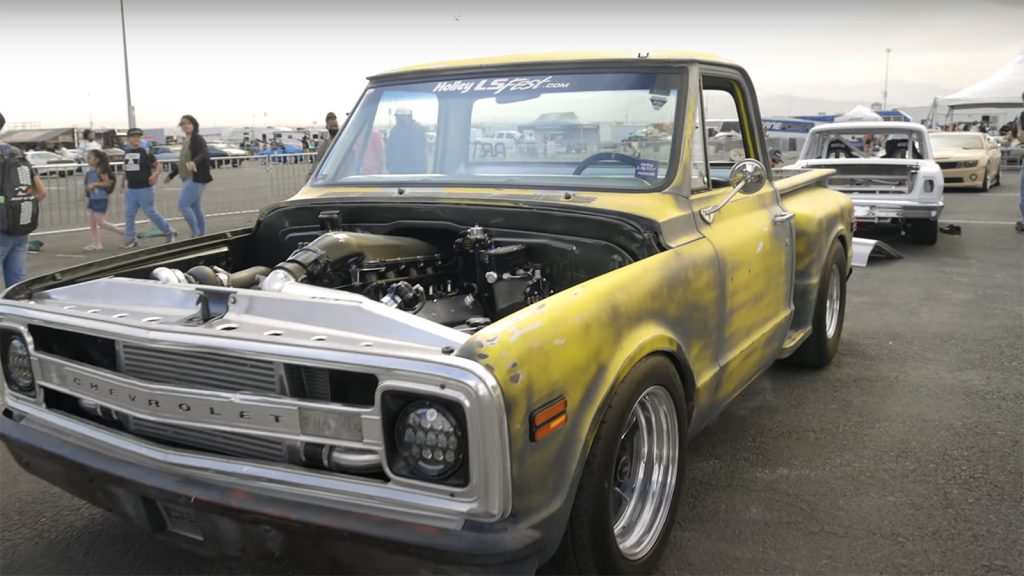 If you look at a car or truck from today's era and it doesn't stick, wait a few years. You'll likely see it in a different light. The Chevy C10 is a prime example of this. It was once a "forgettable" work truck produced by General Motors. Early in its life, reliability and affordability are areas that it shined, but today, it's a highly desirable classic. For enthusiasts, it's an easy machine to work on, and with all the aftermarket support and plentiful parts, this once boring work truck has become a tuner's dream. This twin-turbo C10 from LS Fest is a prime example.
If you're looking to see some unique and heavily modified GM products, Holley's LS Fest West is the place to be. It shouldn't come as too much of a surprise that Chevy C10's are pretty common, but that doesn't mean they all look the same. We found a heavily modified Chevy C10 that caught our attention. What makes this truck unique is the classic patina exterior beautifully fused into the modern interior. Oh, let's not forget that modern and potent LS twin-turbo V8 under the hood.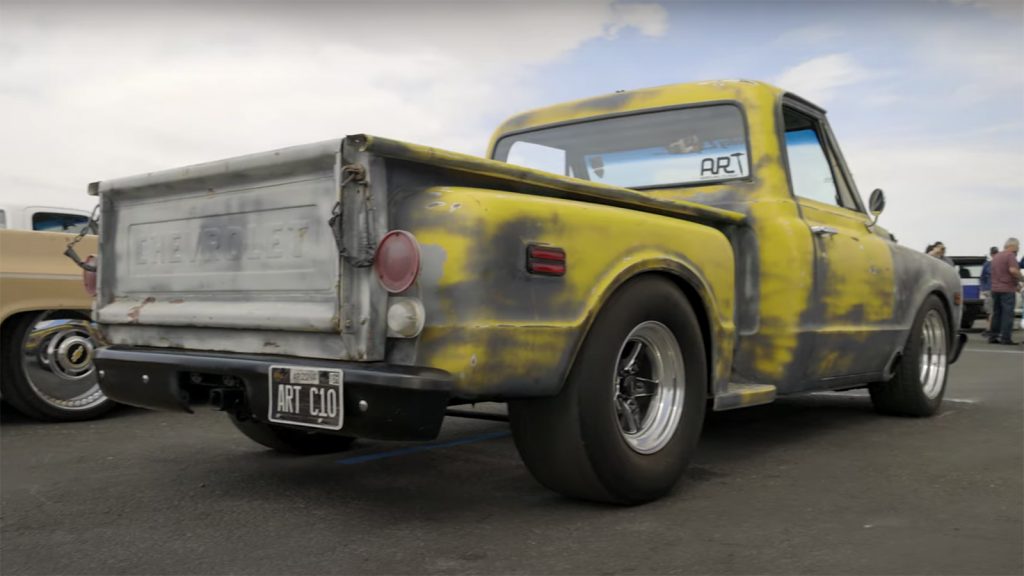 One of our favorite quotes around here is "built not bought," and this truck has gone through a series of upgrades that builders across the automotive spectrum will come together on. We expect the Ford and Dodge crowd will appreciate this one.
The truck is running a newer turbo-charged LSx V8 with a Holley EFi system. The truck is also equipped with a set of disc brakes and a Wilwood master cylinder, rear drag radial tires, alloy drag racing wheels, and not the type of interior you'd expect. When the door opens, you'll see a flat bench seat, digital gauges, and an Alcantara steering wheel. Not what you'd expect with that raw patina on the outside, but we're not complaining.
One of the more unique aspects of this truck is the fusion of patina meets modern exterior. Although it's not the first, the way the truck implements the style is pretty cool. Most of the time when you see these patina'd out trucks they have a rugged interior to match, but the owner decided to keep it modern, along with the heavy-hitting powerhouse under the hood.
What makes this truck even better is that it's still a work in progress. The owner has done an exceptional job implementing his stylistic vision, while maintaining the integrity of the C10. The truck is certainly worth of its "rowdy" description, and will be something we follow.
Read More from PowerNation
Latest PowerNation Episodes