Now's Your Chance To Win A $250 POWERNATION Gift Card!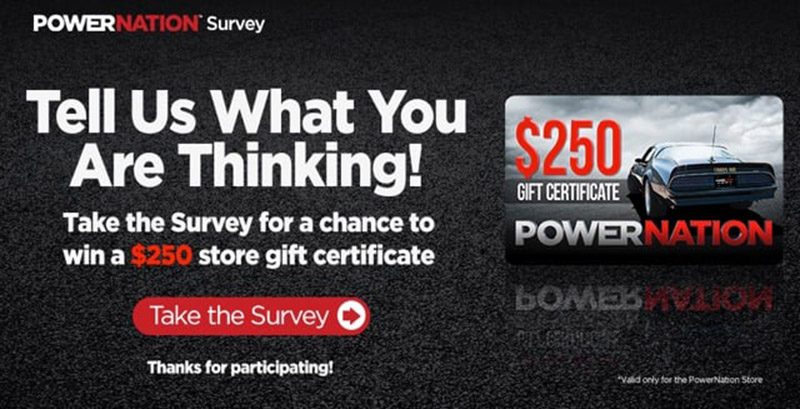 CONSUMER DISCLOSURE: You have not yet won.

By entering this Sweepstakes (as defined below), participants accept and agree to be bound by these Official Rules. Any violation of these rules may, at RTM Studios's discretion, result in disqualification. All decisions of RTM Studios regarding this Sweepstakes are final and binding in all respects.
ENTRY PERIOD: PowerNation® Merchandise Gift Certificate Giveaway 2020 (this "Sweepstakes") begins at 12:00:01 PM Central Time ("CT") on October 20, 2020, and ends at 11:59:59 AM CT on October 29, 2020 (the "Sweepstakes Period").
ELIGIBILITY: This Sweepstakes is open only to legal residents of the 50 United States and the District of Columbia (specifically excluding Guam, Puerto Rico, and all other U.S. and foreign territories and possessions) and all provinces of Canada (excluding Quebec) (collectively, the "Eligibility Area") who are 18 years of age or older, and are the age of majority in their state of residence at the time of entry, and currently reside in (and are physically located in) the Eligibility Area at the time of entry ("Participants"). Participants who are not yet at the age of majority in the jurisdiction in which they reside will be required to obtain parental or legal guardian consent to be eligible to enter. Only individuals may enter; no entry from any corporation or other entity shall be accepted. This sweepstake is VOID outside of the Eligibility Area and where otherwise taxed, prohibited or restricted. Employees, directors, agents and suppliers of RTM Studios ("RTM"), and their affiliates, subsidiaries, advertising, promotion, fulfillment, marketing agencies, public relation firms, consultants and contractors, their immediate families (defined as spouse, child, sibling, parent, grandparent, step-parent, step-children and step-siblings) and those living in their same households are ineligible to participate in this Sweepstakes. By participating in this Sweepstakes, each Participant, (a) accepts the terms and conditions stated in these Official Rules, (b) agrees to be bound by these Official Rules and by the decisions of RTM Studios, which are final and binding in all respects, (c) warrants that he/she is eligible to participate in this Sweepstakes, and (d) agrees to receive additional marketing communications from RTM, which Participant may opt-out of at any time.
HOW TO ENTER: No purchase necessary to enter or win. Visit the www.powernationtv.com/survey website, during the Sweepstakes Period and follow the instructions to complete and (a.) submit all required registration information (including your name, a valid email address, mailing address, phone number), (b.) complete the online survey and (c.) click the "Register Me to Win" button in order to receive an entry into this Sweepstakes ("Entry"). To be eligible as a Participant in this Sweepstakes, Entries must be received by 11:59:59 AM CT on October 29, 2020. All entry information must be complete and survey completed in its entirety to qualify. No changes to any Entry, Entry materials or information are permitted once submitted. All Entries become the property of RTM and will not be acknowledged or returned. LIMIT ONE ENTRY PER PERSON PER EMAIL. Entries received by RTM Studios after the end of the Sweepstakes Period will be discarded and deemed VOID. In the event of a dispute regarding the identity of a Participant, the Entry will be deemed submitted by the natural person who is the registered holder of the email account, at the time of Entry, used to enter the Sweepstakes. Each potential winner may be required, at RTM Studio's sole discretion, to show proof of being the registered holder of a particular email as a condition to receiving the prize award. Proof of entering this Sweepstakes online will not be deemed to constitute proof of receipt by RTM Studios of Entry. RTM Studios shall not be responsible for technical failures in Entry transmission. A winner will be chosen by random drawing on or about November 5, 2020, will be notified by UPS overnight delivery, e-mail and/or phone on or about November 12, 2020 and will be announced on or about November 19, 2020. The prize award is subject to verification. All information you submit as part of an Entry, including email addresses, is subject to the Privacy Policy of RTM Studios, available at http://www.powernationtv.com/privacy-policy. By submitting an Entry, you acknowledge and agree that any personal information you submit in connection with an Entry will be used by RTM to administer this Sweepstakes.
ODDS OF WINNING: Odds of winning are determined by and depend upon the total number of eligible entries received. A purchase will not improve your chances of winning.
PRIZE: Subject to Sections 7 and 8 below, the prize will be awarded. One (1) Prize Winner will receive one (1) prize comprising: $250 Gift Certificate redeemable towards any merchandise available at the PowerNation Store (http://www.powernationstore.com/). Gift certificate is not redeemable for cash. RTM EXPRESSLY DISCLAIMS AND MAKE NO REPRESENTATIONS OR WARRANTIES, EXPRESS OR IMPLIED, INCLUDING WITHOUT LIMITATION ANY IMPLIED WARRANTIES OF TITLE, NONINFRINGEMENT, MERCHANTABILITY OR FITNESS FOR A PARTICULAR PURPOSE WITH RESPECT TO THE PRIZE AWARDED. PRIZE WILL BE DELIVERED TO WINNER VIA UPS, SIGNATURE REQUIRED. RTM SHALL HAVE NO RESPONSIBILITY OR LIABILITY TO A WINNER OR POTENTIAL WINNER WHO IS UNABLE OR UNAVAILABLE TO ACCEPT OR UTILIZE THE PRIZE, IN WHOLE OR IN PART, AS DESCRIBED HEREIN. PRIZE CONDITIONS & RESTRICTIONS: The winner will be solely responsible for all federal, state and local taxes, registration, license, title and insurance fees and for all costs and expenses associated with acceptance, taking delivery of the prize, in whole or in part, not specified herein, including but not limited to all taxes, fees, insurance, shipping costs and/or any other expenses associated with acceptance and/or taking delivery of the prize. By accepting the prize, the winner waives (a) the right to assert, as a cost of winning said prize, any and all costs of redemption, travel to redeem said prize, or shipping costs; and (b) any and all liability that might arise from redeeming, seeking or using said prize. By accepting prize, in whole or in part, and for insuring the prize. POTENTIAL WINNERS SHOULD CONSULT WITH THEIR TAX ADVISORS REGARDING THE PRIZE AND APPLICABLE TAXES. EACH PARTICIPANT ACKNOWLEDGES AND AGREES THAT THE WINNER WILL BE SOLELY RESPONSIBLE FOR ALL APPLICABLE FEDERAL, STATE, AND LOCAL TAXES AND FEES ASSOCIATED WITH ACCEPTANCE OF THE PRIZE. The prize will be awarded in the name of the winner and is not transferable or exchangeable for cash, in whole or in part; however, RTM reserves the right to substitute a prize of comparable or greater value due to unavailability. No substitution or transfer of prize by winner is permitted. Except where prohibited by law, acceptance of a prize constitutes permission for RTM to use winner's name, hometown, likeness, statements and other personally identifiable information for promotional, advertising and marketing purposes in any media throughout the world without additional prize, incentive, consideration, consent or review.
PRIZE AWARDING; WINNER ANNOUNCEMENT: Each potential winner and prize award is subject to verification and will be awarded only upon validation and verification by RTM. The potential prize winner will be chosen by random drawing on or about November 5, 2020, and notified on or about November 12, 2020, from all eligible entries received. Potential winners will be notified by RTM by UPS overnight delivery, e-mail and/or by phone, and the potential prize winner's name will be posted on www.powernationtv.com and www.facebook.com/PowerNationTV on or about November 19, 2020. No substitution, transfer, or assignment of the prize will be permitted, except that RTM reserves the right, in its sole discretion, to substitute the prize with either the cash value of the prize that would have been awarded or a prize of equal or greater value. The prize may not be combined with any other offer. If the potential prize winner does not respond by email to notice by RTM within one (1) calendar day of being notified by any method specified above, the potential winner is ineligible. In addition, if a prize notification is returned as undeliverable, or a potential prize winner is ineligible for any reason whatsoever, fails to complete and return any required documents within the required timeframe as described in Section 7, or fails to claim and/or accept delivery of the prize, the prize will be forfeited and an alternate potential winner may be selected by random drawing from among the remaining eligible Entries using the criteria set forth herein.
WINNER VERIFICATION: Each potential winner must prove eligibility, including without limitation, age and residence, by signing and returning to RTM (or its designated agent) an Affidavit of Eligibility) and, except where prohibited by law, a Publicity Release within three (3) calendar days of notification, or the potential winner is disqualified and forfeits the prize, and an alternate potential winner may be chosen by random drawing from among the remaining eligible Entries. Each potential winner agrees, as allowed by law, to allow RTM and its designees the right to use the potential winner's name, hometown, likenesses, biographical information and prize information for advertising, promotion, and publicity purposes worldwide in perpetuity in all media, now or hereafter known, without additional compensation. The potential winner must fulfill all the terms of these Official Rules as a condition to being awarded the prize. RTM expressly reserves the right to delay the announcement of the winner for technical reasons or for any other reason RTM deems necessary. WINNER IS SUBJECT TO VERIFICATION BY RTM. A PARTICIPANT IS NOT A WINNER OF A PRIZE UNLESS AND UNTIL PARTICIPANT'S ELIGIBILITY HAS BEEN VERIFIED AND PARTICIPANT HAS BEEN NOTIFIED THAT ELIGIBILITY VERIFICATION IS COMPLETE.
DISQUALIFICATION; DISCLAIMERS: Any software-generated, robotic, programmed, script, macro or other automated online entries or methods is strictly prohibited and will result in disqualification of all such entries. RTM reserves the right in its sole discretion to disqualify any person it finds: (a) to have tampered with the entry process or the operation of this Sweepstakes; (b) to be acting in violation of these Official Rules; or (c) to be acting in an unsportsmanlike or disruptive manner, or with intent to annoy, abuse, threaten or harass any other person or to have provided inaccurate information on any legal documents submitted in connection with this Sweepstakes. If so disqualified, RTM reserves the right to terminate the person's eligibility to participate in this and future promotions and sweepstakes offered by RTM. RTM reserves the right to request proof of any eligibility requirements in a form acceptable to RTM from a Participant at any time. Failure to provide such proof, if requested, may result in Participant's disqualification, at RTM's sole discretion. Any false information provided by any person concerning his/her identity or mailing address or any non-compliance by a Participant with these Officials Rules may result in the immediate disqualification of the Participant from the Sweepstakes. ANY ATTEMPT BY A PARTICIPANT OR ANY OTHER INDIVIDUAL OR ENTITY TO DAMAGE THE SWEEPSTAKES WEBSITE OR UNDERMINE THE LEGITIMATE OPERATION OF THIS SWEEPSTAKES IS A VIOLATION OF CRIMINAL AND CIVIL LAWS AND, SHOULD SUCH AN ATTEMPT BE MADE, RTM RESERVES THE RIGHT TO SEEK DAMAGES FROM ANY SUCH INDIVIDUAL OR ENTITY TO THE FULLEST EXTENT PERMITTED BY LAW. RTM is not responsible for: (i) any typographical or other errors in the printing of the offer, these Official Rules, or any related advertisements; (ii) errors, whether human, mechanical or electronic, in the administration of the Sweepstakes or the announcement of the prize or potential prize winner; (iii) late, lost, illegible, incomplete, stolen, deleted, or misdirected entries due to any reason; or (iv) other error of any kind, whether human, mechanical or electronic. RTM does not assume any responsibility or liability for incorrect or inaccurate entry information, whether caused by a Participant or by any of the equipment or programming associated with or utilized in this Sweepstakes or by any human error which may occur in the processing of the entries in this Sweepstakes. RTM is not responsible or liable for any problems, incompatibility or technical malfunction of any telephone network or lines, computer online systems, servers, or providers, computer equipment, software, failure of any e-mail on account of technical problems or traffic congestion on the Internet or at any website or any combination thereof, including without limitation, any injury or damage to any Participant's or any other person's computer related to or resulting from participation in this Sweepstakes. Participants acknowledge that RTM has not made, and is not in any manner responsible or liable for, any warranty, representation, or guarantee, expressed or implied, in fact or in law, relating to this Sweepstakes or the prize, in whole or in part. In the event any portion of this Sweepstakes is not capable of running as planned, including without limitation, due to infection by computer virus, bugs, non-authorized human intervention, fraud, technical failures, force majeure, insufficient qualified Entries or winners, or any other causes beyond the control of RTM which, in the sole opinion of RTM, corrupt, impair or affect the administration, security, fairness, integrity or proper play of this Sweepstakes, RTM reserves the right in its sole discretion to cancel, suspend, modify or terminate this Sweepstakes. Should this Sweepstakes be terminated prior to the stated expiration date of the Sweepstakes Period, notice will be posted at www.powernationtv.com, and the prize will be awarded to a potential winner selected by random drawing from among the eligible Entries submitted up until the time of termination. In no event will more prizes be awarded than the one listed above.
RELEASE; LIMITATION OF LIABILITY: By participating in this Sweepstakes, each Participant releases RTM, and their respective officers, directors, employees, affiliates, subsidiaries, marketing partners, advertising, promotion, fulfillment, marketing agencies, public relation firms, consultants and contractors ("Released Parties") from any and all liabilities, claims and actions of any kind whatsoever for injuries, damages or losses to persons (including death) and property which may be sustained in connection with the receipt, ownership, possession, use or misuse of the prize, or arising out of participation in this Sweepstakes, or while preparing for, participating in, and/or traveling to and from taking delivery or possession of the prize or any prize-related activity, and each participant agrees to indemnify and hold such parties from the same. The Released Parties expressly disclaim any responsibility or liability for injury or loss to any person or property relating to the delivery, possession and/or subsequent use or misuse of any prize awarded. IN NO EVENT WILL THE RELEASED PARTIES BE RESPONSIBLE OR LIABLE FOR ANY DAMAGES OR LOSSES OF ANY KIND, INCLUDING WITHOUT LIMITATION DIRECT, INDIRECT, INCIDENTAL, EXEMPLARY, CONSEQUENTIAL OR PUNITIVE DAMAGES, ARISING OUT OF THIS SWEEPSTAKES OR ANY ACCEPTANCE, POSSESSION, USE OR MISUSE OF THE PRIZE AWARDED IN CONNECTION WITH THIS SWEEPSTAKES, INCLUDING WITHOUT LIMITATION, PERSONAL INJURY, DEATH AND/OR PROPERTY DAMAGE, AS WELL AS ANY CLAIMS BASED ON PUBLICITY RIGHTS OR INVASION OF PRIVACY. IN NO EVENT SHALL RTM'S AGGREGATE LIABILITY FOR ALL CLAIMS ARISING OUT OF THIS SWEEPSTAKES EXCEED ONE HUNDRED U.S. DOLLARS ($100.00 USD).
GOVERNING LAW; DISPUTE RESOLUTION: This Sweepstakes is governed by U.S. law and is subject to all applicable federal, state and local laws and regulations. Void where prohibited by law. All issues and questions concerning the construction, validity, interpretation and enforceability of these Official Rules, or the rights and obligations of Participants and RTM in connection with this Sweepstakes, shall be governed by, and construed in accordance with, the laws of the State of Tennessee, without giving effect to the conflict of laws, rules thereof, and any matters or proceedings which are not subject to arbitration as set forth in this Section of these Official Rules and/or for entering any judgment on an arbitration award, shall take place in the courts of Nashville, Tennessee. Each Participant waives any and all objections to jurisdiction and venue in these courts and hereby submits to the jurisdiction of these courts. Any and all lawsuits or other disputes that arise relating to this Sweepstakes must be filed within one (1) year from the date that the winner is selected. Except where prohibited, as a condition of participating in this Sweepstakes, Participants agree that any and all disputes which cannot be resolved between or among the parties, and any claims and causes of action arising out of or connected with this Sweepstakes, the prize awarded, or the determination of the winners, shall be resolved individually, without resort to any form of class action. Participants waive all rights to trial in any action or proceeding instituted in connection with these Official Rules and/or this Sweepstakes. Any controversy or claim arising out of or relating to these Official Rules and/or this Sweepstakes shall be determined exclusively by confidential and binding arbitration in accordance with the expedited rules of Judicial Arbitration and Mediation Services ("JAMS") before a single arbitrator. Such arbitration shall be conducted in Nashville, Tennessee. The award of such arbitration shall be confidential, final, binding and non-appealable, except to the extent provided for in the rules of JAMS, and judgment on the arbitration award may be entered into any court having jurisdiction thereof.
NO WAIVER; SEVERABILITY: The failure of RTM Studios to exercise or enforce any right or provision of these Official Rules shall not constitute a waiver of such right or provision. If any part of these Official Rules is held by a court of competent jurisdiction to be invalid or unenforceable, that part will be enforced to the maximum extent permitted by law, and the remainder of these Official Rules will remain fully in force.
RULES REQUEST; WINNER'S NAME: For a copy of these Official Rules or for the name of the winner, please send a stamped, self-addressed envelope to RTM Studios Attn: "PowerNation Merchandise Gift Certificate Giveaway 2020", 130 Southeast Parkway Court, Franklin, TN 37064. Residents of WA and VT may omit return postage.
SPONSOR/ADMINISTRATOR: The sponsor and administrator of this Sweepstakes is RTM Studios, 130 Southeast Parkway Court, Franklin, TN 37064.
Read More from PowerNation
Latest PowerNation Episodes