Jeep Wranglers Are Out-Selling Ford Broncos, But Just Barely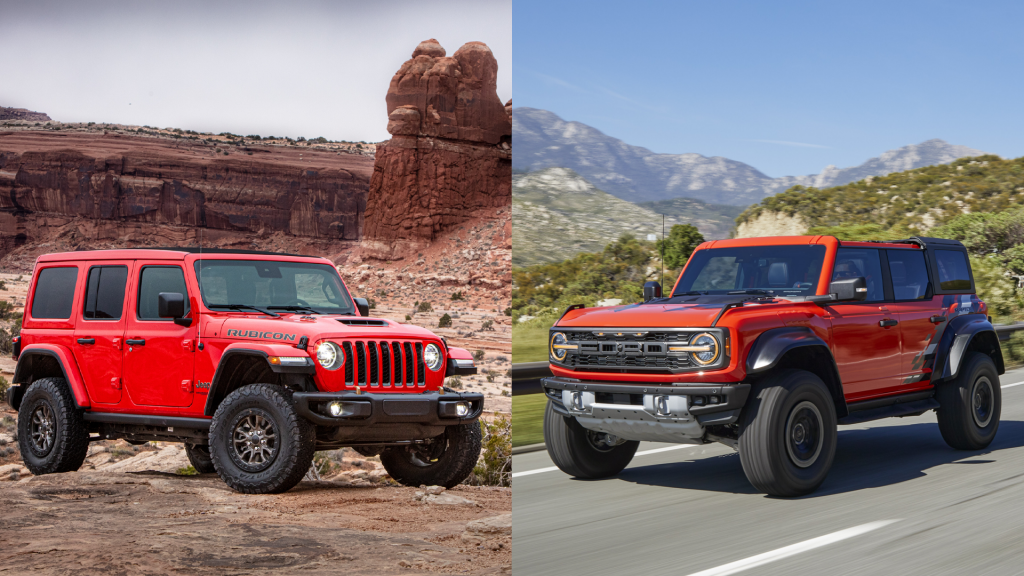 Even though it is only February of 2023, the Jeep Wrangler/Ford Bronco war continues to rage on into the new year. Both SUVs have been in a deadlocked battle for new and consistent customers, as well as snatching away them from each other in an effort to be crowned America's favorite off-roading vehicle.
Jeep Wrangler Sales Declined Entering 2023, while Ford Bronco Sales Increased
According to a report by The Detroit Free Press, Ford Broncos saw a 25% increase in sales, while Jeep Wranglers coincidentally experienced a 25% drop from 2021 to 2022. The race between these two models is so close that in January 2023 Ford sold 10,170 Broncos, and Jeep sold 10,173 Wranglers.
Despite its drop in sales, Jeep still managed to edge out Ford towards the end of 2022 with a lead of 913 sold units in November, and 470 sold units in December. The fact that in January 2023, Jeep pulled ahead of Ford by just three sold units is a big sign of how tight this race is going to be.
Ford's Inventory Woes Let Jeep Wranglers Out-Sell The Bronco in 2022
Although both brands have been nearly neck-to-neck, 2022 was certainly won by Jeep after selling 181,409 Wranglers, with 24% of those orders being for the hybrid Jeep Wrangler 4xe.
However, Ford only managed to sell 117,057 Broncos. Inventory (or lack thereof) was a huge determining factor that Ford is still dealing with into 2023 with all of its models, while Jeep's backlog of pending wasn't nearly as chaotic. But despite this plight, an estimated 60% of new Bronco customers came from outside the brand, which is a victory in itself for Ford.
Both models are fairly close in terms of price, as the base model MSRP for the Wrangler starts at $31,195, and the base model Ford Bronco MSRP starts at $32,295.
The Ford Bronco's Competition with the Jeep Wrangler Benefits The Consumer
While both brands are starting the new year off with at a close tie, they each have particular advantages over the other, really making it anyone's game. Jeep has a distinct history and culture behind it, as well as plenty of experience attracting new customers and keeping them in the family. However, Ford has more experience in developing the latest in technology and gadgets that make the Bronco more attractive to prospective buyers.
Regardless of which model out-sells the other, when the competition is this intense, the only real winner is the customer.
Read More from PowerNation
Latest PowerNation Episodes