Concept Vehicles Revealed at 2022 Jeep Easter Safari, Including one Named "Bob"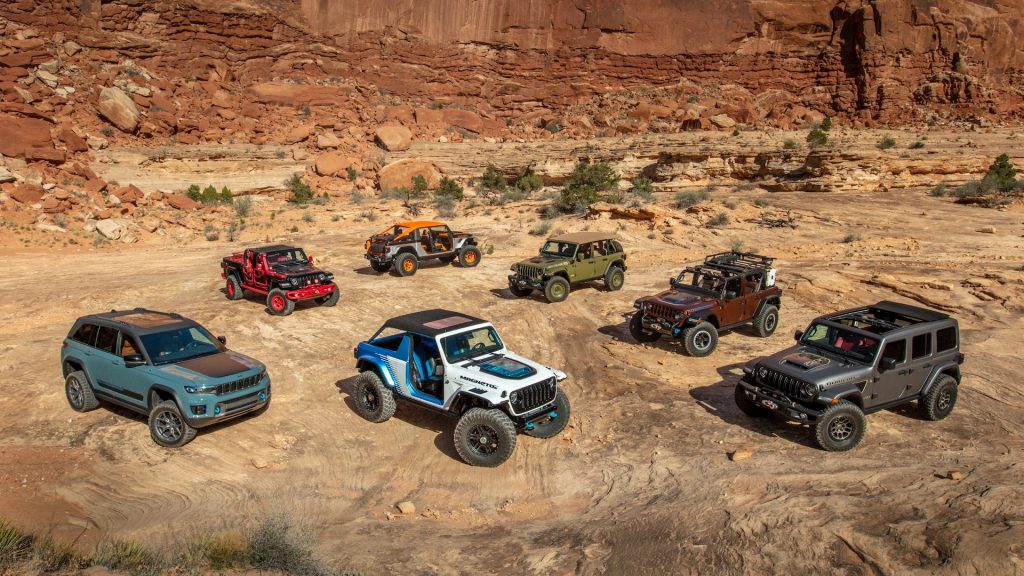 For the last 56 years, the Moab desert has been home to the annual off-roading celebration known as the Easter Jeep Safari. As part of the fun, Jeep brings in a collection of concept vehicles they've been cooking in the factory to see how they do after running them through the dirt. See the full press release here.
The Jeep Wrangler Magneto 2.0 is the sequel to the all-electric Wrangler Magneto that made its first appearance at the 2021 Moab Easter Jeep Safari with a few upgrades to boast. The Magneto 2.0 comes ready with 850 pound-feed of torque (3x that of the original), 625 horsepower, four lithium-ion battery packs, six-speed manual transmission, and a custom-made axial flux electric motor. Overall, this Wrangler has enough power to go from 0 to 60mph in two seconds.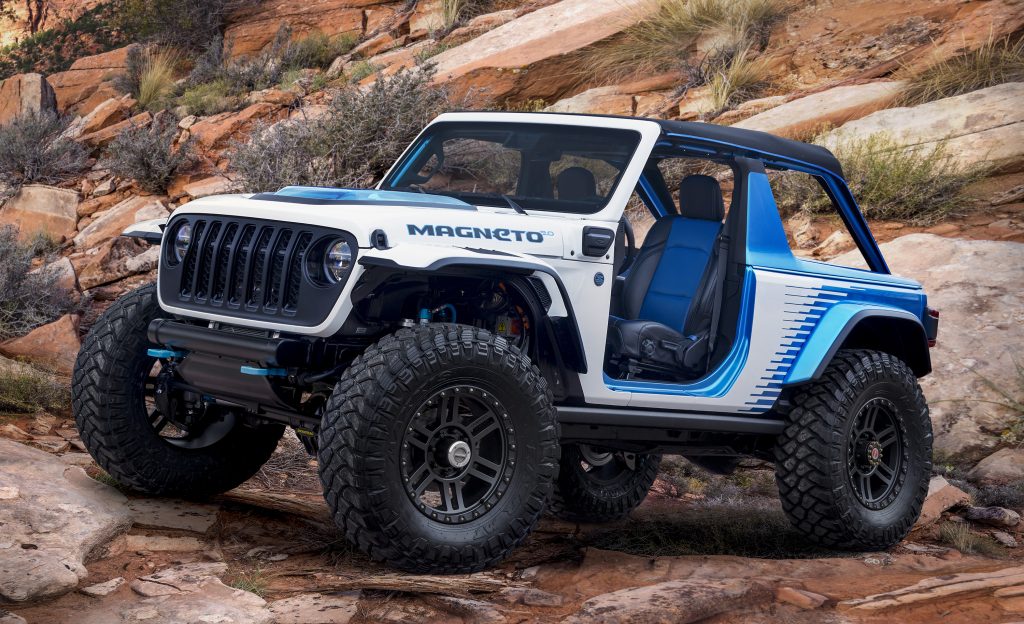 Another popular concept blended the Wrangler with the Gladiator with the rugged and gritty… Jeep Bob. With a truck bed cut by 12 inches, a three-inch left kit, Gonzo 40-inch tires wrapped around 20-inch beadlock wheels, Dynatrac Pro-Rock 60 axles, King Coils, and Bypass shocks, and custom steel front and rear bumpers, Bob comes complete with an orange soft top overhang extending over the bed.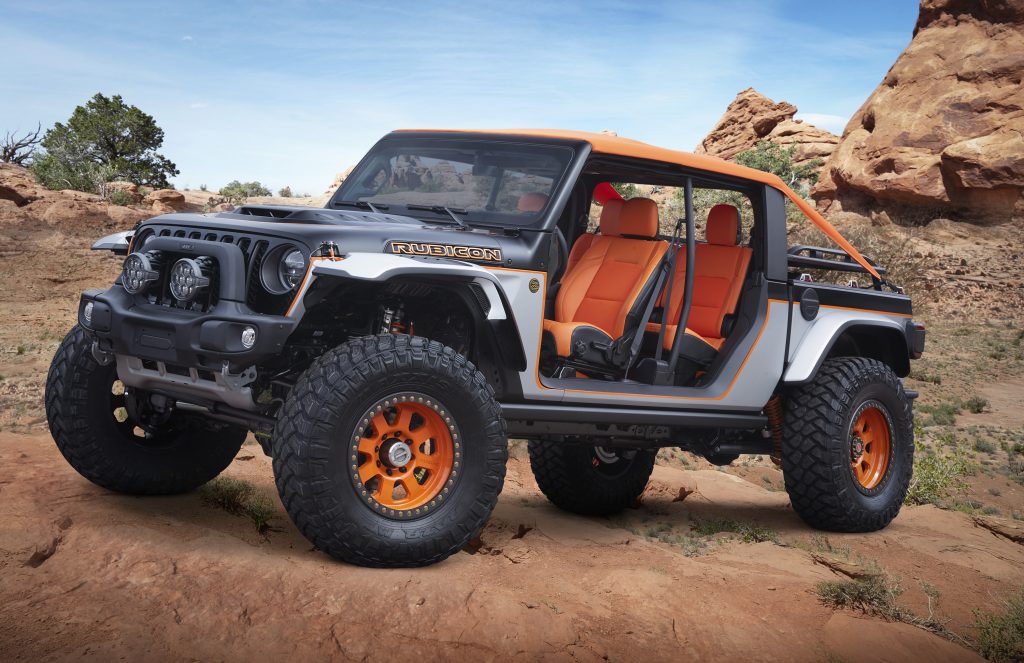 As the saying goes, "the devil is in the details," and the Jeep D-Coder has all of them. Looking like a four-wheeled shopping catalog, the D-Coder concept is covered in Scarlet red parts head-to-toe with scannable QR codes linking straight to the Mopar eStore. Among the goodies equipped into the D-Coder include 35 JPP, a two-inch lift kit with FOX shocks, 17-by-8.5-inch five-spoke beadlock wheels, snorkel, Gorilla Glass windshield, and pillow-soft Katzkin leather interior.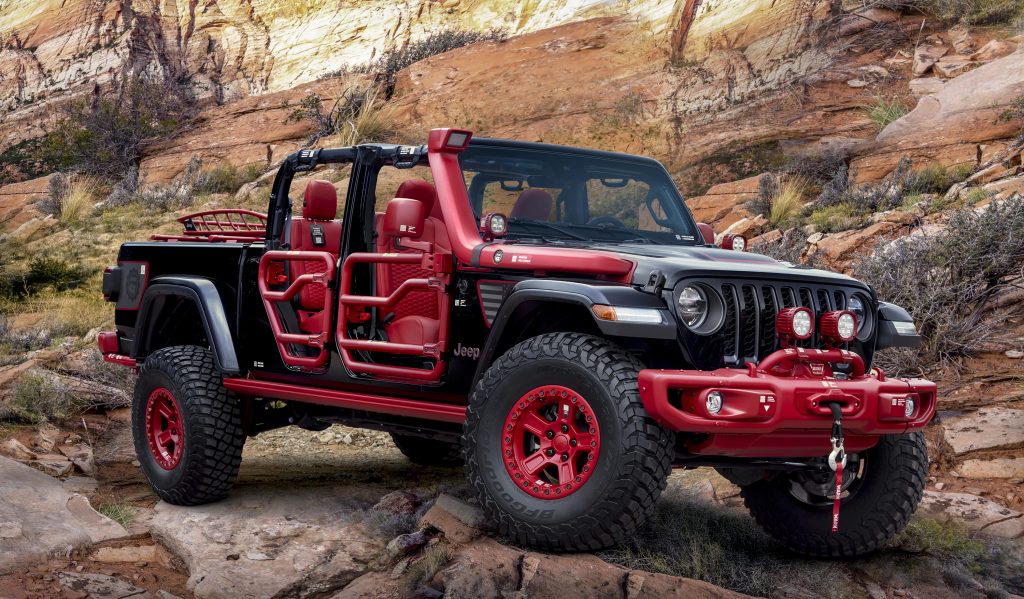 The Jeep Grand Cherokee Trailhawk is one of the automaker's top off-roading models, and the latest concept to make its debut to the Moab is the Grand Cherokee Trailhawk PHEV. Coated in Industrial Blue with Lagoon Blue tow hooks, this edition of the hybrid 4xe has 56 MPGe and 25 miles of all-electric range thanks to its two electric motors, 400-volt battery pack, and its 2.0-liter turbocharged four-cylinder engine.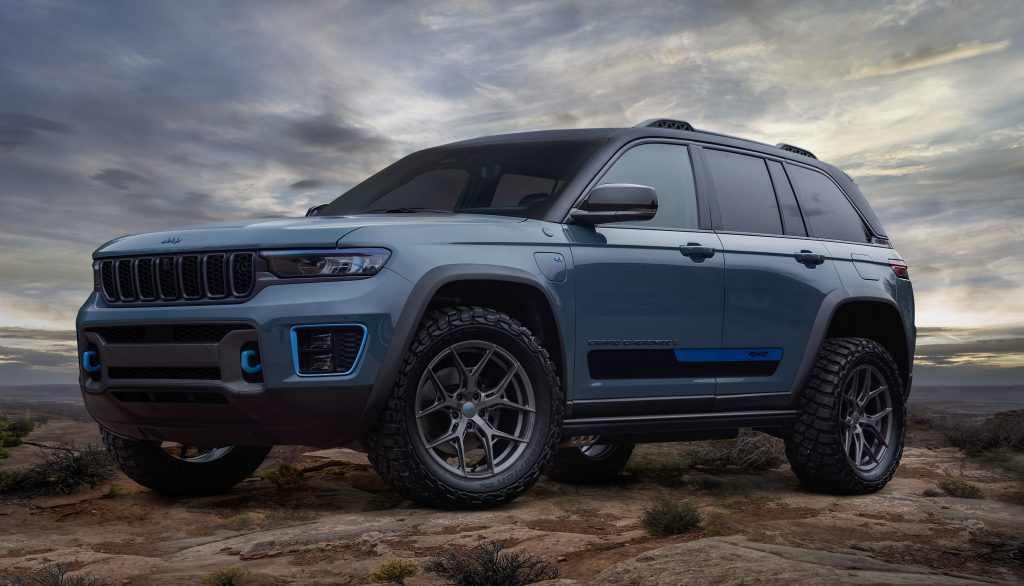 If you're a fan of Jeep's military roots, but would like a modern take on its old-school badassery, look no further than the Jeep '41. On the outside is a matte green finish and army-style graphics. Underneath lies the Wrangler 4xe's two electric motors, battery pack, 2.0-liter turbocharged inline-four engine and eight-speed automatic transmission.
Toss in some 17-inch Fifteen52 wheels, 35-inch tires, two-inch lift kit, retro tan soft top, and old-school shifter, the Jeep '41 is ready to soldier through the trails.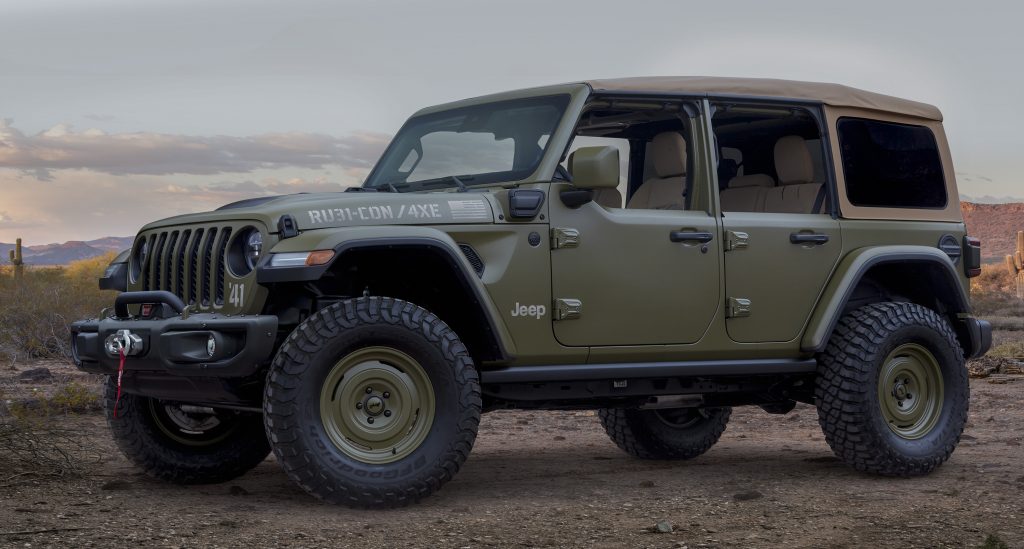 What would happen if you reimagined old-school western films as a modern-day Jeep? You would get the Jeep Birdcage.
Sitting on four BFGoodrich KM3 37-inch tires, a two-inch lift kit, FOX shocks, custom-made rock-slider skid plate, underbody rock lights, the Birdcage looks more than prepared to tackle the most rockiest of trails. Toss in some drainplugs to wash out the dirt and grime, a hidden cooler, and gas-assisted shocks, and you've got a Jeep-lover's early Christmas list.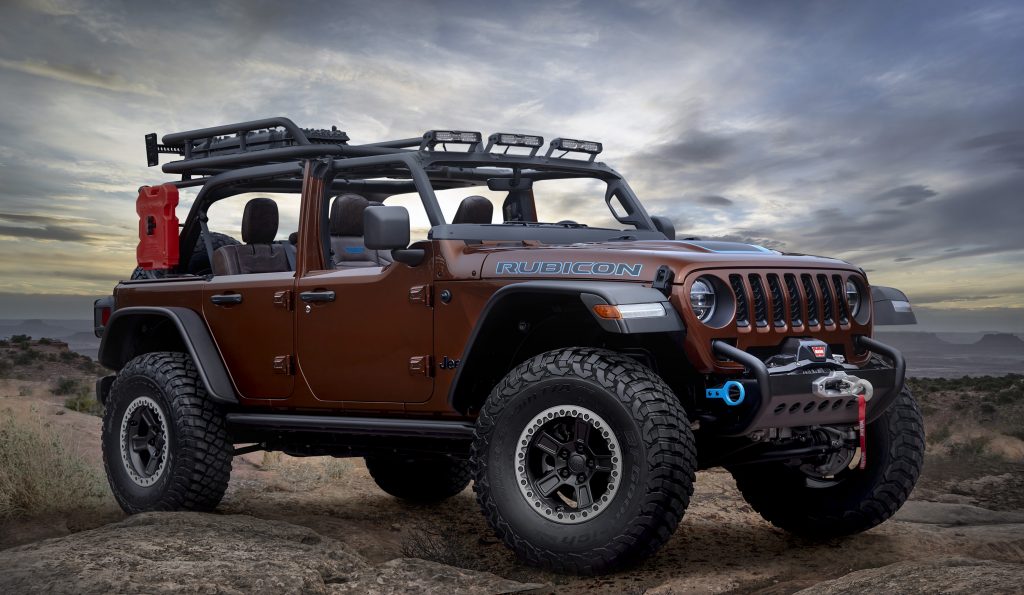 The Rubicon Trail in Northern California is one of the most sought-after paths for off-roaders. In 2003, Jeep introduced the most capable model in its history, the Wrangler Rubicon. Inspired by builds created by drivers looking to defeat the Rubicon Trail, Jeep took matters into its own hands by having a trail-ready model straight from the factory.
For its birthday, the 20th anniversary Jeep Wrangler Rubicon made its debut in the Moab with some extras unseen on any production Jeep SUV. Donning Dana 44 axles, front and rear lockers, disconnecting sway bar, rock rails, 31-inch mud-terrain tires, and wheel flares, this 'matured' version of the Rubicon is ready to take the entire Jeep brand to a new level.
Lastly, three more models that appeared at the 2021 Jeep SEMA (Specialty Equipment Market Association) appeared at this year's Moab Easter Jeep Safari to really push the limits of what a Jeep owner can do. Among them is the coffee-brown four-door Jeep Wrangler Overlook, the Kaiser Jeep M725 which started as a '67 Kaiser Jeep M725 military ambulance, and the newest hybrid Jeep Wrangler 4xe.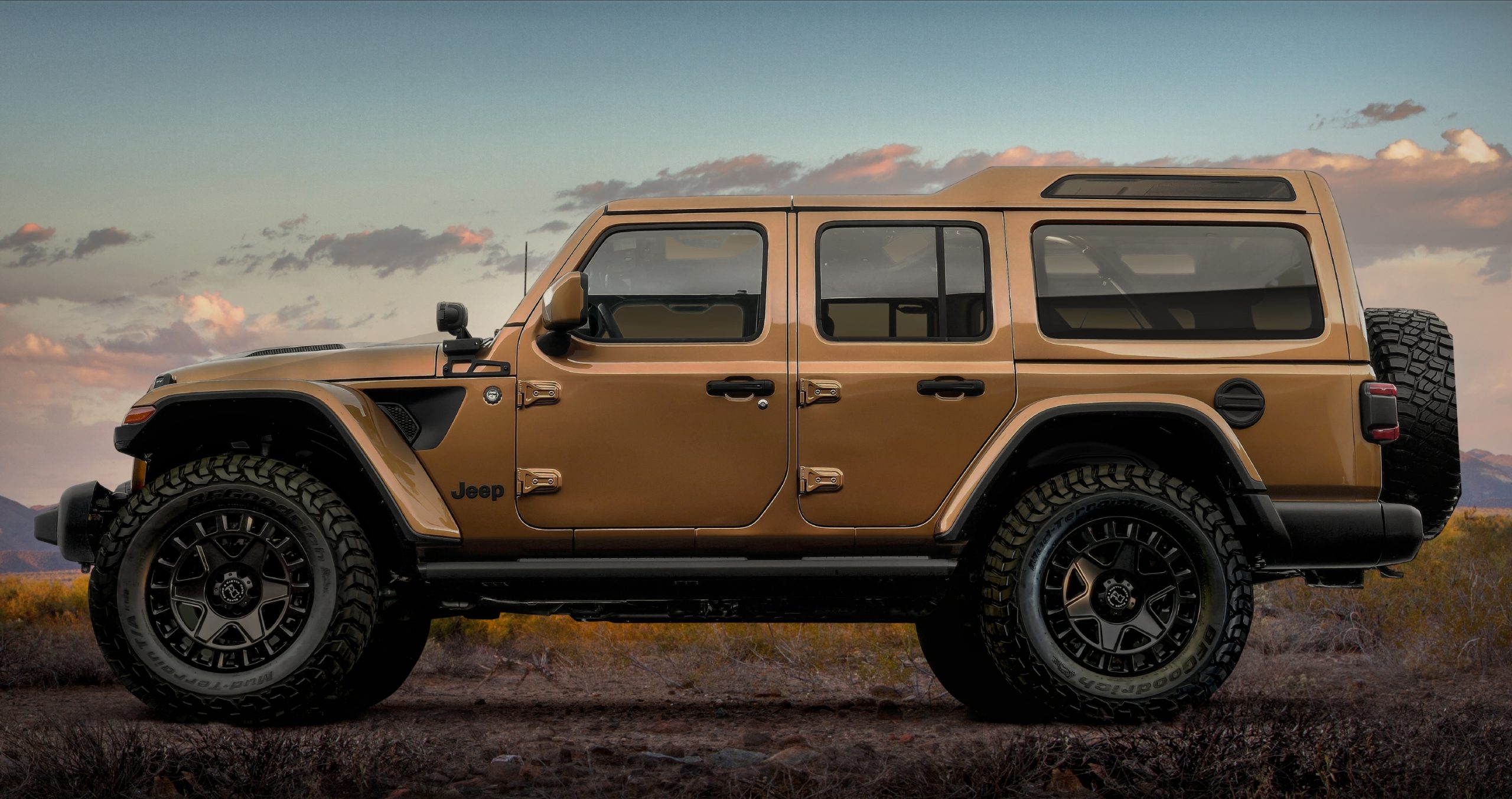 Read More from PowerNation
Latest PowerNation Episodes