Classic Bronco Vs. 2021 Bronco: It's Time to Talk About It
Talk about a subjective topic that will surely ruffle some feathers, but it's time to talk about whether the 2021 Bronco can live up to the classic. We know the answer to this question will vary from one person to the next. To be fair, each person will make a case as to why their respective choice is the right one. With the delivery of the new 2021 Bronco underway and a classic Beach Cruiser Bronco getting built in the back of our studio, we wanted to examine this topic a little further.
If Ford hadn't created something as successful as the original Bronco, this new truck wouldn't be nearly as exciting as it is. For some, nothing will ever come close to the classic, but others understand that combining classic styling with modern technology is a winning solution. Maybe you won't be the first in line to purchase a new Bronco, but we'll make our case for both.
The Bronco and its Powerhouse
When the Bronco debuted, it had the option for one engine, a 170 ci six-cylinder, and wasn't until 1966 when they offered a V8. It may appear as though the original Bronco is a clear-cut winner, with its 2.8L six-cylinder and 4.7L V8, but the new Bronco is the more potent pony. At this point, it's a matter of preference. Some people might prefer a V8 instead of a four-banger with more power.
The latest Bronco, even with its 2.3L turbocharged four-banger, offers an impressive 270 horsepower and 310-pound feet of torque. This is in comparison to the original Bronco's 105 horsepower from the six-cylinder and the 4.7L offering around 200 horsepower. Yeah, it may sound better than a whistling lawnmower engine, but with modern expectations, it won't suffice as it's severely underpowered. However, if you're swapping it with a supercharged modular engine, we can't blame you.
If you're a purist and the thought of a four-cylinder going anywhere near this classic disturbs you, the optional 2.7L twin-turbo V6 produces 310 horsepower and is nothing to turn your nose at with 400 pound-feet of torque. We'd still opt for a V8. Are you trying to race it or something? The V8 produces enough juice for what you'll need.
Now, here's where a classic Bronco owner might say you can't shift all that power for yourself. Unfortunately, they're right. The 2021 Bronco doesn't come with a three-speed column-mounted (three on the tree) manual transmission, but it is a serious off-roader with base four-wheel drive, two-speed transfer case, and a standard manual transmission. The manual transmission cannot be found in all models; some will offer a 10-speed auto, which better than you think and doesn't constantly hunt for gears.
Going Off the Grid With a Classic Bronco or Modern Bronco?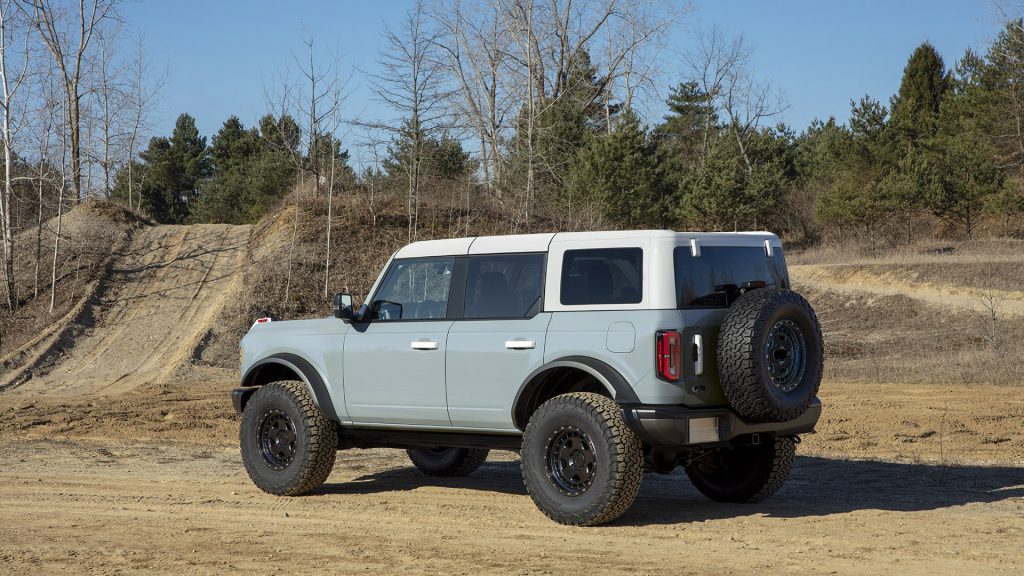 When it comes to the 2021 Bronco and its older and more mature sibling off the grid, it's much of the same. This is where the two trucks start to shine. The classic Bronco had four-wheel drive, a two-speed transfer case, and dominated on the trails. Ford marketed the Bronco as a sports car that could handle four-wheel-drive terrain. This is one area the new Bronco really comes alive with its shift-on-the-fly four-wheel-drive system.
The classic Bronco required you to stop, jump out, then manually lock the front hubs for four-wheel operation, which might be fun in the driveway, but not when it counts. The modern Bronco and its two-speed electronic transfer case, which is controlled with a dial and seven-speed manual transmission, has a positive effect off the grid. It also has a first-gear ratio that's slightly shorter than a Rubicon's first gear. It also has an independent front rear suspension with available electronic locking differentials.
We're proponents of classic vehicles, but sometimes you have to admit and even with all the new technology in the 2021 Bronco, we're still opting for the classic. Nothing compares to the feel of a classic vehicle. We promise, this aren't exhibiting a "get off my lawn moment." It's preference.
Modern Vs. Classic: Which Bronco is More Comfortable?
This may seem like an obvious answer, but some prefer the feel of classics, everything from ride quality to the seats and heavy steering wheels. On the flip side, others enjoy their iced air conditioning, leather heated and cooled seats, and quiet ride. Saying which Bronco is more comfortable is subjective due to preferences, so we'll explain what's in it and let you make your own decision.
The classic Bronco provided you with the bare necessities – a heater, seats, and radio, which you couldn't find on the earliest models. You also couldn't find carpeting, insulation, or storage bins. Hearing this may bring you back and make your nostalgia senses tingle – it's authentic. What more can you want from the Bronco? Others consider this bare-bones experience is far from what they prefer when spending money on a vehicle.
The 2021 Bronco offers a lot more, and you can cruise down the road blasting XM Radio with the air conditioning so cold you need your heated seats radiating at the same time. It also has several driving modes, nicknamed GOAT modes, for Go Over Any Type of Terrain. They're toggled using a knob found on your center console. These include Normal, Eco, Sport, Sand, and Slippery. Some models come with Baja, Mud/Ruts, and Rock Crawl and improve the overall driving experience on the pavement or trails. That's one comfortable ride.
It's even comfortable on the trails with its braking control for slow rock crawling, making it easy, even for a novice. It also has a Trail Toolbox, which includes trail turn assist for torque vectoring to tighten the turn radius. When the original Bronco debuted, you could put a TV in your living room that rivaled the size of screens in the new Bronco. The Trail map system has an eight-inch and 12-inch touch screen. How far we've come…
Classic Bronco Vs. 2021 Bronco: Who Are You Taking?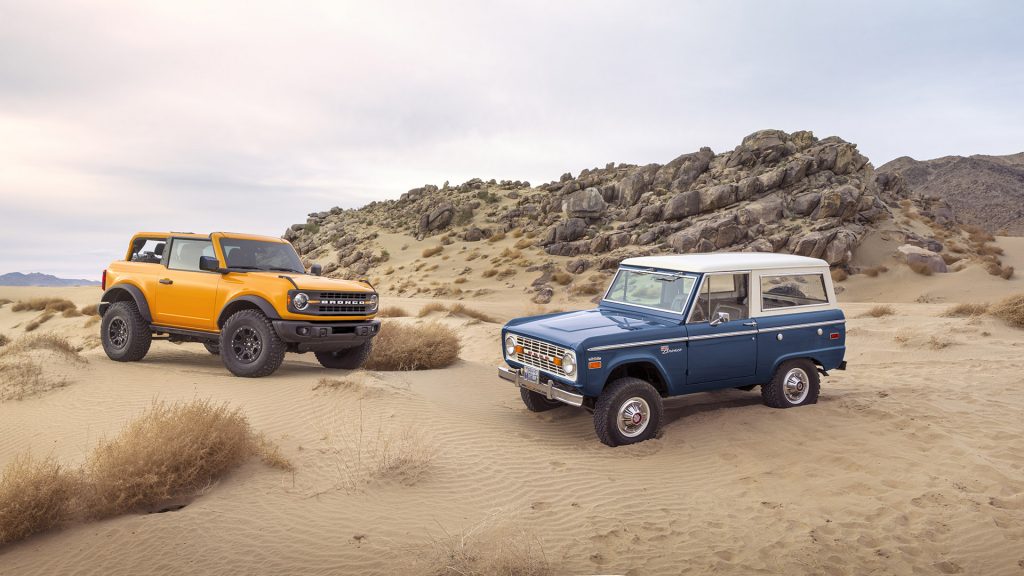 We get it. You grew up around the classic Bronco, so you feel like you're cheating if you admit the 2021 Bronco isn't so bad. The classic is undeniably cool and possesses iconic aesthetics, and encourages adventures. It brings you back to a time when vehicles were much less complicated, but Ford was right to revive a cult favorite. There's a reason they brought it back, but this time around, they have 25 years of technological advances on their side, but is it enough? That's hard to say.
Is the new Bronco worth the wait? Absolutely. The modern iteration of this classic favorite is stylish, holding onto most of the original's good looks, but offering modern amenities that add much more value than a weekend warrior. It's not over-the-moon priced and will hold the same prestige in 20 years that the classic Bronco's hold today, but would we choose the 2021 over a classic? That's also hard to say.
Read More from PowerNation
Latest PowerNation Episodes