Ford Announces Its Mustang Challenge Race Schedule, Which Includes a $40k Cash Prize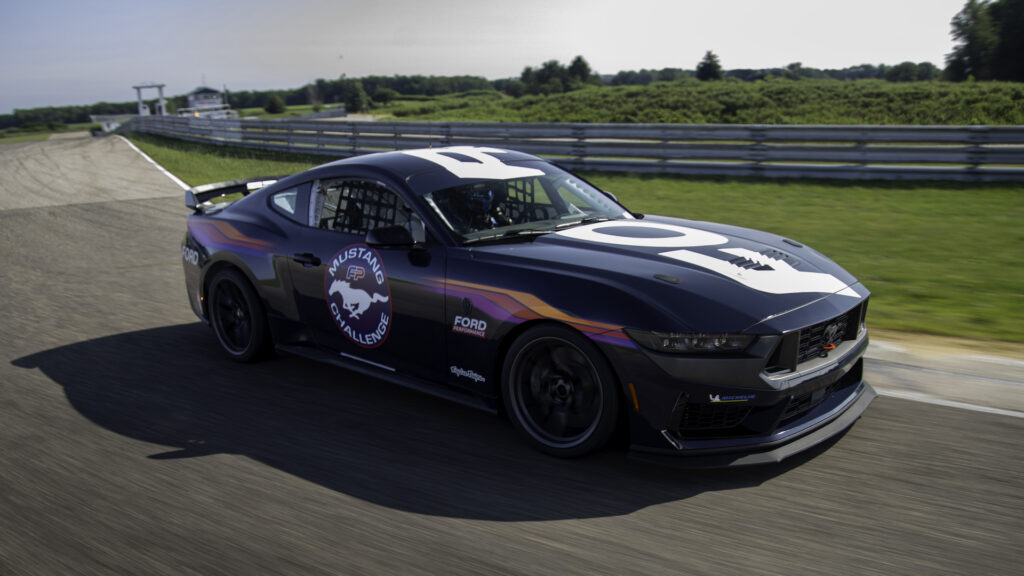 With the dawn of the 7th-gen Ford Mustang, Ford Performance has announced the latest details regarding the inaugural season of the Mustang Challenge, a five-round, 10-race competition beginning in June 2024 at Mid-Ohio Sportscar Course.
The series will be the home of the Mustang Dark Horse R, the latest turnkey racecar from Ford Performance that begins a potential ladder of opportunity up to the Mustang GT4 and on to the ultimate expression of the Mustang racing lineup, the Mustang GT3.
Following its announcement in August, 2023, Ford Performance has since revealed the schedule for the Mustang Challenge, as seen in the chart below. Additionally, Ford is excited to share that the Mustang Challenge finale will now be held at Indianapolis Motor Speedway as a precursor to the SRO Indianapolis 8-Hour, as part of the Intercontinental GT Challenge championship.
2024 Mustang Challenge Schedule
| | | |
| --- | --- | --- |
| Date | Track | Host |
| 6/7 – 6/9 | Mid-Ohio Sportscar Course | IMSA |
| 6/20 – 6/23 | Watkins Glen International | IMSA |
| 8/2 – 8/4 | Road America | IMSA |
| 8/31 – 9/1 | Circuit of the Americas | FIA WEC |
| 10/4 – 10/6 | Indianapolis Motor Speedway | SRO |
Racing Format
Each event will feature two 30-minute practice sessions, one 15-minute qualifying session and two 45-minute sprint races. The field of up to 40 full season participants, with additional entries possible at rounds two through five, will be split into two classes – Dark Horse and Dark Horse Legends, the latter being an optional classification eligible to bronze-level drivers that are 45 years old and over.
Additionally, Michelin has developed an all-new bespoke race tire for the series, and teams will be eligible to purchase three new sets of these 295/30R19 Michelin race tires per weekend.
Prizes
Each race will feature a podium celebration for both classes, as well as prize money awarded to those that finish in 1st, 2nd, and 3rd place. Ford Performance will also be offering first-place winners a choice of two different prizes:
OR
$100,000 Scholarship towards a Mustang GT3 or Mustang GT4 seat the following year.
Both options will feature a test day in a Mustang GT4. Ford Performance aims that this new prize structure will encourange more new and existing racers to expand and grow the impact of this racing series.
Those finishing 2nd and 3rd overall in the championship will also receive cash prizes of $20,000 and $10,000 respectively.
Dark Horse Legends champions will also receive their choice of a cash prize of $20,000 or a test day in a Mustang GT4.
Read More from PowerNation
Latest PowerNation Episodes