Engine Power Featured Projects
Engine Power Builds
Parts Used In This Episode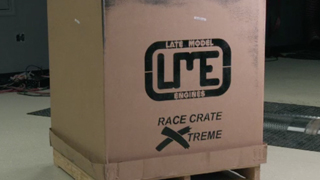 ARP
ARP is the Official Bolt Supplier to Engine Power
Late Model Engines
LME Billet Intake LS7
Matco Tools
MATCO Tools are the Official Tool Supplier to Engine Power
Episode Transcript
(Narrator)>> Today on Engine Power we're building the first engine for our mobile dyno test sled, and it's a beast. 427 cubic inches of LS power with a massive 86 millimeter ball bearing turbo making well over 1,000 HP, and we've got Kenny Duttweiler in the shop dialing in our power plant to perfection.

(Mike)>> Welcome to a power packed episode of Engine Power. Today's show is all about going fast, making big power, and doing it with a turbocharger. From setting records at the strip to pulverizing the briny course at the Bonneville Salt Flats, turbochargers have earned their popularity in the performance aftermarket. Today you will also meet the man who pioneered and continues to innovate in the world of the highest specific output engines there are.

(Pat)>> We are getting ready to experience one heck of a ride. Around 1,300 horsepower and a finished weight of just under 2,000 pounds makes for one wicked power to weight ratio, and we've been getting some things ready for the engine build. So now it's time to get dyno ready.

(Mike)>> From the parts used to the experience of the tuner and the meticulous assembly techniques, builds like this take team work from proven sources. Now with that being said you're going to see how all that works as this build comes together. So right now let's get started on the bullet that's gonna take us on that wild ride.

(Pat)>> There are great engine builders all over the country. Each one of them tend to specialize in what they know best, and that's where they spend their time in the R&D department. This bullet came to us from a heavy hitter in the engine performance category, and we cannot wait to see its potential. Late Model Engines, or LME, is based out of Houston, Texas, and their name says it all. The LS engine is a specialty of theirs and they definitely have a podium place in the engine building spotlight. This is LME's highly proven 2,000 horsepower capable LSX extreme crate engine. It's a super solid foundation that starts with your choice of a GM LSX or Dart iron block. It's packed with a list of impressive parts that you'll learn about in a few minutes.

(Mike)>> This one has a 58-X reluctor wheel, a wet sump oiling system, and you can order this engine with a nine and a half to a 10.5 to one compression ratio. Just specify what you need.

(Pat)>> The owners of LMC are graduates and colleagues of mine from SAM Tech, and I had the privilege of working with them and teaching them in my time there. So we are confident this is a rock solid foundation. We requested that the top end of the engine be left off so we could show you the quality of their work. The heads are LME's custom LSSeven six bolt c-n-c ported design. Victory DLC coated two-250 titanium intake valves and one-600 Inconel exhaust valves were spec'ed for our application. PSI DR-424 dual valve springs are good to 800 thousandths life. They use titanium retainers and machined locks. Cometic MLS head gaskets were dusted with Permatex copper spray-a-gasket high temp sealant per LME's instructions. The heads are located on the smaller ARP outer studs, and then massive ARP half inch head studs are torqued in sequence to 120 pound feet using ARP's Ultra Torque lube. Next up the ARP fasteners for the Crower rocker system also get a coating of Ultra Torque lube. The stand is bolted to the head and torqued to 45 pound feet. Heavy duty Manley three-eighths diameter push rods with a 135 thousandths wall handle the valve lifting duties. Because the intake valves are titanium, a hardened lash cap will prevent wear on the valve stem. They aren't required on the Inconel exhaust valves. Stability and durability are important in the valve train. LME sent us this Crower shaft rocker setup that utilizes stainless steel bodies with roller tips and trunnions. Their ratio is one point eight. Cold lash is six thousandths on the intake and eight thousandths on the exhaust. The LME valve covers are machined in house from a block of billet. Another block of billet is carved into LME's signature LSSeven intake. This is a five piece design that bolts together and includes integrated dual nitrous bungs, O-ringed sealing surfaces, and ARP hardware everywhere. The intake is designed and built entirely by LME. With a touch of light oil on the O-rings the manifold is installed. Finishing off the assembly is an ATI super damper.

(Mike)>> While Pat was putting the top end together I was busy building the turbo system using a mock up engine. I started off with a set of Hooker LS manifolds, cut off the flanges, and tig welded V-bands on both. Then using three inch stainless Magnaflow pipe a merge was created and a V-band was welded on to locate the Precision turbo.

(Narrator)>> Coming up the turbo system gets plumbed and prepped for high r-p-m dyno action.

(Mike)>> Now we can roll this 427 inch LME race crate extreme LS engine into the cell. It's offered as a complete crate engine and it's rated to handle 2,000 horsepower right out of the box. Lots of options from dry sump oil systems to oil pan selections are available. A top notch injector is required for a build like this. So we reached out to the Fuel Injector Clinic. They are one of the most advanced in the injector industry and they supply more injector data than anyone in the world. To find the right injector for your project go to Fuel Injector Clinic dot com and select the injector calculator. Input your info and you will get recommendations on the injector you need. Now this is a science and they have it mastered. They use Bosch core injectors and they are all compatible with E-85. They undergo the highest level of injector matching and are supplied with drop in e-c-u data. They're available from 365 to 2,150cc. Ours are 1,200 and will support everything we are going to throw at them today.

The turbo is a Precision 86-85 gen two with sportsman V-bands on the inlet and outlet. It has a one point two-eight aspect ratio, an 85 millimeter turbine wheel, and is available only in a ball bearing version. The 86 millimeter compressor wheel is machined from a 26-18 aluminum forging. This turbo has a 1,500 horsepower rating and is perfect for the street or the strip. We are mounting the intercooler to the dyno cart for a solid mounting solution. Now the cold side pipes are connected to their assigned locations. A Holley 102 millimeter throttle body will control the amount of air going into the intake manifold. The waste gate is a Precision PW-66. High grade high temperature and billet aluminum components are used for superior strength and reliability. It has four individual ports. It's compatible with most manual and electronic boost controllers. A PB-64 millimeter blow off valve has a kevlar reinforced silicone rolling diaphragm for quick response and enhanced durability. Its job is to release back up pressure created when the throttle is closed. The CFD designed valve and valve body allow high flow even at low lift. For total control of the engine we're using what we trust, a Holley HP fuel injection setup. We ordered it for the 58-X reluctor wheel and our type of injectors. This system has four programmable inputs and four outputs, which is what you need for a single power adder. That allows control of a boost controller, progressive nitrous, speed inputs, fuel pumps, and a lot more.

(Pat)>> Kenny Duttweiler is more than just a turbo guru. He is a pioneer in the performance turbocharging industry. From setting records at the Bonneville Salt Flats to having his engines burn up the streets and tracks during drag week, Kenny is someone everyone looks up to and trusts due to the innovation and durability of his work.

(Chris)>> Basically he looks at every project as a new project and is open minded. He doesn't get stuck in a rut. He doesn't want to build a cookie cutter engine. He's always looking for a way to make more horsepower.

(Pat)>> This engine was assembled using top notch parts. The LSX standard block houses a Callies Magnum eight counterweight crank shaft with a four inch stroke that has received some of LME's blueprinting process. Callies Enforcer I-beam rods with ARP Ultra seven-sixteenths rod bolts, along with LME's custom forged and gas ported piston complete the rotating assembly. Clevite H-series main and rod bearings coupled with Durabond's one piece cam bearings round out this stout short block.

(Mike)>> The top end is just as impressive. With LME's LSSeven c-n-c six bolt cylinder heads that flow over 400 c-f-m on the intake, and over 270 c-f-m on the exhaust. A custom ground LME cam shaft, Morel solid roller tie bar lifters, a three-eighths 135 wall push rod, Crower shaft rockers, and this absolutely gorgeous LME billet intake round out the top end.

(Narrator)>> Up next the LS is put to the test.

(Pat)>> We are back and working with Kenny Duttweiller on a single turbocharged LS engine. We're going for big horsepower and Kenny is the guy to have here. In 1981 Kenny built his first turbo system for an underpowered stock truck.

(Kenny)>> The GMC dealer had a whole bunch of half tons. They were all six cylinders. While I would really prefer to have a 350 V-eight but I needed a truck. So I took the six cylinder and promptly turbocharged it. It was kind of interesting because you take 92 horsepower stock and it's making 340 horsepower with the turbo on it. It was a pretty nice little deal.

(Pat)>> From small displacement four cylinders to some of the most powerful V-eight turbo engines in the world Kenny has quite the resume.

(Mike)>> Before we get started we're going to mix four gallons of 93 octane pump gas with a can of Race Gas Ultra. This will give us 112 octane and the ability to make big power without distilled race fuel.

(Pat)>> Well this is the moment we've all be waiting for. We've got Kenny at the controls on the computer, we've got Mike on the dyno controls, and I'm just here for moral support. The engine has been fired up, I have set the valve lash, and we are ready to rock. So we're gonna make a base line pull to see where we are, and Kenny I think it's a safe tune. So we're gonna make a pull and see what happens.

(Kenny)>> Absolutely it'll only get better from here. [ engine revving ]

(Pat)>> It's got 92 pounds of oil pressure.

(Mike)>> The thing sung through the run. 1,080, 1,080 horsepower, 883 pound feet of torque.

(Pat)>> Wow!

(Kenny)>> And good data.

(Pat)>> When's the last time you hit 1,080 on the first pull.

(Mike)>> That's awesome, let's see what boost did. Had about 15 and a half pounds.

(Pat)>> Okay, so where do we go from here Kenny?

(Kenny)>> We'll starting leaning in, adding timing.

(Pat)>> Okay.

(Mike)>> Over the next several runs we made timing changes, added some boost, and bumped up our r-p-m range. The results were impressive. Alright boys here we go. [ engine revving ]

(Mike)>> So clean, so clean.

(Pat)>> That is unbelievable.

(Kenny)>> When you hear the dyno start to struggle.

(Mike)>> 1,174, 952.

(Kenny)>> I can hear the torque number because the dyno was definitely deflecting it.

(Pat)>> Had a different tone.

(Mike)>> Well I know one thing. I don't care how far we go past this point I know that is going to be a handful in a 1,900 pound car.

(Kenny)>> Try undriveable. We've compromised probably 200 horsepower simply because it's a packaging device. It's designed to fit in a car. We could make it a dyno room exercise and nice big tube headers, a great big intercooler, and you could see the power climb like crazy.

(Pat)>> Now are you trying to get my job? You just did a stand up.

(Kenny)>> No.

(Pat)>> That was good.

(Mike)>> That was awesome.

(Pat)>> You just did your first interview. So if they fire me I'll know who they hired. Thanks a lot Kenny.

(Kenny)>> You bet.

(Mike)>> With Kenny's knowledge and tuning ability we're off to a great start, and it's no surprise. Kenny has a long history with turbos and he's excited about their future.

(Kenny)>> It's been an onward and upward spiral and it's really been pretty darn interesting, and there's literally no end in sight. To sustain yourself in any of these businesses you have to keep going up. You never can stop. If you stop you better be prepared to eventually just quit, and I'm not thinking that.

(Narrator)>> Up next Kenny won't quit and neither will our LS. [ engine revving ]

(Pat)>> For the next run on our 427 inch LME extreme crate engine we increased the timing one and a half degrees for a total of 25 and a half. We chilled the intercooler and put our butts back in the seats for another pull, and it couldn't be any cooler. Kenny Duttweiler, the sharpest guy in the turbo business, is right next to us calling the shots. So a couple of fuzzes in a couple of different places. Cool off the intercooler. Same r-p-m range. Strictly a temperature change, this is probably gonna make a big difference.

(Kenny)>> Definitely drop the inlet air temp probably 100 degrees.

(Pat)>> Yeah let's light it and see what happens here.

(Mike)>> Ready?

(Kenny)>> Okay go. [ engine revving ]

(Pat)>> She did it.

(Kenny)>> Our boost picked back up too.

(Mike)>> 1,210, 1,210 horse.

(Pat)>> 993 for torque. Oh my goodness gracious. That thing made 993 at 6,200 and our power. Look how it nice, levels off. Oh my goodness that's beautiful. 1,202, 1,206, 1,208, 1,210, 1,207 up 7,000.

(Kenny)>> I think a good, wide over the top deal isn't it?

(Mike)>> Great job Kenny, this is awesome.

(Pat)>> Thank you very much, and again lots of potential left.

(Kenny)>> Oh yeah, well like I say there's another couple of hundred horse in that turbo. Look at the reality of these things if you've got a good engine and a good turbo, and the turbo's rated for 140 pounds per hour for example, that means it's going to make 1,400 horsepower all things being right.

(Pat)>> We can't thank you enough for coming here and helping us with this. This would have been extreme difficult to do without you and me personally and both of us we've learned a ton now on the programming and turbo setups, and I'm sure I'll be asking you more questions in the future.

(Kenny)>> I'll be available.

(Mike)>> And I can only say Pat, we had Kenny Duttweiler on the set.

(Pat)>> It's like one of my bucket list people to have in here. So thank you very much.

(Kenny)>> Well you know I'd be doing the same thing if I was at work, but this is easier because you guys doing most of the heavy lifting.

(Mike)>> For more information on anything you've see today visit Powernation TV dot com.

(Pat)>> If you are an old school carburetor person but love innovation you're going to want to check out the new Edelbrock AVS Two. They have improved the throttle response, economy, fuel atomization, and all around drivability by incorporating annular discharge boosters in the primary side of the carburetor. And this eliminates flat spots, greatly improves the response during full throttle transitions, and also improves cold starting, all while helping your bullet run smoother. You can get them with a few different options, like the finish in satin or endura-shine, and they also can come with either a manual or electric choke, and they have three different c-f-m ratings as well. 500, 650, and 800 c-f-m. To learn more go to Edelbrock dot com.

(Mike)>> Permatex optimum gray high temperature gasket maker is designed for high performance and high temperature applications common in import and late model engines. Now it's specially formulated to withstand high vibrations and high temperatures, up to 700 degrees. It's sensor safe, has a low odor, and is non-corrosive. Maximum torque load, oil coolant, and shop fluid resistancy makes Optimum Gray one of the most versatile gasket makers available. Now you can also find Optimum Black on the shelf. It's designed for high flex applications like oil pans, intake manifolds, timing covers, and so on. It's for heavy duty oil applications and has a 500 degree temperature rating. If you want to find more information out about these silicones visit Permatex dot com.

Today we are going to be discussing timing sets. Now just like every other part of an engine there are several options available depending on what your application is. From the bare basics to the high end race setups, there's something for everyone's needs. Our table is full of examples of different timing sets. Now we'll start off by looking at a stock replacement setup. It's a single row chain with a cast iron gear. Now it's designed to run quiet and is used in stock and mild performance builds up to about 400 horsepower. This one takes it step further by having three crank keyway positions to allow you to advance or retard the cam timing four degrees. It's also a single row and the most economical out of the bunch.

(Pat)>> An upgrade to that is a double row timing chain. It has the same construction with gears being case iron but has a double row chain for increased strength. It also has three different crank keyway positions for four degrees of cam timing adjustment either way. These are a setup that can be used in most high performance applications from street to mild race. Improving on that even more is a double row timing chain set with billet gears. These gears are fully machined from round stock instead of being made out of cast iron, and this greatly improves the durability of the set. Sometimes a Torrington bearing is fitted to the back of the top gear to reduce friction and wear on the engine block. Adding to that is a nine position keyway lower gear to dial in your cam timing in two degree increments eight degrees advanced or retarded. It's a bit more costly but it is well worth it for the flexibility.

(Mike)>> Just when you think it can't get any better than that there is the hex adjust timing set. It incorporates all of the features of everything we've show you but has the additional benefit of being able to adjust the cam timing on the top gear with this eccentric. Now it allows you to perfectly adjust the cam position exactly where you want it. Now this is important for race engines with big lift and duration cams, and tight piston to valve clearances. Next on the list is a gear drive. There's no chain here. Just billet gears with an idler setup in between them that keeps the valvetrain in sync. They are very accurate and have a distinctive whining sound when running that every gearhead will recognize.

(Pat)>> The final one we'll show you is a belt drive. This one is from Jesel and it's designed to operate at high r-p-m's and big power levels using a round tooth belt, a purpose built front cover, and an adjustable cam gear that allows the cam to be easily dialed in without having to remove a cover like a conventional setup. It is the most expensive of the group and is usually reserved for racing only, but it offers the utmost in accuracy, durability, and serviceability, like changing cams without dropping the oil pan and removing a timing cover. All of these are available for popular V-eights. So no matter what you're building there's one that will fit your application and your budget.
Show Full Transcript