The 2024 Ford Mustang Is Reportedly Axing Out AM Radio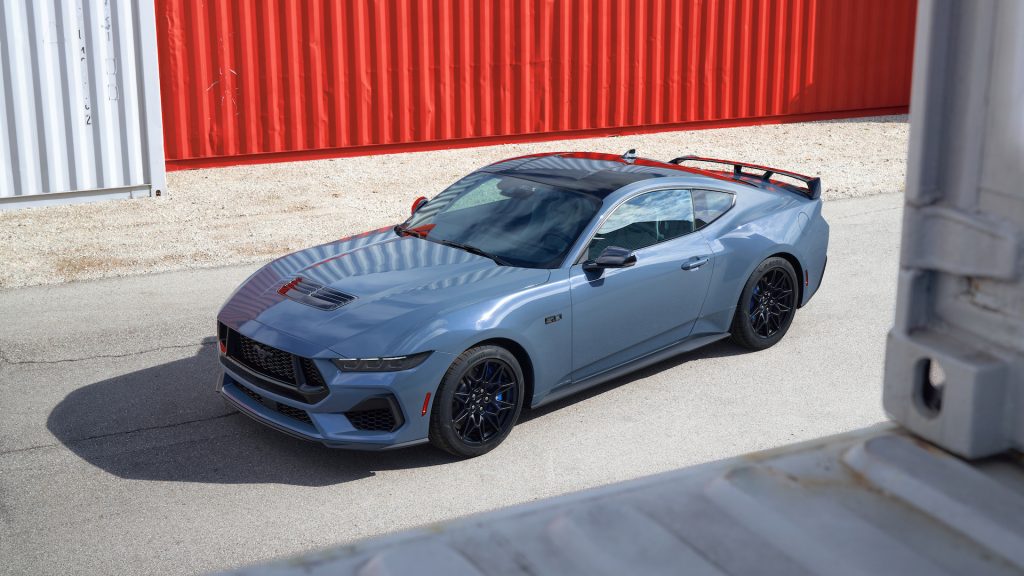 The 2024 Ford Mustang is undoubtedly one of the most anticipated new cars of 2023. However, rumors are circulating whether or not the 7th generation of this iconic all-American muscle car will be missing one distinct feature that has been standard on nearly every single vehicle since 1933.
When Ford announced the 2023 F-150 Lightning, it noted that the EV pickup did not come equipped with AM radio. Ford's explanation was that AM radio frequencies have a tendency to disrupt vehicles with an all-electric powertrain. Which some saw as odd, considering that the 2022 F-150 Lightning did come equipped with AM radio, as well as other EVs. Now, a report shared to the online forum Mustang7g.com suggests that the next-generation 2024 Ford Mustang will also not feature AM radio either.
RELATED: 5 Things To Know About The 2024 Ford Mustang
Will AM Radio Be Missing From The 2024 Ford Mustang?
The 2024 Mustang is available only with either a four-cylinder turbocharged 2.3-liter EcoBoost, or the highly-anticipated 5.0-liter Coyote V8 engine. So, taking out AM radio due to electric powertrains would be removed from the equation. Some believe that with the heavy usage of Apple CarPlay, Android Auto, and satellite radio, fewer consumers are relying on AM and FM radio for entertainment.
That shouldn't suggest that there isn't an audience for AM radio at all, as many prefer it when listing to the news, sports, weather, and talk shows. It is also especially useful for authorities to inform drivers of any alerts and emergencies in their area. So potential Mustang customers may feel let down over the loss of this feature.
According to a study by Statista.com, in 2021 39% of people in the US and Canada listen to AM/FM radio in their car each week, and 25% of people will listen to AM/FM radio at home, at work, or at school. The number of AM/FM listeners continued to decrease as approximately 17% of people would tune in through online streaming services.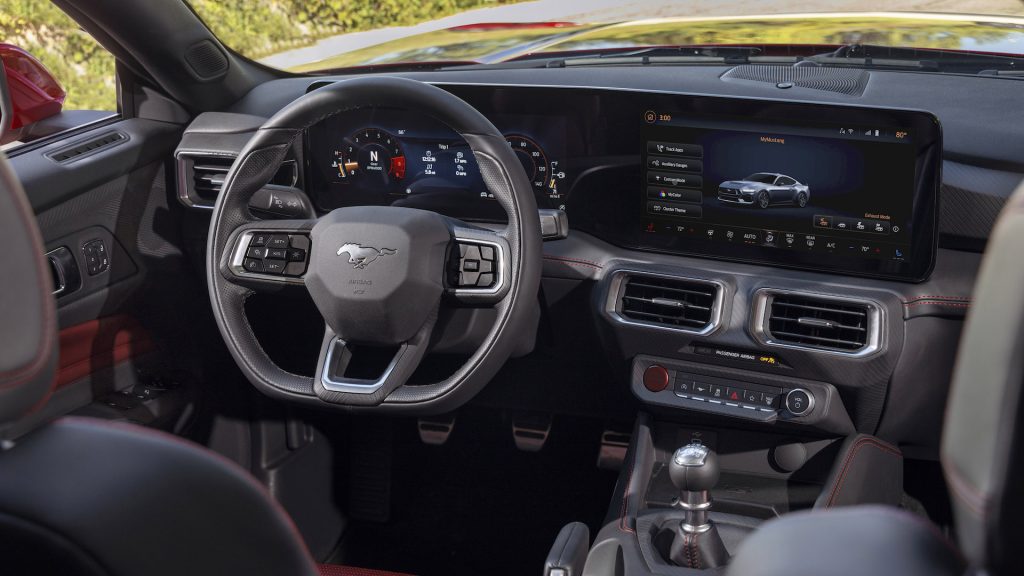 Would The Loss of AM Radio From The 2024 Ford Mustang be a Big Deal?
It is certainly possible that one day AM radio could be a thing of the past, as the new Mustang's all-digital dual-cowl dashboard will have a very futuristic flair to it. The touch-screen infotainment system and digital instrument cluster may be viewed as high-end technology by many long-term Ford fans, but younger generations will see it as the standard-issue equipment that will likely become the new norm going forward.
Bluetooth compatibility, as well as Apple CarPlay and Android Auto will also be implemented into the new Mustang's dashboard panel, allowing drivers their choice to listen to their own playlists, podcasts, and radio shows at their leisure.
Ford has yet to confirm whether or not the new Mustang won't feature AM radio frequencies, but given the long list of features that will be on the new pony car, it appears that its customer base is more concerned with its high-performance abilities.
Are Ford Mustang Customers More Concerned with AM Radio or with High Performance?
While some of its other major competitors like the Dodge Challenger and Charger have decided to go fully electric, the 2024 Ford Mustang will be pushing its ICE capabilities even further with its selection of engines that have been designed to deliver the most naturally aspirated horsepower in its history. The stock 2.3-liter EcoBoost engine will be able to produce 315 horsepower and 350 lb-ft of torque. Meanwhile, the larger 4th-gen Coyote V8 engine is expected to generate 486 horsepower and 418 lb-ft of torque, which would make it the most powerful stock engine to be equipped into a standard V8 Mustang.
As Ford intends of making this new Mustang one of the models carrying the torch for the all-American muscle car, it shouldn't be any surprise to anyone that certain changes are expected in order to bring this tradition into the modern age. Prospective customers can expect the debut of the 7th-generation Ford Mustang to arrive at dealerships in the Summer of 2023, with an MSRP of the EcoBoost starting at $32k, and the high-performance GT models starting at $42k.
Read More from PowerNation
Latest PowerNation Episodes