Dodge Challenger Debuts Its Limited-Edition Multi-Color Wrap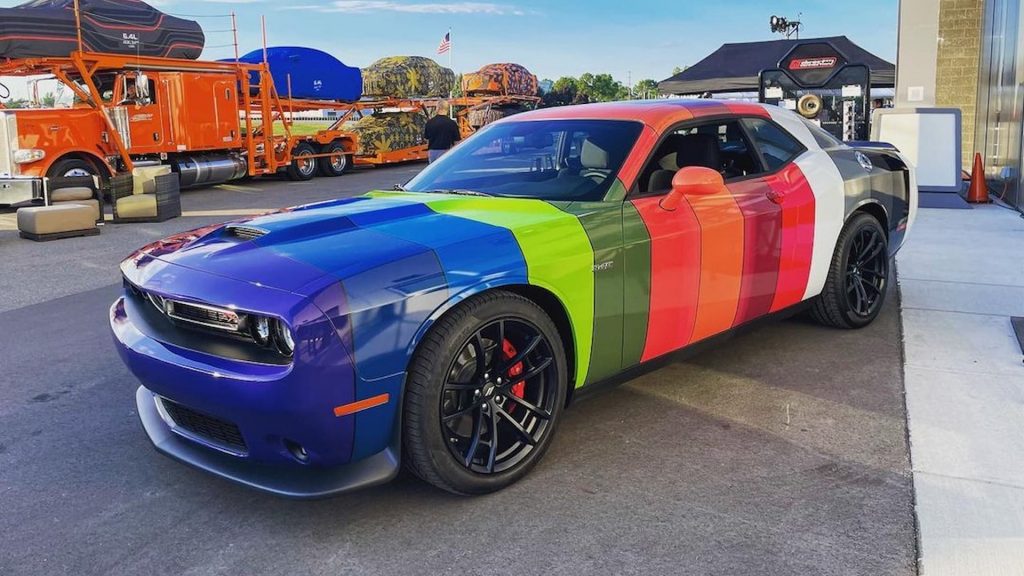 When the 2023 Dodge Challenger and Charger were announced at the M1 Concourse for Speed Week, the automaker put every available color on display by including them all on a single unit. Similar to the famous "Paint Chip Barracuda", the wrap showcases all of the colors in a rainbow-like fashion that can be seen from nearly every angle.
Much like the Paint Chip Barracuda, the wrap was intended for display and marketing purposes. But after fans responded with a large amount of positive feedback, Dodge is making it possible for consumers to rock all fourteen colors at once.
RELATED: What The Color of Your Car Says About Your Personality
Because it would cost too much in time and money to make a factory-produced model in this paint scheme, Dodge has partnered with vinyl wrap specialists CG Detroit® to create a limited-edition wrap that showcases the 2023 color chart at once, which comes in the following hues:
Plum Crazy
Frostbite
BS Blue
Sublime
F8 Green
Go Mango
Sinamon Stick
Octane Red
Torred
Triple Nickel
Destroyer Grey
Granite
Pitch Black
White Knuckle
The wrap is priced at $3,700 (not including installation) and is available for any modern model Challenger, including widebodies, going back as far as 2008.
Read More from PowerNation
Latest PowerNation Episodes