Whoops! This New Chevy Corvette Z06 Falls Off a Lift Before Being Delivered to the Customer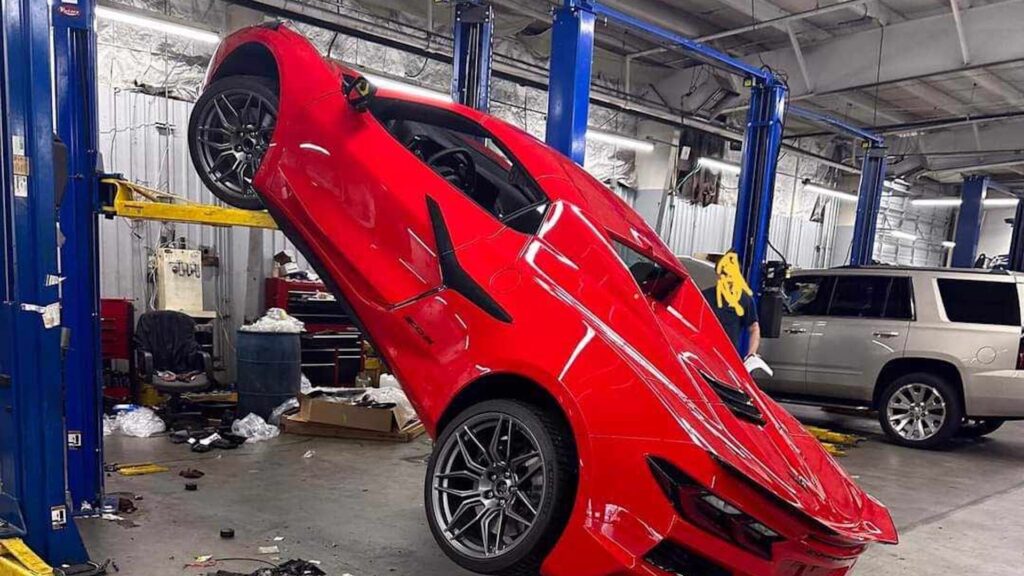 For many sports car lovers, the Corvette Z06 can be their pride and joy. The 2023 model is capable of producing 670 horsepower and 460 lb-ft of torque, and it is a guaranteed head-turner no matter where you drive it.
Of course, before you can take it home, it must be fully serviced at a dealership. But as anyone that is familiar with Murphy's law, anything that can happen will happen. Such as a 2023 Corvette Z06 falling off a lift.
How Did The Corvette Z06 Fall Off the Lift?
As seen in the security camera footage below, the Z06 appears to slip off the lift entirely on its own. One might assume that some service technicians may not be aware that the latest generation of Corvettes are mid-engined sports cars, while most of the vehicles that they work on are front-engined cars. With this kind of weight distribution, some Corvette Z06's are being improperly lifted, resulting in Murphy's law.
As seen in the video, the lift post on the passenger's side of the Corvette began to slip, causing the sports car to tumble five or six feet to the ground. To make matters worse, the post is seen slicing through the bodywork of the car, as well as causing damage to the roof, and causing a handful of dents along the way.
What Is The Fate of The Corvette?
It appears that the Corvette Z06 was undergoing a standard service procedure prior to being delivered to the customer. Photos shared by Street FX Motorsports on Facebook show more in-depth damage done to the passenger side of the car. While most of the damage appears to be bodywork, there is still a chance some replacement parts will get this Corvette looking as good as new before it leaves the dealership.
It has been a rough week for Corvettes, as a separate story had one Corvette pinned underneath an older Chevy Silverado with the driver still inside after an incident in Denver, CO. Thankfully, because the newer Corvettes have enhanced safety features in the event of a roll-over, the driver was unharmed.
Read More from PowerNation
Latest PowerNation Episodes