Chevy Silverado Runs Over and Crushes a C8 Corvette with the Driver Still Inside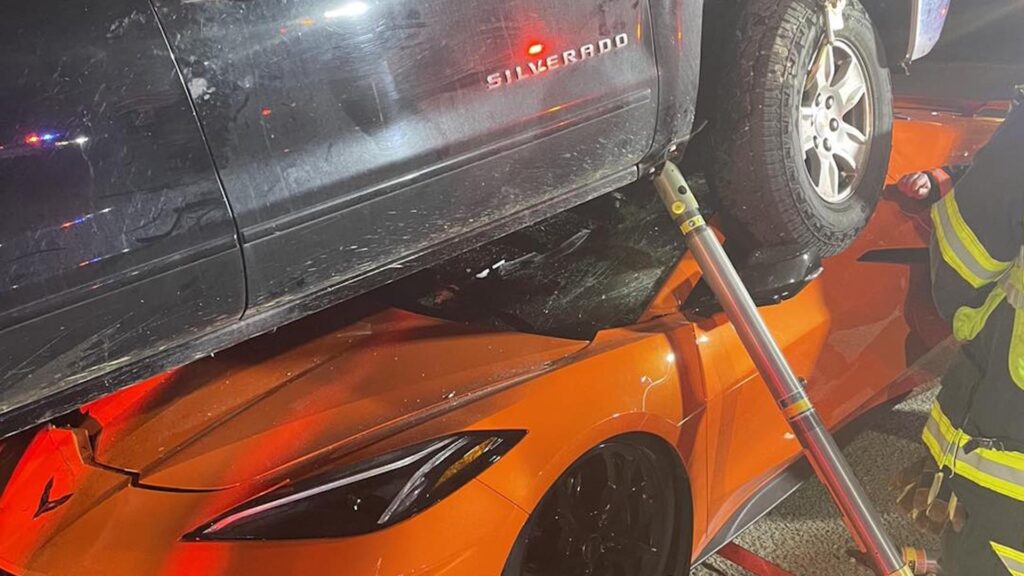 When getting behind the wheel of a high-powered sports car like the C8 Corvette, one's main concern would be staying in control of the car. Unfortunately for one driver in Thornton, CO, their car was the unsuspecting victim of an impromptu monster truck-style incident involving a Chevy Silverado.
RELATED: Disrespectful People Keep Leaning On His Corvette, So He Taught Them a Lesson
What Happened To The C8 Corvette?
According to the Thornton Fire Department, the incident took place on 168th and Colorado Boulevard. While authorities did not reveal what led up to the incident, based on the photos, there was indeed a head-on collision between the Silverado and the C8 Corvette.
The truck was so far mounted on top of the Corvette that its passenger-side wheel had landed directly on top of the sports car's driver-side door, trapping the driver inside. In order to free the driver of the C8 Corvette, first responders had to jack up the truck and remove its wheel, allowing them to exit the incident safely. Amazingly, neither driver involved sustained any injuries severe enough to warrant transportation to the hospital.
The owner of the C8 Corvette can owe their thanks to the car's enhanced safety measures in the event of rollover scenarios, considering that it was able to effortlessly support the tremendous weight of the larger truck on top of it.
Even though it is refreshing to know that there were not any serious injuries, one can't help but imagine how much different the outcome would have been if the C8 Corvette were as old as the Silverado involved in this incident. Perhaps luck would be on the Corvette's side and the driver would be unharmed. Or maybe it could have gone in the opposite direction where the Corvette would be crushed flat like an aluminum can.
Read More from PowerNation
Latest PowerNation Episodes