Arnold Schwarzenegger Heroically Fills Pothole Himself Because the City of Los Angeles Wouldn't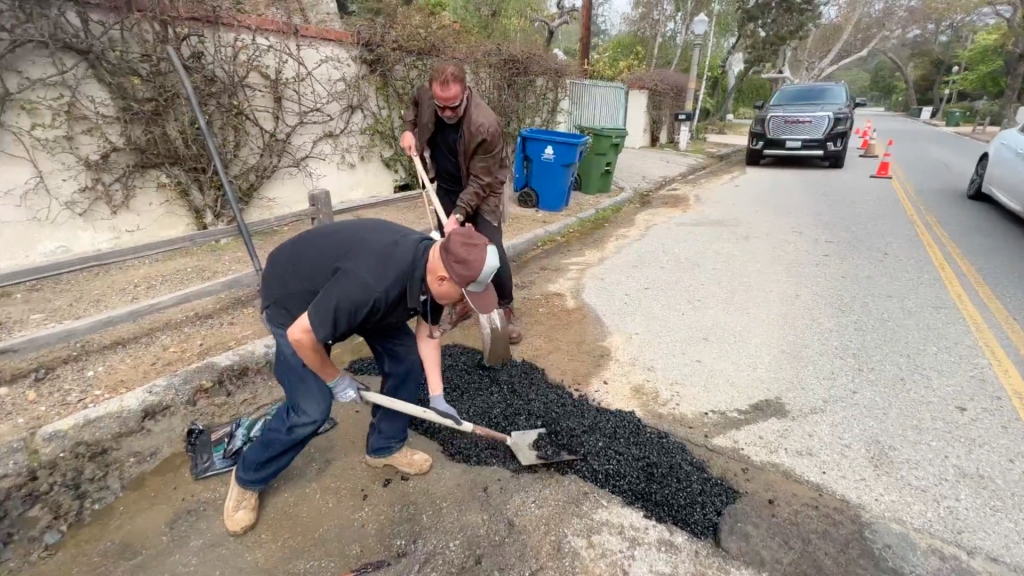 Arnold Schwarzenegger has battled some of the most nefarious villains in movie history: Predators, Terminators, mercenaries, and assassins. Now a viral video shows the actor/former California governor defeating his latest enemy… a pothole.
According to Schwarzenegger, there has been a giant pothole in his Los Angeles neighborhood that has gone unfilled for three weeks. So rather than sit around and wait for the city to fill it in, he decided to take matters into his own hands and do it himself.
Schwarzenegger Saves The Day Again
In a video shared on his Twitter, Schwarzenegger is seen with members of his team taking packaged concrete and filling in the pothole, fulfilling his role as the hero once again. Even a neighbor driving by stopped to thank the actor for his generosity.
"Today, after the whole neighborhood has been upset about this giant pothole that's been screwing up cars and bicycles for weeks, I went out with my team and fixed it," Arnold wrote on his Twitter. "I always say, let's not complain, let's do something about it. Here you go."
In a report by the Associated Press, Daniel Ketchell, a representative for Schwarzenegger, said that he and many other neighborhood residents have been requesting repairs to the streets for weeks since many potholes and cracks have emerged in the roads due to winter storms.
RELATED: Arnold Schwarzenegger Accidentally Strikes Bicyclist Who Swerved Into His Lane
According to the Los Angeles Department of Public Works, the pothole Schwarzenegger filled in wasn't a pothole at all. It turns out it was actually a service trench that was meant to be repaired by SoCalGas.
The utility company said that because the street Schwarzenegger attempted to repair was made of asphalt, and not concrete, his DIY road patch wasn't going to be an effective solution. Instead, a SoCalGas crew visited the patch themselves and leveled it off using compaction gear to give it more support before they return later in the week to pave over it permanently.
In other words… they'll be back.
Read More from PowerNation
Latest PowerNation Episodes