This 2024 Ford Mustang GT Was Converted To Cosplay as a Real-Life Lightning McQueen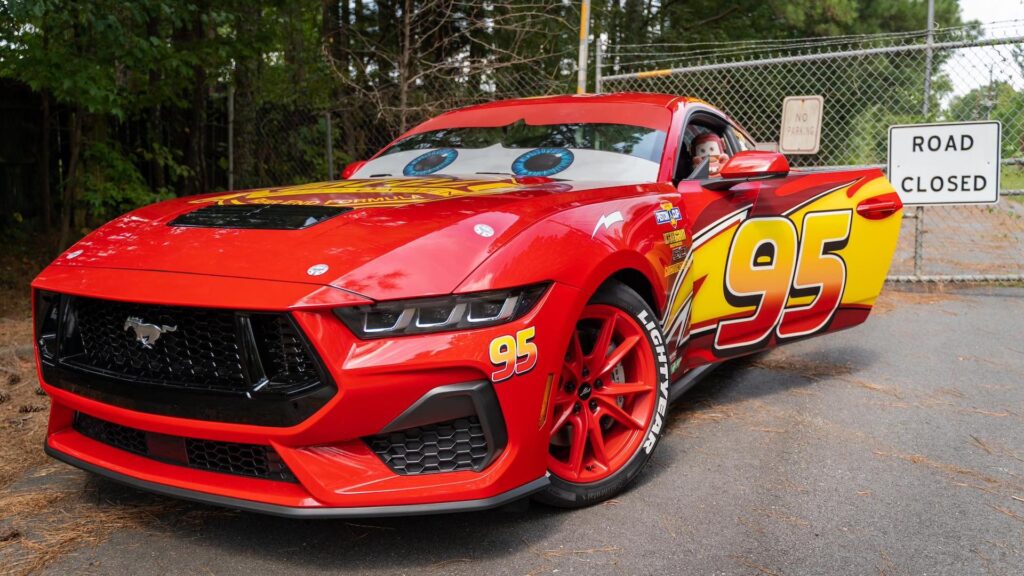 Everyone knows that Lightning McQueen from the Pixar film franchise Cars is the fastest-talking race car in all of animated movies. He talks a big game and he's got the speed to back it up. So it only made sense that the owner of a 2024 Ford Mustang GT decided to customize his new ride to resemble the famous animated character.
Cosplaying is For Cars Too
Based in Atlanta, GA, the real-life Lightning McQueen started as a stock Ford Mustang GT in Race Red and the naturally aspirated 5.0-liter Coyote V8 engine. From there Andy De La Vegas, the owner of the car, would go on to add many of his famous decals like his "Rust-eze" sponsor hood logo, number 95, lightning graphics that morph into flames, and some Continental tires redesigned with "Lightyear" lettering. It also wears a sunshade in the windshield meant to resemble Lightning McQueen's eyes, as well as a plush Mater toy along for the ride.
Other than cosmetic changes, this 2024 Ford Mustang GT is also equipped with a set of RTR lowering springs to bring it closer to the ground and appear more like an actual race car on the street, and a Steeda H-Pipe to make the car sound even louder than normal.
The Lightning McQueen Mustang has become a bit of a celebrity in his Altanta home, especially among young kids, and is available for appearances at birthday parties, fundraisers, and all sorts of other live events.
What Kind of Car Is Lightning McQueen in the Films?
It is never revealed in the Cars films as to what specific model Lightning McQueen is supposed to be, other than a universal race car model. Although he could certainly pass as a Mustang in the real-world. After all, it has style, power, speed, and attitude, which makes up a large amount of McQueen's personality.
This wouldn't be the first time a member from the Cars movies made their way off the screen and into the real world. In 2022 Porsche recreated a unique 911 model to resemble the big city car Sally from the same film.
Read More from PowerNation
Latest PowerNation Episodes