10 Fast Cars with Bad Fuel Economy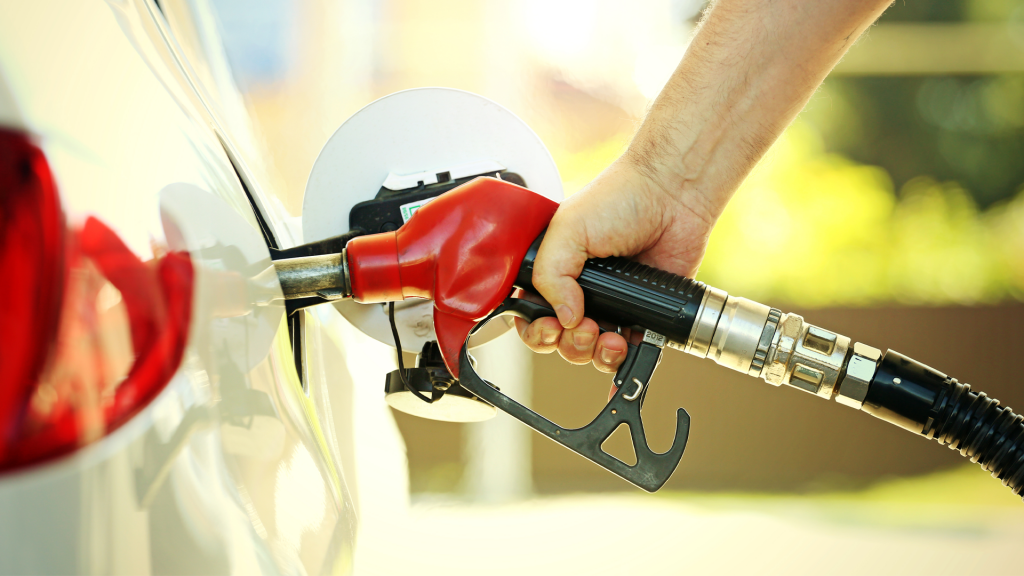 For the average person, fuel economy is a big priority when shopping around for a new vehicle. You want to make sure you get the most bang for your buck without breaking the bank at the gas station.
However, if you've got your eyes on parking a top-shelf sports car in your driveway, take into consideration that unless money isn't an issue, you probably won't be taking any big road trips anytime soon with one of these.
That's because according to the Environmental Protection Agency (EPA), these 10 cars are listed as having poor fuel economy.
You may also notice that many U.S. muscle cars like the Dodge Challenger and Ford Mustang fetched better mileage when compared to the many foreign automakers like Ferrari and Lamborghini. Plus, when one compares the MSRP and mileage of some of the domestic cars to the international automakers, you'll still be able to satisfy your need for speed without burning a hole in your wallet.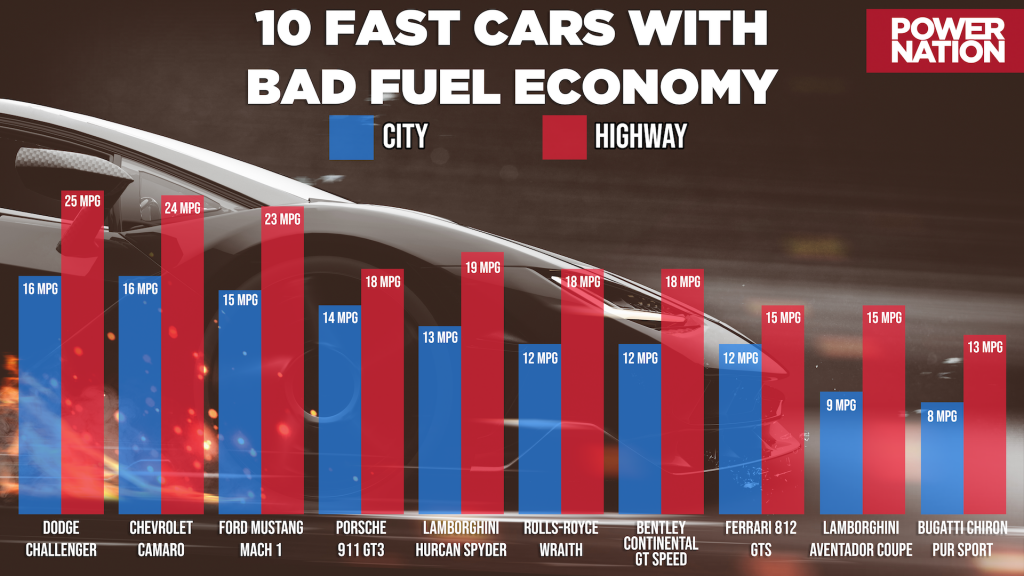 10. Dodge Challenger
Base Price: $32,025
Engine: 5.7-liter, Hemi V-8, eight-speed automatic transmission
EPA Fuel Economy: 16 mpg (city), 25 mpg (highway)
9. Chevrolet Camaro
Base Price: $34,000
Engine: supercharged 6.2 L, V-8, six-speed manual transmission
EPA Fuel Economy: 16 mpg (city), 24 mpg (highway)
8. Ford Mustang Mach 1
Base Price: $53,400
Engine: 5.0-liter V-8 engine, six-speed manual transmission
EPA Fuel Economy: 15 mpg (city), 23 mpg (highway)
7. Porsche 911 GT3
Base Price: $161,000
Engine: 4.0-liter, 6-cylinder engine, six-speed manual transmission
EPA Fuel Economy: 14 mpg (city), 18 mpg (highway)
6. Lamborghini Huracan Spyder
Base Price: $326,228
Engine: 5.2-liter, 10-cylinder engine, automatic transmission
EPA Fuel Economy: 13 mpg (city), 19 mpg (highway)
5. Rolls-Royce Wraith
Base Price: $343,350
Engine: 624-hp twin-turbo 6.7-liter V-12 engine, eight-speed automatic transmission
EPA Fuel Economy: 12 mpg (city), 18 mpg (highway)
4. Bentley Continental GT Speed Convertible
Base Price: $307,225
Engine: 626 horsepower, 6.0-liter, eight-speed twin-clutch automatic transmission
EPA Fuel Economy: 12 mpg (city), 18 mpg (highway)
3. Ferrari 812 GTS
Base Price: $410,516
Engine: 789-hp 6.5-liter V-12, seven-speed dual-clutch automatic transmission
EPA Fuel Economy: 12 mpg (city), 15 mpg (highway)
2. Lamborghini Aventador Coupe & Roadster
Base Price: $421,321
Engine: 730-hp twin-turbo 6.5-liter V-12 engine, seven-speed manual transmission
EPA Fuel Economy: 9 mpg (city), 15 mpg (highway)
1. Bugatti Chiron Pur Sport
Base Price: $3,600,000
Engine: 1500-hp quad-turbo 8.0-liter W-16 engine, seven-speed dual-clutch automatic transmission
EPA Fuel Economy: 8 mpg (city), 13 mpg (highway)
Read More from PowerNation
Latest PowerNation Episodes