Want to Go 311 MPH on Land? You'll Have the Option in the New Hennessey Venom F5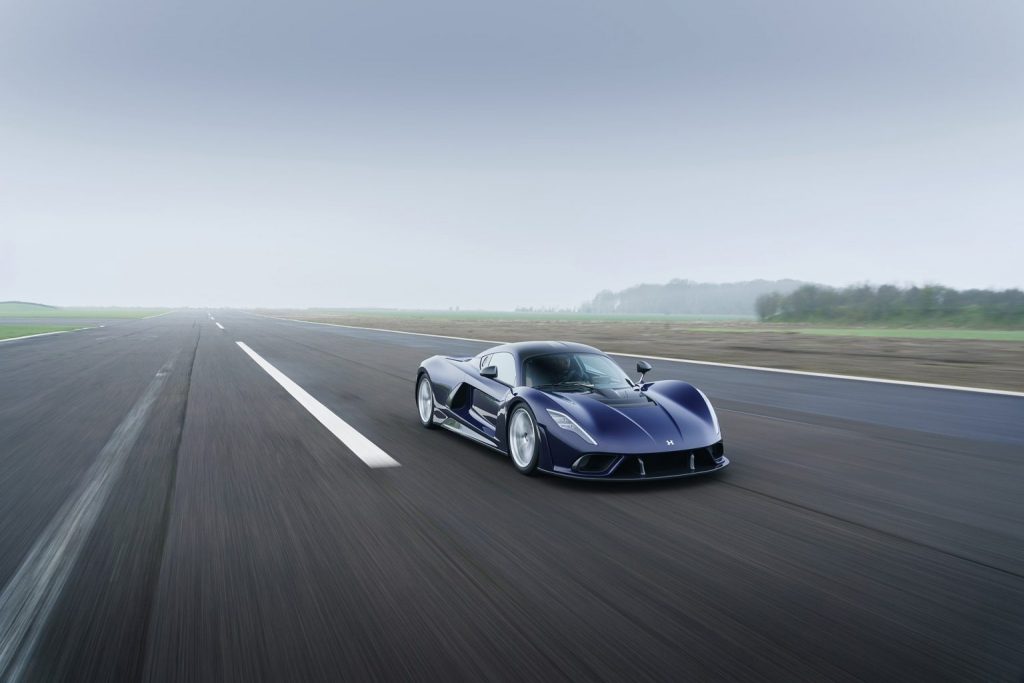 Although most highways and interstates in the United States max out at 70 miles per hour, it's always nice knowing you can far exceed those limits, if need be. While we don't encourage 311 miles per hour anywhere in the world, except maybe the salt flats, and if you're a professional driver, just knowing you can is half the fun.
With all of the advances in the automotive sector, hearing about a car with 1,000-horsepower is far less common than in years past. In the current atmosphere, it's more widespread. Mopar released a 1000-horsepower crate motor called the Hellephant that can be installed with ease, and that was a pinnacle for American engineering. However, hearing about an American-based hypercar that blows the doors off the Bugatti Chiron and Koenigsegg One:1 is a win in our book.
Hennessey has made some pretty bold claims regarding this monster, and if they're able to deliver, the Venom F5 has no choice but to be crowned the new hypercar king. For those who follow the car world and tuners, Hennessey is an established tuner brand you're probably familiar with, and they've produced some fascinating vehicles in the past decade. For example, the current Venom GT holds a speed record at a lightning fast 270.49 miles per hour.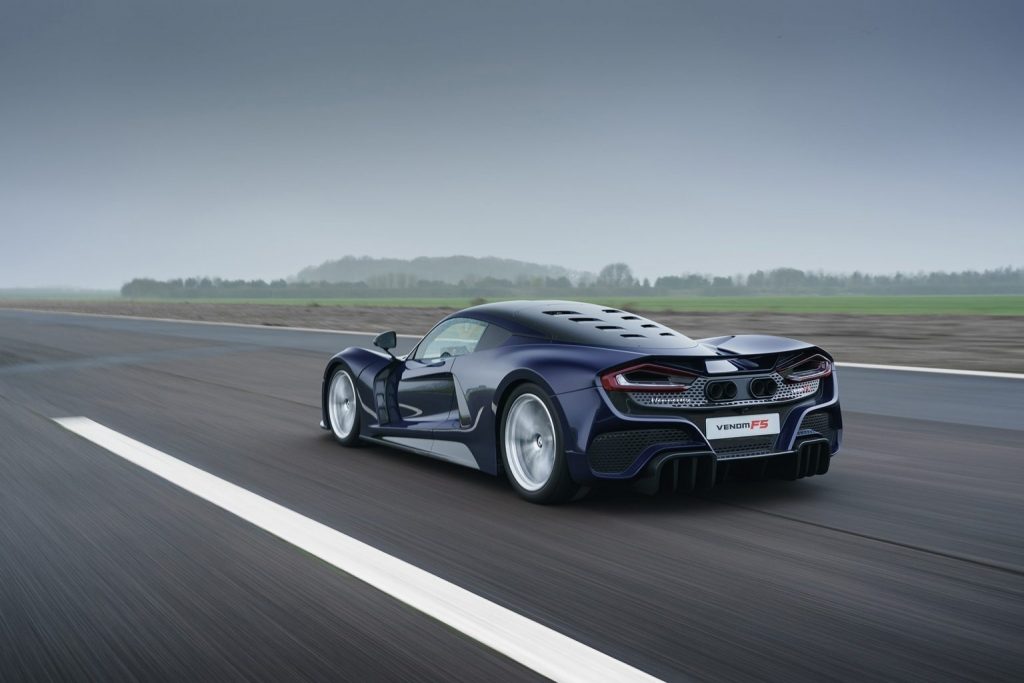 The announcement, however, marks its debut as a manufacturer for Hennessey. The Venom F5 name translates to the highest strength rating of a tornado on the Fujita scale. It means business. If you're looking to purchase one, you'll have to get in line – only 24 cars will be built (maybe they should have called it the Mamba) and will set you back an estimated $2.1 million. No big deal, right? Well, it's not so much the cost; it's the exclusivity. Sign us up.
The Venom F5 is set to be constructed here in the good 'ole US of A at their newest facility in Sealy, Texas. Although the first car was completed in the United Kingdom, moving forward, production will be based here. With that said, the carbon-fiber monocoque will be built by KS Composites, based in Old Dalby, England.
The numbers they're claiming are sure to wow even the most resistant opposition, and based on Hennessey's current projections, the F5 will be a mid-mounted 6.6L V-8 with a 90-degree turbocharger. When all is said and done, it will be, by far, the most powerful engine ever built for a production car.
Hennessey used a pushrod unit for the F5, which is a configuration commonly implemented in its tuning operations. They use this for its lower center of gravity and compact dimensions. Although claims are one thing, we still need proof – but Hennessey states the car makes 1,817 horsepower at 8,000 rpm. The motor has a max rev that screams at 8,200 rpm. It also produces diesel-like torque numbers at 1,193-pound-feet at 5,500 rpm.
The engine is equipped with aluminum cylinder heads, a cast-iron block, titanium intake valves, and an Inconel exhaust valve. The pistons and connecting rods are forged, and both the camshaft and crankshaft were built using billet steel. The car produces an impressive 23 psi of boost because of two ball-bearing turbochargers that have 76-mm diameter compressor wheels. They also boast a 3D-printed titanium housing.
The hypercar is paired with a seven-speed CIMA single-clutch automatic transmission, that includes a limited-slip differential. The insane gearbox ratios were selected to help the F5 reach its targeted acceleration, and 311 mph claims.
The 0-60 numbers are even more outrageous, and Hennessey claims it can reach that speed in a mere 2.6 seconds. If that's not the number that catches your attention – it does 0-186-mph in a stomach-churning 8.4 seconds, which is faster than a passenger jet, for comparison. Seventh gear won't run out until 334 mph. That, that, is just beyond comprehension…
Looking Inside the F5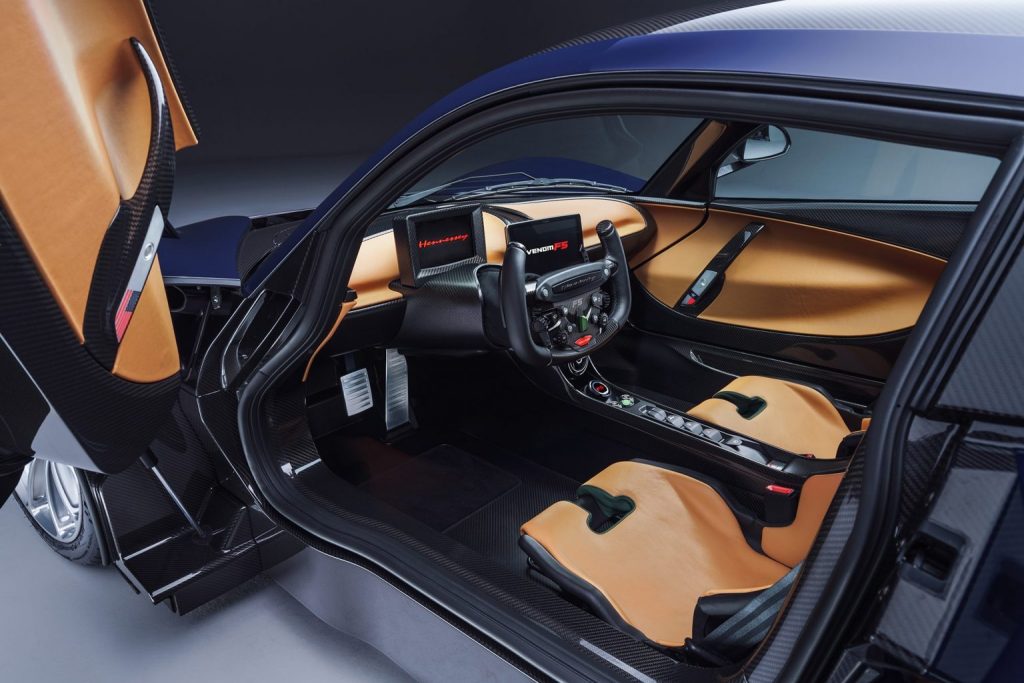 The design has been altered slightly since its debut at SEMA in 2017 to improve its aerodynamic performance. The latest version lost the raised rear wing that we saw on the concept, and a lot has been done in the interior to reduce weight.
The vehicle is designed to function – if you want luxury, buy a Mercedes. The interior is trimmed with carbon fiber and leather. The infotainment system was designed by Alpine, and Hennessey has focused on controls that aren't integrated into the surface of the steering wheel. They used a cut-off yoke system similar to what you'd find in a fighter jet, containing buttons and knobs for the turn signals, wipers, volume, and lights.
If you want to switch through the dynamic modes, you'll find a rotary switch that moves between "Sport, Drag, Wet, Track, and F5 V.Max." As you might have expected, the last one is where you'll find the full power potential. The car also won't have airbags, so drive safe.
No matter your preference, whether you're pro any other car brand, this thing is insane! If Hennessey follows through with their claims, are you impressed?
Read More from PowerNation
Latest PowerNation Episodes