Gasoline-Scented Fragrance for New Ford Electric Cars?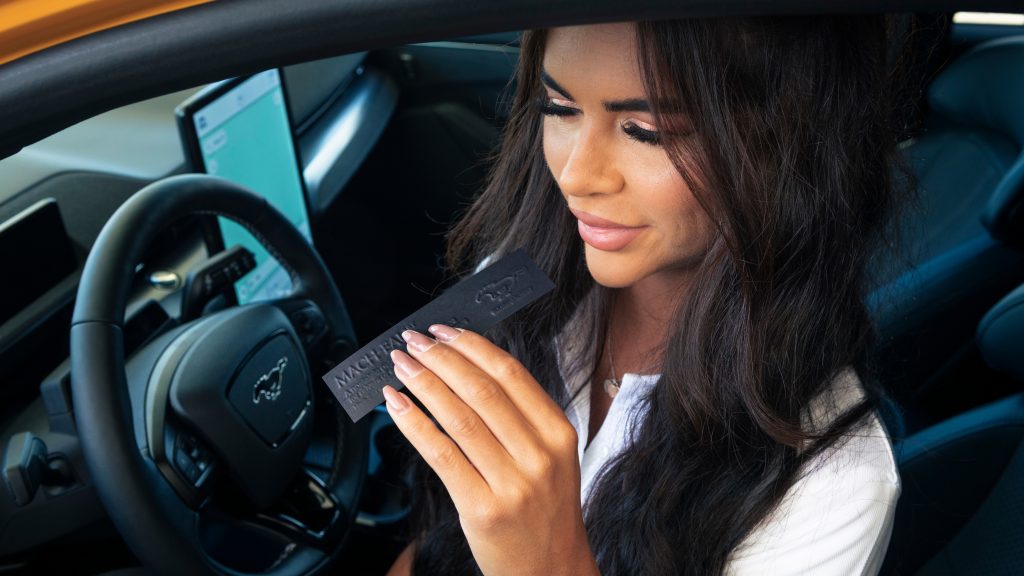 No one said the blue oval wasn't innovative. Think back to some of your best memories in life. They likely involved long road trips with family and loved ones. Who could forget those moments of pulling over to the gas station for a quick fill-up and snack run, only to get a whiff of that strong aroma of fuel. It's a distinct smell that'll penetrate our memories for a lifetime, and Ford seems to be playing into that. We thought it's something an electric car couldn't replicate – that is, until now.
Even those who have made the jump to electric admit their decision hasn't fulfilled all of their needs. Ford listened to its consumers and developed a gasoline-scented fragrance for its electric vehicles with the hope they'll make the jump to battery power. Will it work? That's to be determined, but it's apparent automakers are looking for innovative and unique ways to make this leap happen. Hummer has tried something similar with their WTF mode.
Ford recently debuted their Mach-Eau GT fragrance at the Goodwood Festival of Speed in England, where they had an opportunity to show off the latest Mustang Mach-E. Although the scent doesn't smell exactly like gasoline, it fuses smoky accords, certain aspects of rubber, and an "animal" element as well. The animal element was created to give an impression of horses, paying homage to their Mustang brand. Interesting, to say the least.
A survey conducted by Ford recently, as reported by Autoevolution, asked consumers what they'll miss most about internal combustion engines. The answer shouldn't come as too much of a surprise as 70 percent of respondents replied with "the smell of gasoline."
A spokesman from Ford commented on the unique and slightly bizarre concoction by saying, "judging by our survey findings, the sensational appeal of petrol cars is still something drivers are reluctant to give up. The Mach Eau fragrance is designed to give them a hint of that fuel-fragrance they still crave. It should linger long enough for the GT's performance to make any other doubts vaporize too."
Although it may not be enough to get the biggest gearhead into an electric car, you can't argue with Ford's out-of-the-box thinking.
Read More from PowerNation
Latest PowerNation Episodes