Ford Issues Patent For a Sawhorse Tailgate For the F-150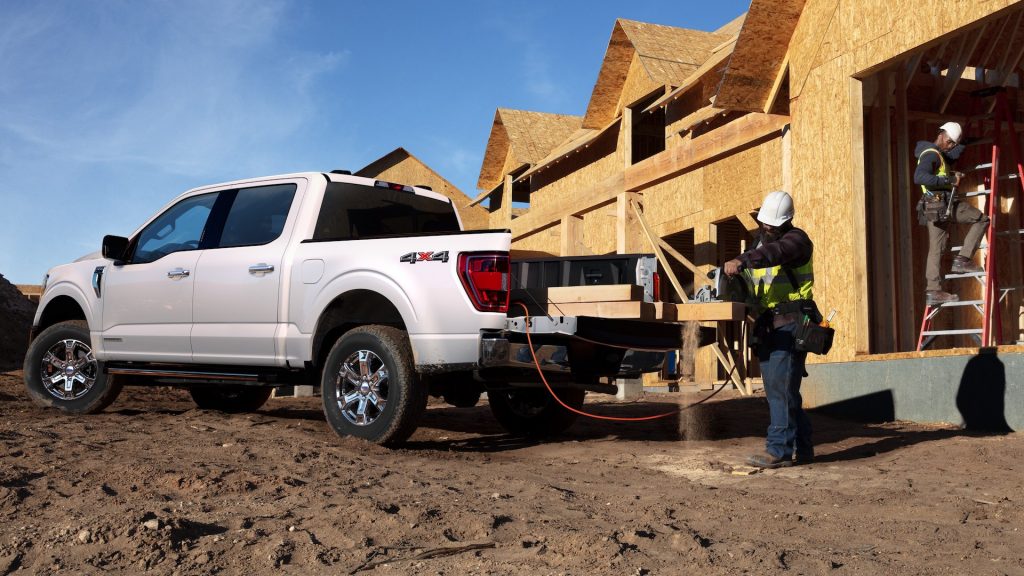 The F-150 has been Ford's crown jewel as the leading full-sized pickup truck for 45 years. With its competitors always looking to seize the throne, Ford is always on the lookout for ways to build and improve upon the F-Series. The multifunctional tailgate has been integrated for ten years, and the 2021 F-150 has an optional tailgate work surface with features like rulers, mobile device holder, cup holder, etc.
Not to be outdone by its rivals GM and Ram, Ford has issued a patent to expand upon its tailgate for its blue-collar clientele that features its own sawhorse.
According to the patent, "The apparatus comprises a vehicle tailgate having a recess formed therein. A sawhorse is adapted for positioning in the recess in a stowed position and for being removed for use apart from the vehicle." So rather risk customers damaging their tailgate, the proposed sawhorse will be its own detachable unit.
On top of the sawhorse, the patent lists a few other features that would be integrated into the F-150. "In these or other embodiments, the vehicle tailgate includes a retractable ladder. The tailgate may also include an extendable bed. In any embodiment, the sawhorse may include a projecting handle for use in lifting the sawhorse from the recess."
Should Ford be awarded this patent, that would let customers save one less thing they have to pick up from the home improvement store.
Read More from PowerNation
Latest PowerNation Episodes