What Makes the Ford 300 Inline-Six So Unique?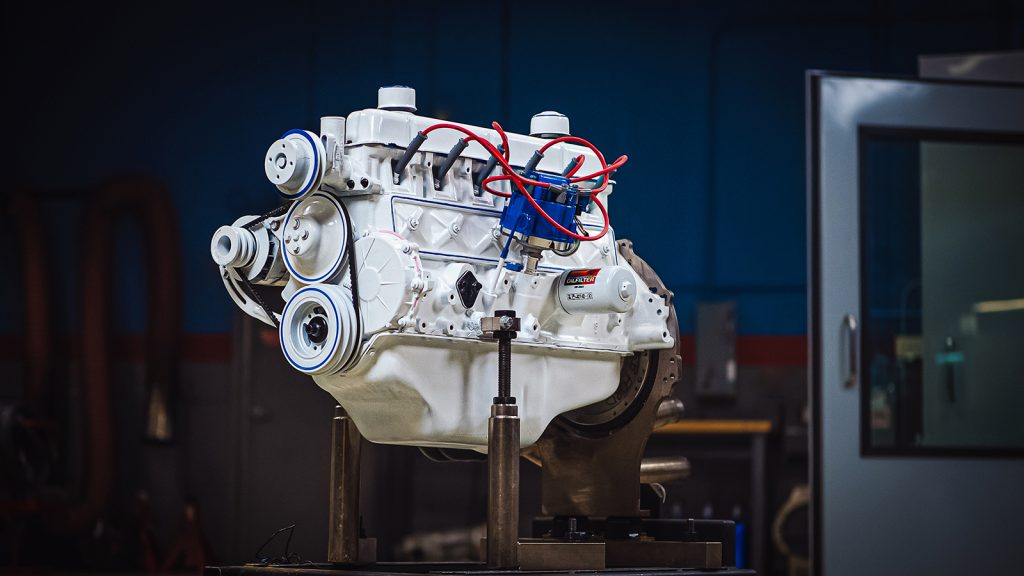 It's hard to deny the respect a Ford 300 Inline-Six commands all over the enthusiast world. If you're new to this engine stuff, go ask one of your friends about it and wait for their reaction. It'll likely warrant a positive response.
When you think of iconic engines, the Ford flathead V8, Ford 300, and the Chevrolet small-block V8 likely come to mind. These engines are considered by the majority to be some of the best in history, and Ford's ability to craft excellence is an achievement that continues living on today. With that said, you may wonder what makes the Ford 300 so unique? Why is it a global icon?
For those on the opposite side of the spectrum, you might be wondering why it ranks so highly among enthusiasts. To answer that, it's part of American truck culture. Those who have owned a Ford 300 know that it's legendary due to its durability, impressive torque outputs, simplicity of design, and longevity. Simply put, they're just hard to break.
It's 300 cubic inches of raw, low-end torque that doesn't break even when you try, and it helped build much of this country by always performing at optimal levels in so many types of work trucks. When Engine Power was given one to fix up, they jumped at the opportunity to make it shine. Let's take a look at some of the history and other tidbits that make it unique.
When Did Production of the Ford 300 Start?
It's hard to imagine the engine was developed back in 1965 and still commands the same respect today, but here we are. The Ford 300 is part of the fourth generation of Ford six-cylinder engines, and it had a great run of 31 years.
This engine was responsible for powering Ford F-series pickup trucks until 1996. However, you could find it in anything from wood chippers, tractors, dump trucks, UPS trucks, generators, and in the case of ours, a water pump.
Production of this engine ushered in a new era of the unthinkable – a workhorse that could perform incredulous tasks without breaking a sweat. It became highly sought out, which is why companies like UPS trusted it in their trucks.
Why Did Workers Trust the Ford 300?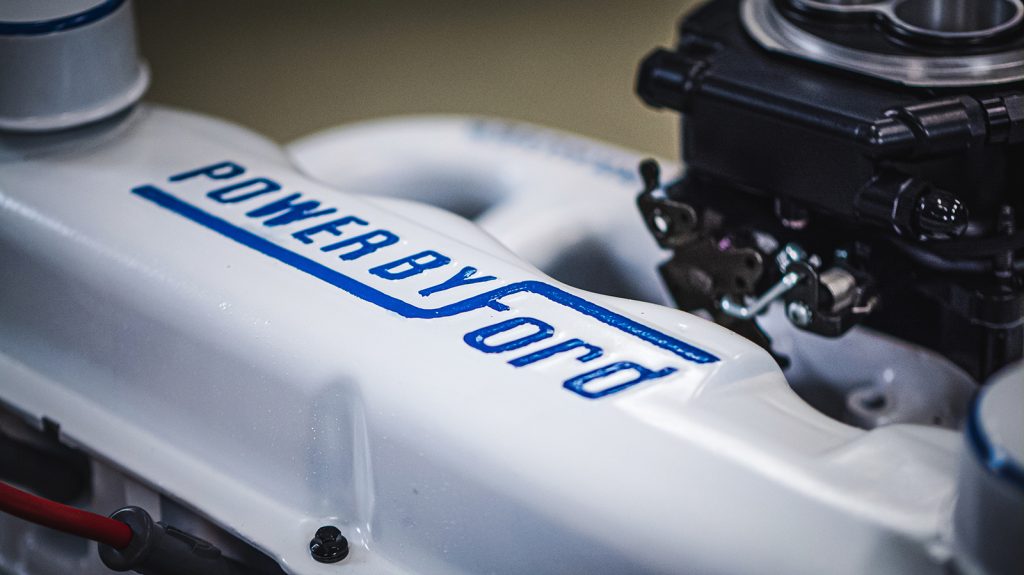 The Ford 300 Inline-Six was never known for its power output – which is fine – that's not what it was targeted for. Despite most truck engines from Ford switching to fuel injection in 1987, the 300 Inline-Six made around 170 horsepower in the first few years of its run during the early '60s. This was due to a different rating system for power outputs that was later replaced with the SAE net standard, which is partially why the rated power drops to around 100 horsepower and 223-pound-feet of torque by 1973.
Unfortunately, today's generation believes that if it doesn't have a lot of horsepower, they don't want to buy it. This is a flawed way to think, and what made this engine shine was its brute force in the form of low-end torque; it had gobs of the stuff. Besides, it helped a Ford truck win the Baja 1000 three times! The engine had a four-inch bore and 3.98-inch stroke, pushing the engine to produce 223-pound-feet of torque. The more modern version of the engine in the '90s produced 150 horsepower and 260-pound-feet of torque.
If you had a truck meant for hauling, you understand the value in low-end torque, and the Ford 300 Inline-Six produces a majority of its torque low in the powerband at 2000 RPM. Ford enhanced this by offering a transmission setup with a 6.32:1 lower gear in the T-18 manual trans or a 6.69:1 lower gear in their NP-435 transmission.
Still, it's quite common to see a Ford 300 achieve 300,000 miles without any significant issues. Due to its reputation for easy maintenance and reliability, Ford enthusiasts still drool over it today, apparent by their reactions in a conversation.
With reliability and proven power, what else makes it so great? According to Jalopnik, it's a simple engine made of cast iron and a crankshaft that's held in by seven main bearings. It also has a camshaft in the block that activates pushrods to open and close the overhead valves for each cylinder.
The Ford 300 uses fiber and phenolic timing gears as opposed to a timing chain because most engines in that era would stretch over time. It's less common to see timing gears in cars because they're noisy but last significantly longer than belts. When a chain or belt stretches, it can throw the engine's timing completely out of wack.
Modifying a Ford 300 Inline-Six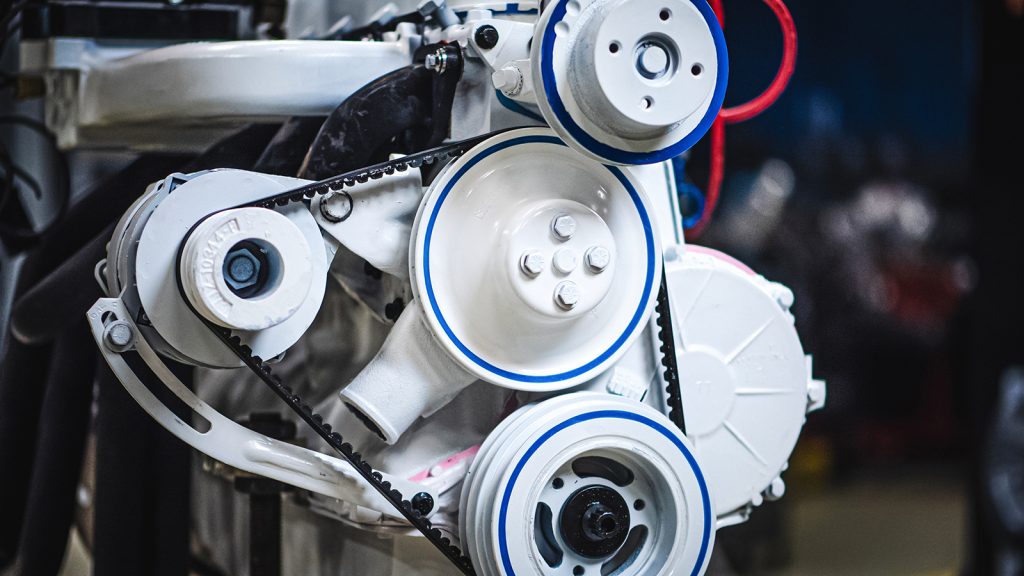 It's not extremely common to see these low-compression inline-six engines with a lot of bolt-ons or other upgrades, which is exactly why Engine Power wanted to take over and build something that's unique. Their objective is to add a turbocharger to the Ford 300 Inline-Six, but what upgrades have the guys added to this beauty so far? Quite a bit, actually.
In season seven during their first go-around, they added a set of Hooker long-tube headers six-into-two 1 5/8 inch primaries and netted 93.7 horsepower and 226-pound feet of torque.
Next was a Summit Racing HEI distributor and MSD 8mm wires, getting them up to 94.9 horsepower and 232.2-pound-feet of torque, followed by an Offenhauser C-Series 4150 flange intake manifold with a square bore flange & 625 CFM Street Demon carburetor for 166 horsepower and 278-pound-feet of torque. They finished up with an Harland Sharp aluminum full roller 1.6 ratio rockers rounding out with 169.5 horsepower and 280-pound-feet of torque.
Season eight is when a lot more goodies were added to the build. Engine Power added a ProMaxx Performance new EFI cylinder head with 1.94-inch intake, 1.6-inch exhaust swirl polished stainless steel valves, and hand-ported ports. Next was a set of DSS forged from 2168 alloy with a 4.050-inch bore flat top with Scc valve reliefs, ARP rod and main Bolts, and ARP head studs, adding up to a 9.95:1 compression ratio
They topped off the build with a Comp Cams flat-tappet camshaft with a 230 degrees of intake 236-degree of duration @ 0.50-inch lift with 110 degree LSA and .523-inch lift at the valve. The intake centerline installed at 104 degrees, which is six degrees advanced. Lastly, a set of Total Seal TS1 Gapless Rings 1/16″ top ring, 1/16″ Gapless second ring, and a 3/16″ oil ring set. At this point, their Ford 300 Inline-Six made 270 horsepower and 338-pound feet of torque.
Although you won't find many like this elsewhere, it's been a pleasure working on this engine, and with its rich history in the United States, adding a turbo to the already long list of modifications will certainly be a sight to bear witness.
Read More from PowerNation
Latest PowerNation Episodes