Here's Why Modular Engines Are Worth the Hype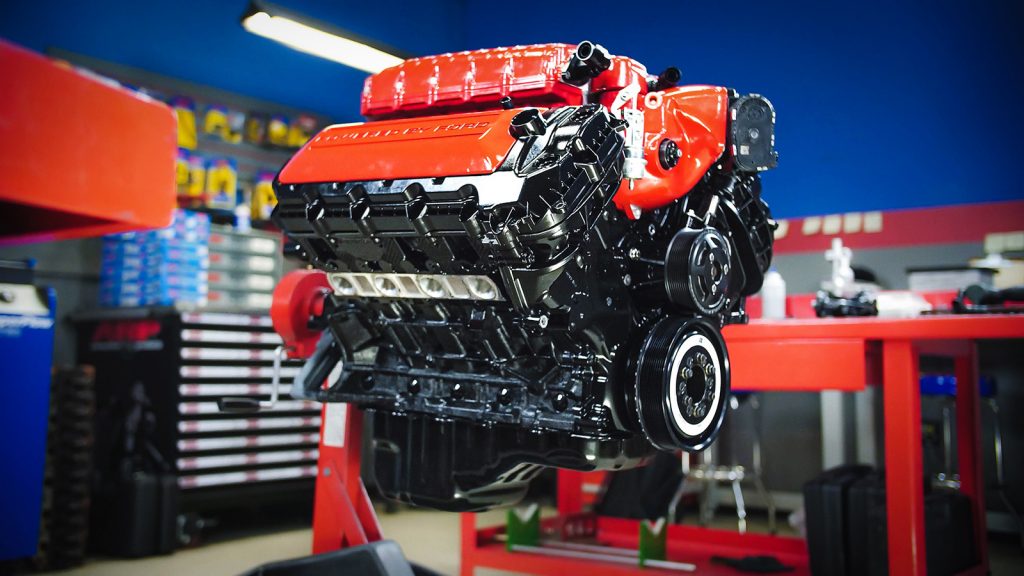 When it comes to topics that bring people together, Modular engines fit into that conversation. Whether you're a Mopar or GM fan, you understand the introduction of the Modular engine was something special in the car enthusiast world.
Since performance vehicles graced our presence on this earth, the Blue Oval is responsible for some of the most legendary and potent engines known to man. While the iconic pushrods might have stolen your heart, and rightfully so, today we want to discuss Ford Modular engines. Why? These beauty and beasts of modern engineering are responsible for crushing the hopes and dreams of their late model competitors.
Before we shed some light as to why these engines are worth their hype, let's take a brief look at where it all started.
Modular Engine History
While it may be hard to digest, the Modular engine was launched in 1991 when Ford introduced its overhead camshaft V8 in the Lincoln Town Car. The label stems from the method to produce the engine, not because the parts are easily interchanged between engine configurations.
In time, it was installed in the Mercury Grand Marquis, Ford Crown Victoria, and the 1994 Ford Thunderbird when the old Windsor small-block V8 was slowly being phased out. The last year for a pushrod V8 was 1995 in a Mustang. The Mustang GT was fitted with a two-valve SOHC Modular in 1996, and the Cobra was fitted with a four-valve DOHC version of their 4.6L engine.
Again in 1996, the first Ford trucks were equipped with a Modular engine, followed by 1997 when Ford introduced their 6.8L V10 engine for van and truck applications. The versatility of the Ford Modular engine led the automaker to replace three different pushrod engines – the 385 (429/460) series big-block, and the 5.0L & 5.8L Windsor small-blocks. It was marketed as the "Triton" series for the Ford truck line.
What Defines a Modular Engine?
So, what makes a Modular engine, a Modular engine? The name is somewhat misleading, and many people first believed that these engines (the 4.6 & 5.4L V8, as well as the 6.8L V10) were Modular by design. However, this isn't the case, as the name refers to the manufacturing process.
The term "Modular" isn't a reference to parts interchangeability, but rather, it refers to the engine as a nearly square bore with a bore of 90.2mm and a stroke of 90.0mm. When the engine was introduced, it was the only V8 produced in the United States to have an overhead cam valvetrain, with the exception of the limited-production Corvette ZR1.
After 40 years of the American consumer living with an overhead valve V8, the overhead cam was distinctly different. It's, perhaps, partially why the 4.6 is a misunderstood engine.
Why Modular Engines Like the Coyote Are Worth the Hype
Production of the Modular engine has taken place for 30 years now. You may or may not have an opinion on the topic, but what makes the Coyote so special?
Ford has always been stacking the odds against themselves in terms of displacement. While Chrysler and GM have focused their efforts on larger engines like the 426 Hemi, and the 454 Big Block, 340 LA, 350 Small Block, Ford has kept it simple and neat with its 302 and 351 engines. While Ford has produced larger cubic-inch powerplants, they never really bought into the notion that there's no "replacement for displacement."
However, once 2010 rolled around and the horsepower wars were evident, history started to repeat itself as Chrysler and GM were pumping out engines of 5.7L and up. Ford stuck with their guns and remained traditional by staying low with their Coyote 5.0L V8. With the added pressure of consumers who sought more power and governments wanting better fuel ratings, the Coyote had its work cut out.
Size should never determine capability, and the Coyote is no exception. Its claim to fame is its substantial horsepower figures, despite having less to work with. At 460 horsepower and 420-pound-feet of torque, it deserves every ounce of respect. It's no surprise the engine is used in Mustangs and the F150, where it debuted in 2011 with 360 horsepower and 380-pound-feet of torque.
Third-gen Coyote engines are practically square bore and feature overhead cams, allowing them to achieve a howling 7500 RPM. The engines also operate just fine on low octane pump gas. It's no secret why Ford enthusiasts and beyond are over the moon when it comes to their beloved Coyote.
Pushrod Vs. Modular
Ford Modular engines aren't what the LS is to a Small Block Chevy. It is, in some ways, but Ford owners who look to build a performance engine won't always be sold on using a Modular as their choice platform. There's a lot of debate on whether the Modular or Pushrod engine is better to work with, and there isn't an end in sight.
Cost isn't the only relevant concern as many forum members lean toward the idea that Modular engine internals aren't strong enough, but is that true? It depends on who you ask. Let's take a look at the differences between a Modular and a Pushrod.
Modular
Overhead cam
Single or dual cams, contained in cylinder heads
High-end torque
Cam lobes actuate the valves directly
Higher rev ceiling
Variable valve timing
Pushrod
Overhead valve
Single cam that's contained in the block
Exceptional low-end torque
Pushrods and lifter open and close the engine's valves
Lower center of gravity
Authentic muscle car feel and sound
One crucial aspect worth noting is that not every Modular engine is a Coyote, and one of the biggest differences between other Modular engines is that the Coyote uses dual overhead cams, giving the Coyote a significant advantage in performance and drivability since it uses four-valves per cylinder. It results in a wide RPM range and a flat power curve that includes lots of grunt down low.
Should I Buy A Coyote?
When you compare the Coyote to other Modular engines, it's another animal, literally. It's practically the pinnacle of Ford muscle engines and offers superior bone stock naturally-aspirated performance and unparalleled drivability. The short answer is, you have nothing to lose.
Car enthusiasts and engine builders seek the characteristics this engine offers for their classic and late model Fords but keep in mind, it'll cost you. However, it's an engine that'll last and provide you with endless joy as you gun it down the road and impress your friends.
With the right attention to detail, you can get all of the glory from the Coyote, which is all that matters.
Read More from PowerNation
Latest PowerNation Episodes