Ford Super Duty Left Hanging Above A Gorge Thanks To Trailer Safety Chain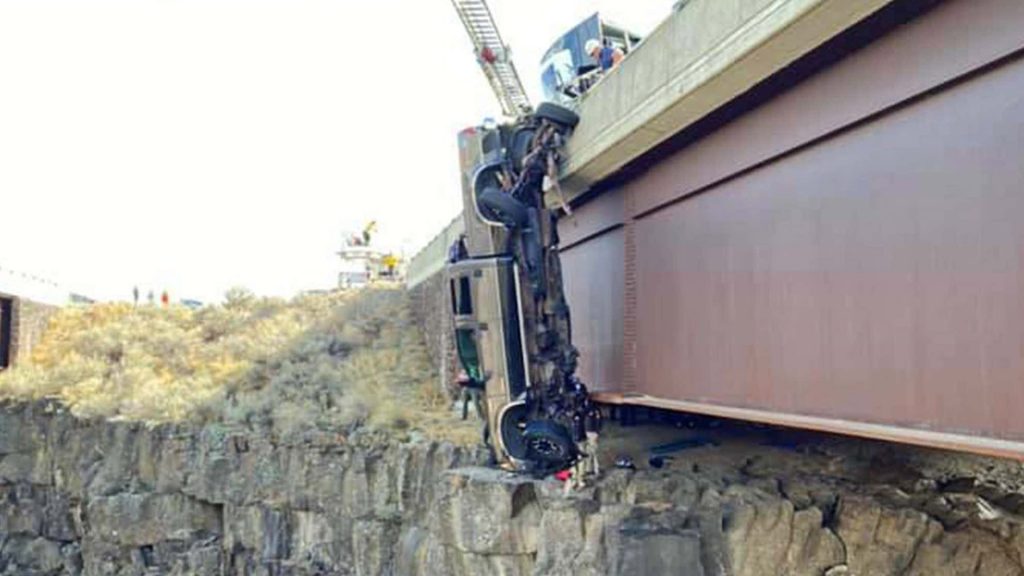 Thanks to a trailer safety chain, this Super Duty and its driver and passenger did not plummet to the bottom of the Malad Gorge.
The accident happened on I-84 near Tuttle, Idaho. A driver behind the wheel of the 2004 Ford F-350 Super towing a 30-foot camper lost control. He swerved over a guardrail and off the Malad Gorge bridge which towers 80-100 feet over the gorge.
The Magic Valley Paramedics posted the Idaho State Police Public Affairs Office press release to Facebook saying: "Idaho State Troopers responded to a vehicle crash that turned into a heroic rescue after a pickup truck was held only by a safety chain connected to a camp trailer."
The press release states that a trooper was able to call to the two people inside the vehicle, who responded and said they were alert. Fortunately, additional officers were then able to get another set of chains from a semi-truck driver, attach them to the dangling pick up, and hold it steady until rescue crews could arrive.
A team of emergency responders arrived on scene including the Magic Valley Paramedics SORT, a specially trained group of rope rescue paramedics. They were able to rappel down to the hanging pickup and attach a harness to each victim, pulling them both to safety. Both people were wearing seat belts which helped keep them in the vehicle. There were also two dogs in the pickup that were safely rescued.
Fortunately, both people in the pickup were taken to the hospital with non-life-threatening injuries.
Read More from PowerNation
Latest PowerNation Episodes