7-Eleven Has Its Own Mustang with a Pizza Holder and Slurpee-Themed Shifter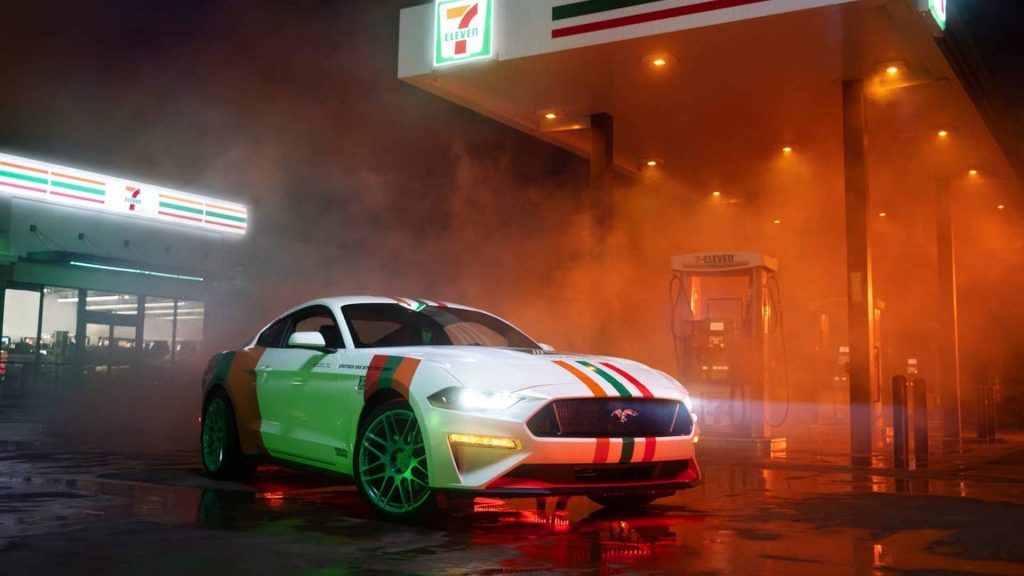 7-Eleven is known for being one of the biggest franchises of gas stations and convenience stores in the U.S. with a passive connection with auto culture. Now the time has come for the brand to bestow a one-of-a-kind Ford Mustang known as Model 711.
Based on the 2021 Ford Mustang, the Model 711's exterior comes complete with a flashy wrap coated in the classic green, orange, and red, along with super green rims, and cherry red under glow. It even features a night owl emblem on the grill!
The interior of the Model 711 is also a true, one-of-a-kind assembly one would expect from a brand-inspired custom car. Along with custom leather seats with green, orange, and red stripes, this Mustang also has its own Slurpee gear shift as an ode to the iconic beverage. On top of that, it also comes with its own custom-made pizza holder right next to the cup holders for easy access to late-night snacks. Lastly, the driver will be able to bask in the aroma of fresh 7-Eleven coffee with its own OG To-Go Coffee Since 1964™ air freshener.
"We know our customers have an affinity towards car culture, so building a one-of-a-kind car inspired by our most iconic products was a no-brainer," says 7-Eleven Executive Vice President and Chief Marketing Officer, Marissa Jarratt. "We had hundreds of thousands of 7‑Eleven car fanatics and customers interact with the voting of customization elements for the Model 711 – and now one lucky customer still has a chance to win these unbelievable wheels. We can't wait to see the places they'll go and the many #CarsOf7Eleven pics they'll take."
Entrants can participate in the sweepstakes by purchasing select products through the 7-Eleven app and commenting on the 7-Eleven Instagram account.
Read More from PowerNation
Latest PowerNation Episodes