Train Accident Sends Luxury Vehicles Flying After Smashing Into Beached Semi Truck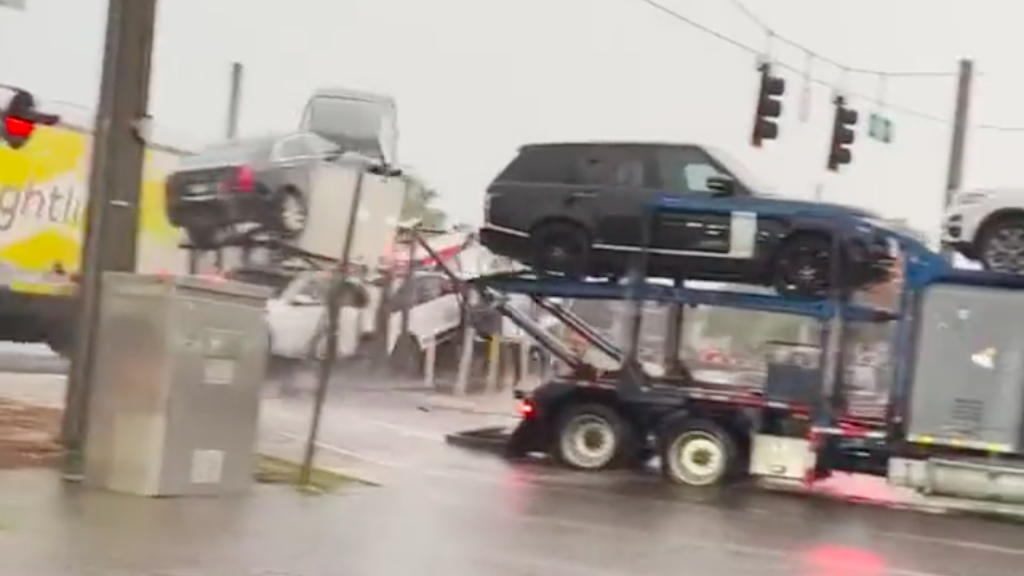 While a train accident doesn't sound like a very common occurrence, the U.S. Department of Transportation says that there are 5,800 reported train-car collisions that happen every year, with most of them located at railroad crossings. This was the case in South Florida in which intense rainfall has been to blame for a lengthy list of auto-related accidents.
However, a dramatic video has surfaced of a Brightline passenger train colliding with a car hauler that found itself stuck on the tracks that looked like a scene taken out of an action movie.
How Did This Train Accident Happen?
According to FOX 13 News, the train accident occurred in Hollywood, FL near the intersection of the Dixie Highway and Washington Street. While already having to deal with the torrential rainfall, a truck transporting several luxury vehicles like BMWs, Cadillacs, Mercedes, Range Rovers, and many others found itself in the unfortunate situation of stalling on the train tracks.
This is where things take a turn for the worst.
In the case of some very bad luck, the car transporter found itself in the path of an oncoming Brightline passenger train. Unable to start in time, the train smashes through the truck's cargo, sending many of the luxury vehicles flying through the air and onto the city streets.
"The train was going fast and he was using the horn and the truck was not moving until the train crashed [into] the trailer and split it in half," says Alexander Quintero to Fox 13 News. Quintero, who was at a red light at the time leading up to the train accident, managed to record video of the collision.
RELATED: Train Derails and Destroys New Ford F-150 Pickup Trucks
"He tried to continue going forward and I noticed his wheels started to spin and he was not moving at all," says Quintero. "I realized that he was stuck on the railroad. I looked on my mirror and I noticed the light of the train coming behind me, that is when I thought something was about to happen."
Most of the vehicles being transported by the car hauler were damaged and/or wrecked in the train accident, and even a utility pole is seen being taken out by the crash. It is unknown the total value of the vehicles that were damaged by the train, but one can only hope that the insurance companies will cover the cost.
The Brightline train company released a statement, saying "Service suspended between Fort Lauderdale and Miami (only) while PD and Brightline's team work to clear the scene, and that effort is being affected by the weather."
Thankfully, there were no injuries reported in this incident and Brightline was able to return to normal operations by 8am Thursday, April 13th.
Read More from PowerNation
Latest PowerNation Episodes