Orders for the Last Call Dodge Challenger SRT Demon 170 Now Open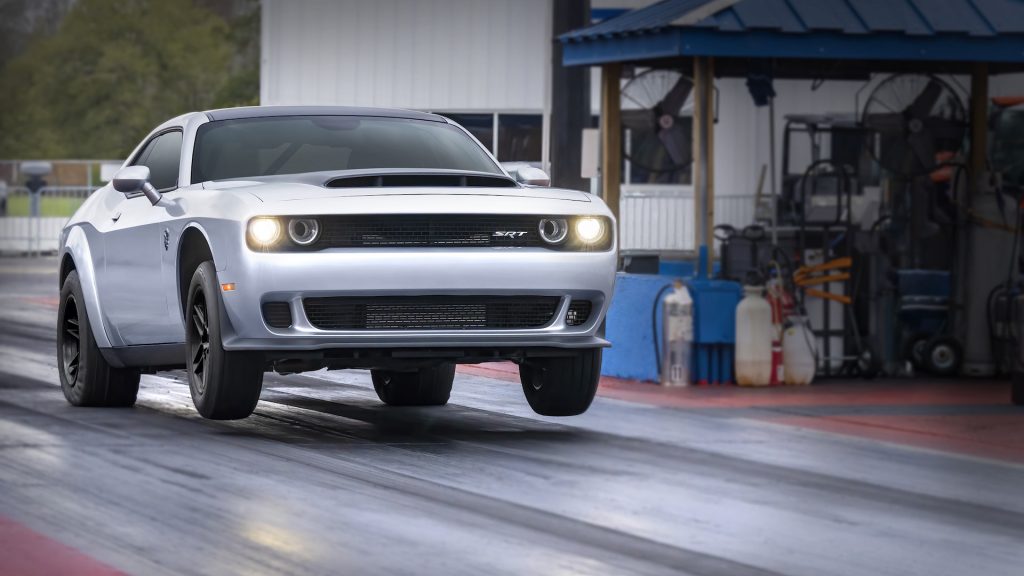 Days after its exciting reveal in Las Vegas, the order books have officially been opened for the 2023 Dodge Challenger SRT Demon 170, the seventh and final limited-edition model as part of the Last Call lineup.
Because Dodge intended on celebrating all things HEMI with the current generation of Challengers and Chargers on such a grand scale, the big reveal of the 2023 Dodge Challenger SRT Demon 170 was both literally and figuratively in a blaze of glory. On record for being the most powerful factory-made muscle car in the world, this vehicle can produce 1,025 horsepower and 945 lb-ft of torque. As if those numbers weren't tantalizing enough, the Demon 170 sets the bar for having the greatest G-force acceleration of any produced car at 2.004 gs, being able to go from 0 to 60 mph in 1.66 seconds and complete the quarter-mile in 8.91 seconds at 151.17 mph.
RELATED: Rewatch The Dramatic 2023 Dodge Challenger SRT Demon 170 Reveal
How To Order a 2023 Dodge Challenger SRT Demon 170
The 2023 Dodge Challenger SRT Demon 170, as well as all the other available Last Call models can be viewed through the Dodge Horsepower Locator, which allows prospective customers to see which Challengers and Chargers are available at their local dealers, as well as the number of available units. This will allow users to view the model of their choice, from base SXT models all the way up to the highly-desired Challenger SRT Demon 170. From there, they can speak with the dealer directly about putting an order together. 
For those interested in the Demon 170 specifically, this muscle car comes with an MSRP of $96,666, along with additional fees. Of course, because this is a very limited-edition Last Call model, the window to secure one will also be open for a limited time, as orders for this car must be submitted by May 15th, 2023.
Production for the 2023 Dodge Challenger SRT Demon 170 is scheduled to start in the summer of 2023 with an estimated total of 3,300 units will be available. 3,000 units will be set for U.S. customers, and 300 will be put aside for Canadian orders.
What Dodge Challenger SRT Demon 170 Buyers Need to Know
Aside from owning the most powerful factory-made muscle car ever, customers purchasing the 2023 Dodge Challenger SRT Demon 170 will also be granted the choice of having the last four digits of their VIN match those of their original 2018 Demon, if they previously owned one. This means that they can match the unique Demon instrument panel badging for each car.
Customers will also be required to sign a customer acknowledgement letter, informing the automaker that they are aware that the Demon 170 is a very unique high-performance muscle car that comes with its own particular set of characteristics, parts, and capabilities.
New Demon 170 buyers will also receive a one-day SRT Experience class at the Radford Racing School in Chandler, AZ, which is the premiere high-performace driving academy of Dodge//SRT. This racing school provides a wide selection of programs like Performance Driving, Formula 1, Special Ops, Grand Prix, Drag Racing, Karting, Advanced Teen Driving, and more.
 

Read More from PowerNation
Latest PowerNation Episodes