Feel The Power Of The 2024 BMW XM Label Red – The Brand's Most Powerful Model Ever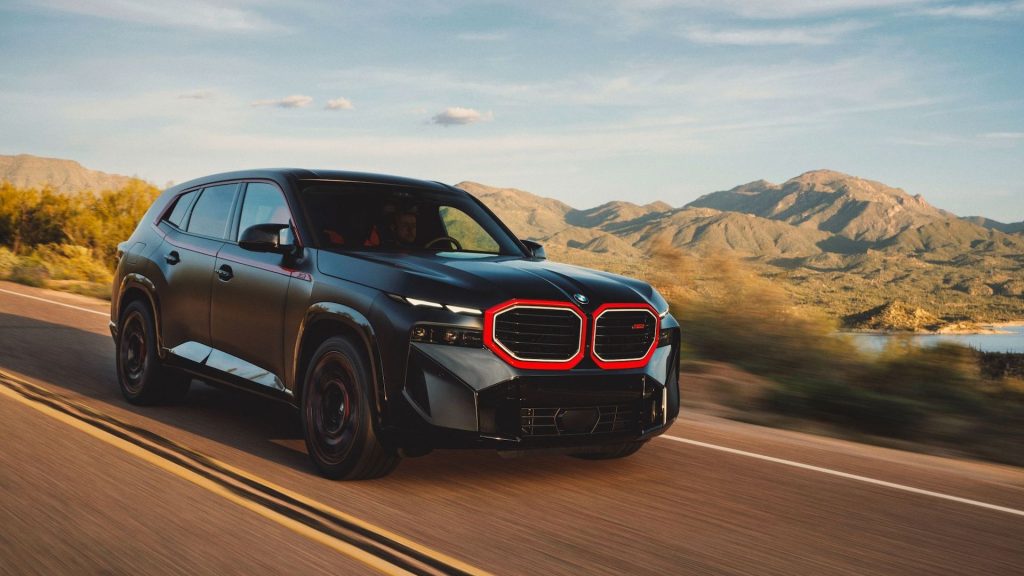 The 2024 BMW XM Label Red takes a step outside the box when compared to the rest of the brand's inventory. Typically BMW's focus is on luxury with additional emphasis on performance and prestige. It featured various sedans and SUVs that adhere to the brand's slogan of being "the ultimate driving machine." However, for customers that desire the utmost performance, and aren't afraid to show it, that is where the BMW XM Label Red comes in.
The 2024 BMW XM Label Red Is The Baddest Bimmer
One may notice how closely the 2024 BMW XM Label Red resembles the regular XM model, whose 4.4-liter M TwinPower Turbo V-8 engine already produces 644 horsepower, 590 lb-ft of torque, and can accelerate from 0 to 60 mph in 4.1 seconds. These stats for a factory-produced SUV are already impressive when compared to other similar vehicles. But the XM Label Red manages to pull ahead of the pack by taking advantage of its M HYBRID drive system, which introduces the adrenaline-pumping sensation to the XM model that is felt on BMW's high-performance M GmbH models.
RELATED: BMW Releases Teaser for its Color-Changing Mid-Size Sedan
By introducing a honed electric motor to the 4.4-liter M TwinPower Turbo V8 engine, we get a drive system in which both of these components play off each other to deliver a system output of 550 kW/748 horsepower, significantly outperforming the standard XM model.
This is the same hybrid concept used by BMW's new M Hybrid V8 race car, which effectively interplays the electric motor with the V8 engine to deliver an impressive amount of power at a moment's notice that can proceed to build into the higher peaks of the rev range.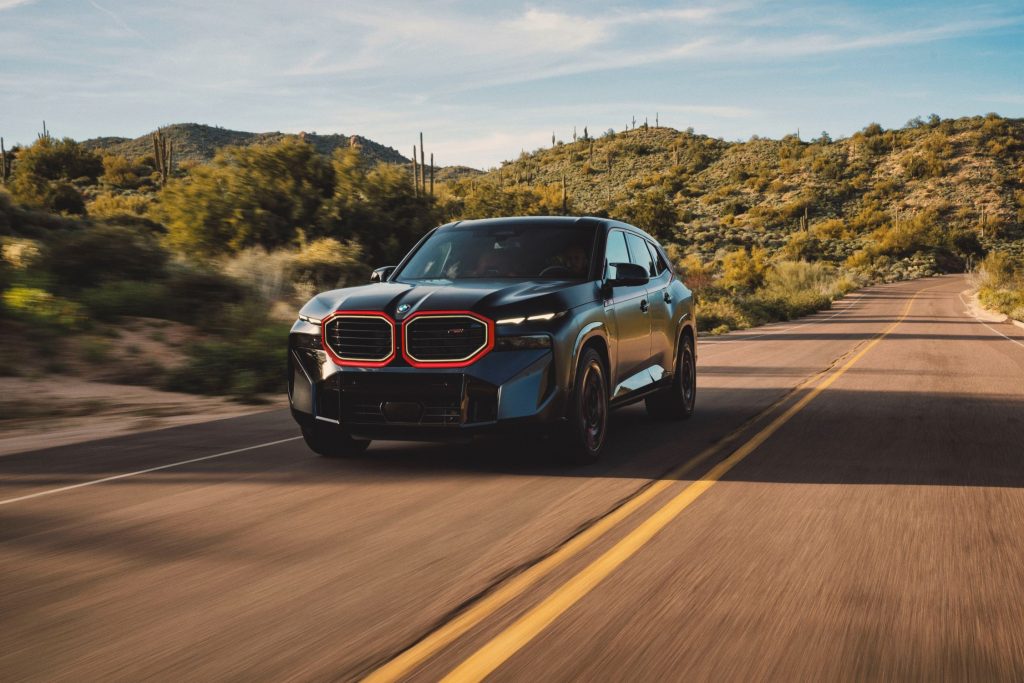 The 2024 BMW XM Label Red Boasts High-Level Traction & Stability
Aside from its already impressive hybrid drivetrain, the BMW XM Label Red utilizes its M xDrive all-wheel-drive system by taking the power made by its V8 engine and electric motor and distributing it through all four of its wheels instantly at a moment's notice. The M xDrive is also focused towards the rear, which further enhances this vehicle's agility, especially when its 4WD Sport mode is activated. Additionally, the traction-heavy 4WD Sand mode, which was intentionally designed to handle sand dunes and similar terrain, can be activated when the DSC (Dynamic Stability Control) system has been disengaged.
The M xDrive system is supported by an electronic differential in the rear axle, which adds to the BMW XM Label Red's traction, and agility.
High-Performance and an Adaptable Nature Completes the BMW XM Label Red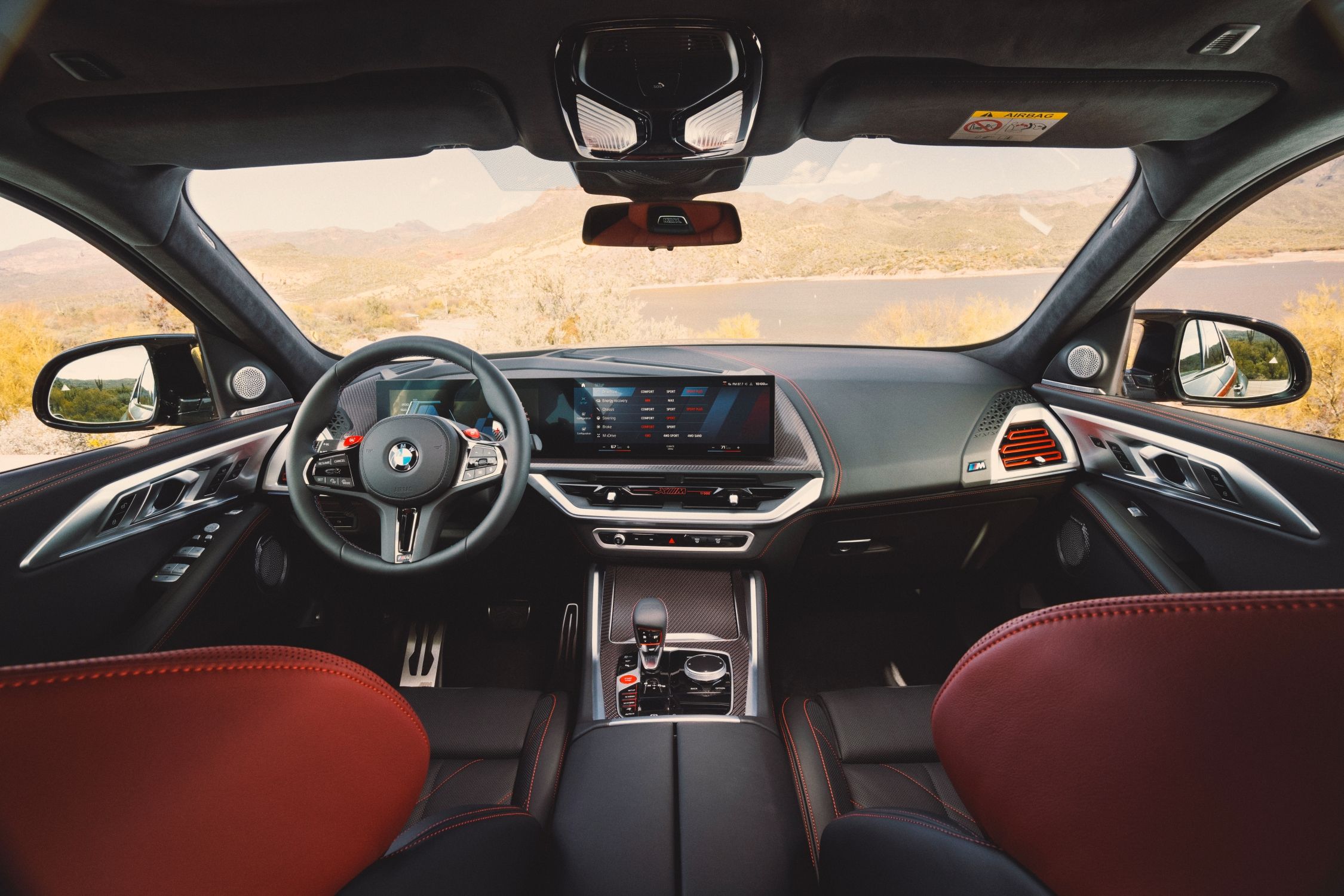 A lot can be said about the most powerful street-legal vehicle BMW has ever made. It's not just dressed to impress, but it allows itself to utilize its M HYBRID system both on the road and on the trails, all while treating its driver and passengers to a comfortable and luxurious riding experience.
Some of the equipment that comes standard on this vehicle includes its adaptive M suspension Professional, which is equipped with electronically-controlled dampers and active roll stabilization, along with Active Roll Comfort to prevent body rolls to one side of the vehicle.
The M Sport braking system is made up of six-piston, fixed-caliper brakes at the front of the vehicle, and single-piston floating-caliper units in the rear. The stopping power that is produced by recuperation and the friction brake is met with immediate precision.
The BMW XM Label Red also uses the integrated application of its powertrain and chassis system together to tackle nearly every kind of terrain. From city roads to dirt country trails, this BMW takes full advantage of the M GmbH's racing background into the real world to deliver an exciting riding experience under any circumstance.
Production is scheduled to begin in August 2023 at the US-based BMW Group Plant Spartanburg factory where only 500 units will be designed using the Frozen Carbon Black metallic finish. Pricing info will be revealed closer to its market launch date but it was hinted that it may have a starting MSRP of $185,995. For comparison, the regular BMW XM has a starting MSRP of $159,995.
Read More from PowerNation
Latest PowerNation Episodes