Two Classic American Cars Allegedly Stolen and Destroyed in Demolition Derby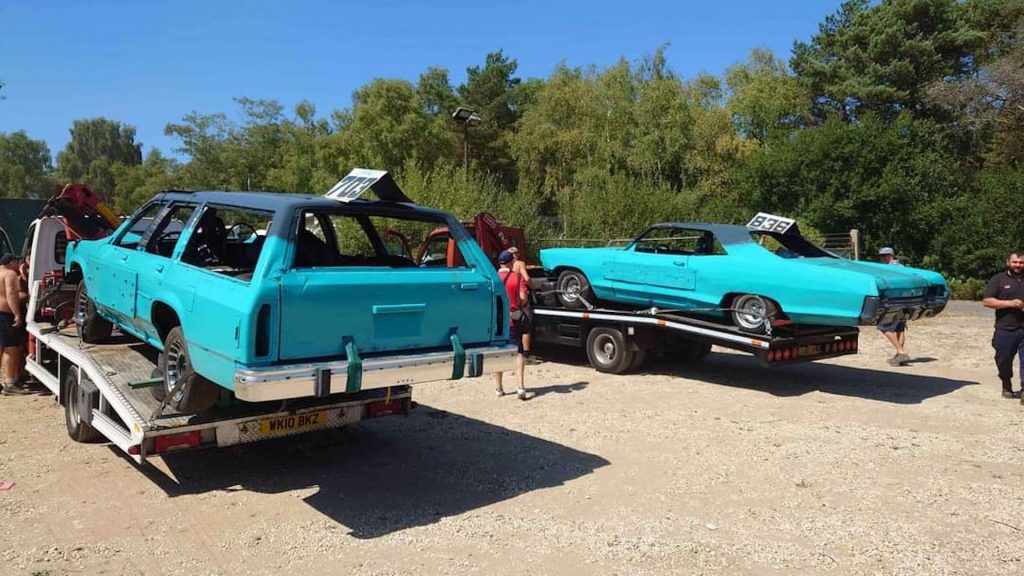 We've all had bad days. But then there is those no-good, dirty, rotten, fresh-out-of-luck kind of bad days. That was the case where a pair of classic American cars were allegedly stolen in St. Leonard, UK, and eventually destroyed in a demolition derby.
This story came to light on Twitter when users noticed some similarities between a 1985 Ford LTD wagon and a 1965 Pontiac Grand Prix, both painted hot teal, and a pair of exact models that were stolen from the area a month earlier.
The 1985 Ford LTD wagon was reported stolen on June 14th in Andover, and the Pontiac was reported stolen two days later on June 16th 17 miles away in Salisbury. Then, when local car enthusiasts noticed a striking similarity between the two vehicles in matching colors at the Ringwood Unlimited Bangers Farewell event taking part in the banger race (a mix of a demolition derby and a short-track oval race), that's when police were called in to impound the aftermath.
Mark Wright, owner of the Ford strongly believes that the now wrecked LTD wagon was his because of some recognizable markings still left on the car. A search of UK auto registration records reveal that there was only one 1983 Ford Squire registered in the entire country, reinforcing Wright's claim.
Both the organizers of the bangers race and its fans were shocked at this news, especially because there is a video of the allegedly stolen cars racing, and getting demolished, posted online.
According to Wright, he had the Ford LTD wagon imported to the UK in December 2021. He had the car registered in Spring 2022, meaning he had very little time to actually enjoy the vehicle for the amount of time he had it before watching it be destroyed for someone's selfish thrill. When asked if he'd ever replace it, Wright is understandably hesitant about the possibility of having his heart broken again.
Read More from PowerNation
Latest PowerNation Episodes