Rod Stewart Fills Potholes Himself Because Local Authorities Won't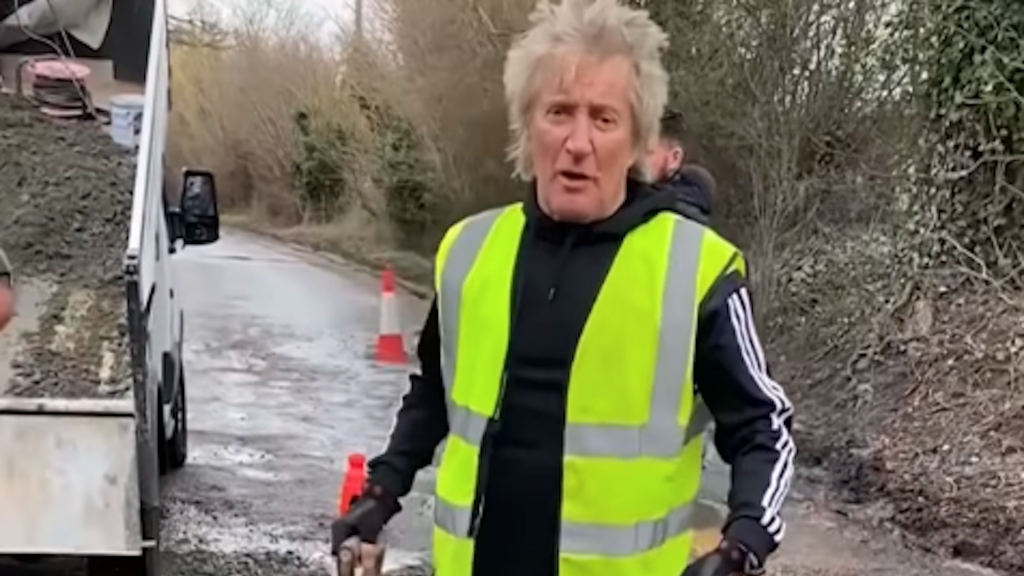 If you want something done right, do it yourself. That is how rock icon Sir Rod Stewart felt when many potholes near his Essex estate went unfilled for a long time.
Decked out in an Adidas tracksuit, a high vis safety vest, and a shovel, Stewart and a small team took it upon themselves to fill in potholes outside his home in Harlow, England. "I'm repairing the street near where I live because no one can be bothered to do it," he said in one Instagram clip. "People are bashing their cars up. The other day, there was an ambulance with a burst tire. My Ferrari can't go through here at all. So me and the boys thought we'd come and do it ourselves."
Stewart goes on to comment on how the government seems to have all of the time and money to spend on the M11 motorway, but can't seem to show that same amount of care and maintenance to the local roads.
Of course, Stewart was able to do it all with a smile on his face, later tweeting "Filling holes is good for the soul!"
It just goes to show that some celebrities aren't afraid of getting dirty with a little manual labor, rather than waiting around for someone else to fix the problem. Some are actually just like the rest of us!
Read More from PowerNation
Latest PowerNation Episodes